DALLAS — This article will be continually updated as new events are announced.
Kids and adults alike (probably) already have their costumes planned, but now the question is where to show them off. The good thing is there are plenty of Halloween events happening in North Texas this year.
There are events for adults, like ax-throwing, and events for children, such as a free book program if they show up in costume, plus plenty of trick-or-treating events.
In September, CDC Director Rochelle Walensky said that Halloween trick-or-treating this year would be safe if kids and adults are gathered in smaller groups outdoors for the celebrations.
Read on to see how you can celebrate in North Texas.
Grapevine Hallowine Trail
The Wine Trail will feature multiple winery tasting rooms in and around Historic Downtown Grapevine, making for a leisurely stroll between venues. Spend a fun afternoon sampling the best that Grapevine has to offer.
You get three wine tastes & food pairing at each winery:
Bull Lion
Cross Timbers Winery
Grape Vine Springs
Landon Winery
Messina Hof Winery
Sloan & Williams
Trunk-or-Treat in Irving
Join the Heritage Senior Center (HSC) team for a spooktacular evening. There will be games, candy, music, refreshments and more fun for the whole family. Donations of candy and the trunk of your vehicle are what makes this event successful. Stop by the front desk of HSC for more information.
Where: Heritage Senior Center, 200 S. Jefferson St., Irving, TX 75060
Cost: Free and open to the public
Farmers Branch Halloween in the Park
The Historical Park will transform into a Halloween spectacle that has plenty of family-friendly activities, not to mention, candy. Children ages nine and up can make the night spookier by exploring the Haunted Hedge.
When: Oct. 30 from 5 p.m. to 10 p.m.
Where: Farmers Branch Historical Park
The city says the event is free for Farmers Branch residents with a Boo Pass and $5 for non-residents ages 4 and up. Residents received a Boo Pass in the October edition of the Branch Review. Cut it out and bring it. In addition, beginning October 1, Boo Passes will available at the following facilities:
Parks & Recreation Front Desk @ City Hall: 13000 William Dodson Parkway
Farmers Branch Historical Park: 2540 Farmers Branch Lane
The Branch Connection, 14055 Dennis Lane
Aquatics Center, 14032 Heartside Place
Farmers Branch Community Recreation Center, 14050 Heartside Place
Proof of ID or a copy of a recent water bill is required to confirm residency.
Additional fees are required to participate in the Haunted Hedge and in Midway Games. For more information about the event. visit fbspecialevents.com.
Fort Worth Firefighters Chili Cook-Off
The fifth annual Fort Worth Firefighters Chili Cook-off will feature some of the best pots of chili you've ever tasted, the city of Fort Worth said.
When: Oct. 30 from 10 a.m. to 2 p.m. on Oct. 30
Where: General Worth Square, 900 Main St., Fort Worth
An awards ceremony will follow the cook-off, with awards for best booth and best chili. Proceeds benefit Fort Worth Firefighter Charities. Entry into the event is free, and tickets will be sold for chili and beverages.
More than 30 booths will be serving chili. Most of the booths represent Fort Worth fire stations, but some are from surrounding cities. Residents are encouraged to bring their appetites and sample the entries.
Fort Worth Stockyards
Get in the Halloween spirit and bring the family out to the Historic Fort Worth Stockyards! They will be hosting a spooktacular event, Treat Street, on Saturday.
When: Oct. 30 from 2 to 5 p.m.
Where: Historic Fort Worth Stockyards
The event is entirely free, and be sure to check out the Cowtown Cattlepen Maze for half-priced admission for kids under 12 in costume & $1 off parent accompanying child.
Legends of Texas Spooktacular Show Ι 2 PM & 5 PM | Livestock Exchange Lawn
Hay Rides | 2 PM to 5 PM | Pick up at RFD TV Store
Face Painting | 2 PM - 5 PM | Stockyards Station
Costume Contests | 2 PM - 5 PM | Livestock Exchange Lawn
Trick-or-Treating | 2 PM - 5 PM | Stockyards Station & Mule Alley
Kids 12 years & under in costume. Participating retailers only.
Garland Ghost Tour
Join Good Samaritans of Garland Saturday, Oct. 30, for a fun family event. Learn about the history and mystery that surrounds Downtown Garland.
When: Oct. 30 starting at 5:30 p.m.
Where: Registration will take place from 5 to 7 p.m. at the Plaza Theatre, 521 W. State St.
Each ghost tour participant will receive a nylon backpack filled with event items. Use it to collect Halloween candy at each ghost tour stop!
Tickets are $25. All proceeds benefit Good Samaritans of Garland to assist with feeding, helping and serving the food insecure in the community.
Great Wolf Lodge
Great Wolf Lodge in Grapevine is hosting its annual Howl-O-Ween celebration, which runs through Halloween.
This year, it has a spider sculpture made with over 4,040 balloons.
"This giant spider creation – topped with a cowboy hat made out of 1,200 balloons – was created over three nights by a team of four and is part of Great Wolf's month-long Howl-O-Ween celebration," officials said.
This year's activities include the Trick-Or-Treat Trail, The Thrill of Howl-O-Ween Yoga Tails, Monster Bash Dance Party and Critter Cartoons art class, just to name a few.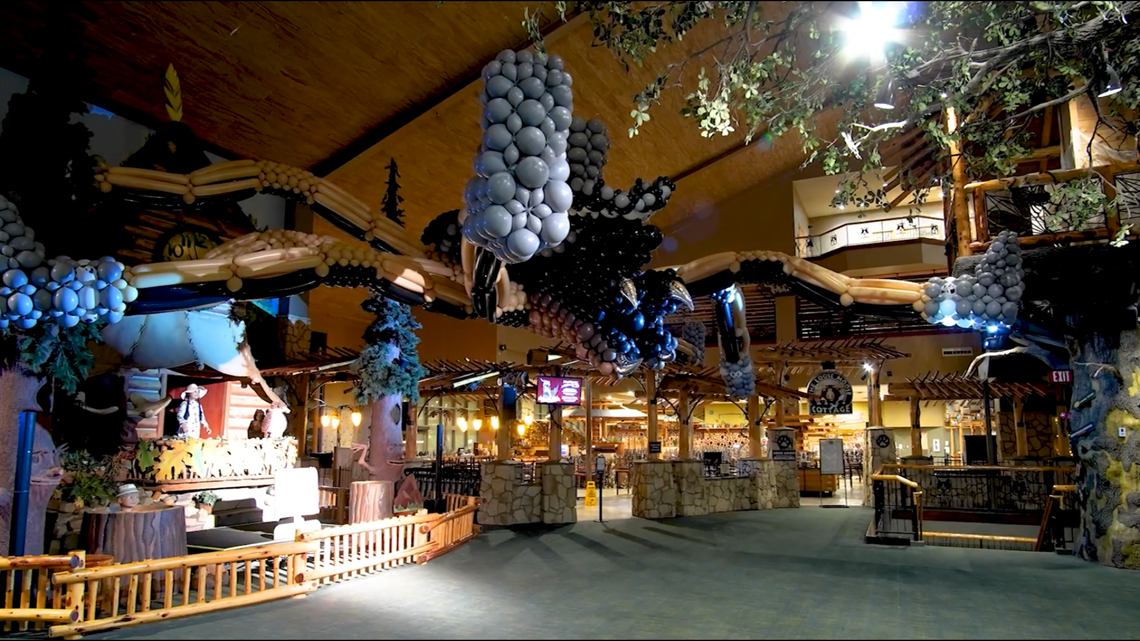 Dallas: Reunion Tower light show
Friday, Oct. 29
Halloween light show

Jack-O-Lantern
12:01 a.m. - 8 a.m. & 6 p.m. - 11:59 p.m.

Saturday, Oct. 30
Halloween light show

Spooky Spider

12:01 a.m. - 8 a.m. & 6 p.m. - 11:59 p.m.

Sunday, Oct. 31
Halloween light show

Reunion Tower fans will be able to vote on the Reunion Tower social media channels for their favorite Halloween light show (either Jack-O-Lantern or Spooky Spider). Whatever show has the most votes will be shown on Halloween night. How Frightful!
Statler Hotel in Dallas
The Statler has two events: an adults-only Halloween party and a family-friendly Scare Fare.
Afterlife: Adults-only Halloween party featuring DJ A-Trak
Early bird tickets start at $5 with the option for VIP admission at $85, which includes an entrance through a separate VIP line and five drink tickets. General admission is $25. Go here for tickets.
When: Friday, Oct. 29 from 9 p.m. to 2 a.m.
Where: The Statler Grand Ballroom, 1914 Commerce St., Dallas.
Scare Fare: a family-friendly trick-or-treating event in the hotel's lobby on Oct. 30.
"Guests of all ages can take part in an expanded expression of the usual door-to-door trick-or-treating from 11 a.m. to 4 p.m. at The Statler's Scare Fare. You'll check in and receive a trick-or-treat kit with a map of all the candy stations located throughout the hotel, which will include each of The Statler's restaurants and additional stations in the hotel lobby.." the hotel said.
When: Saturday, Oct. 30 from 11 a.m. to 4 p.m.
Where: The Statler Dallas, 1914 Commerce St., Dallas
Frisco's Riders Field
Through Nov. 6, at the Frisco's Riders Field (formerly Dr Pepper Ballpark) there will be the Frights'n Lights Frisco which is bridging the gap between basic pumpkin patches and haunted houses.
There will be a haunted host of games, including the Headless Horseman's Haunted Hay Maze, carnival games, rides and a food and drink selection.
This "Instagram wonderland" has photo opportunities for kids and adults.
"We are thrilled to debut Frights'n Lights Frisco this fall and bring families across North Texas the USA's #1 family Halloween event," said Warren Michael Lyng, Vice President of PPG, the show's producers. "With just the right balance of silly and spooky, we've created a truly unique fall attraction that puts fun before fear and features the largest and safest trick-or-treat trail in Texas."
There is an exclusive VIP experience featuring the trick-or-treat trail, access to the family VIP lounge with character photo opportunities and Halloween movies, and more. Tickets begin at just $19.99 online and are available for purchase at www.FrightsnLights.com.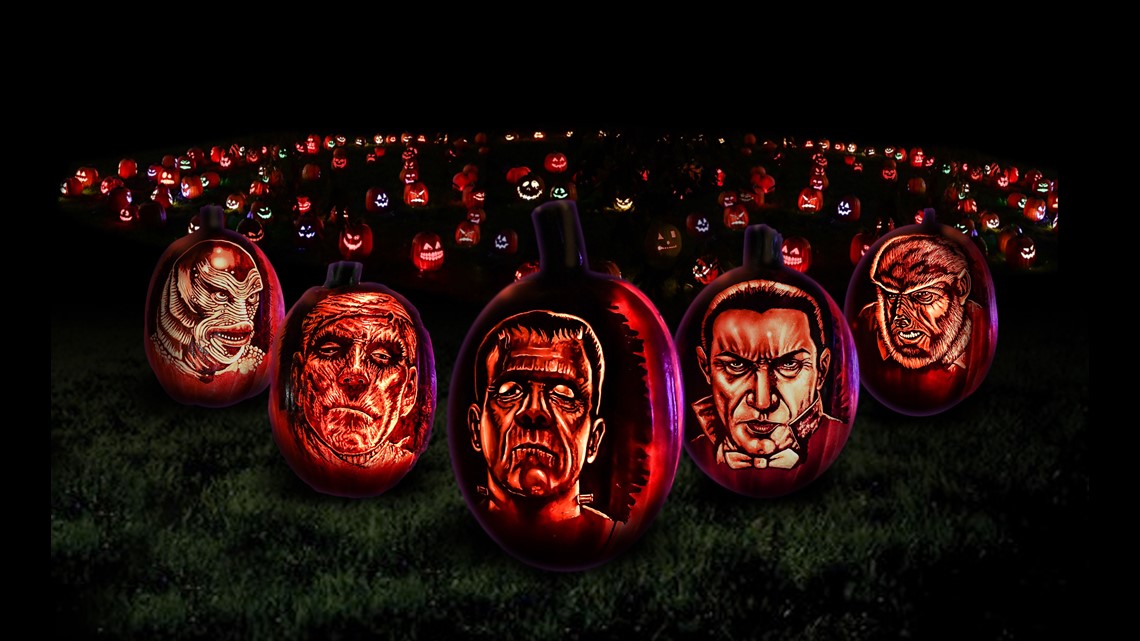 Flower Mound
The city of Flower Mound is hosting the Town's Pumpkin Dive.
Kids will pick the perfect pumpkin from the CAC's floating pumpkin patch and then decorate it! Registration is required. To learn more and register, please visit https://bit.ly/3BfRrHF.
City of Carrollton - Books for Treats
Celebrate Halloween with Books for Treats at the Carrollton library. Kids 12 and under can wear their costumes and stop by either Josey Ranch Library or Hebron & Josey Library between 1 to 5 p.m. and pick out a free book while supplies last. http://cityofcarrollton.com/library