Hurricane Harvey made landfall near Rockport Friday evening as a catastrophic Category 4 storm with winds around 130 mph.
Harvey made its second landfall along the northeastern shore of Copano Bay, Texas just after midnight.
Hurricane was downgraded to a tropical storm just before 1 p.m. after spending most of the morning as a Category 1 hurricane.
There have been reports of damage in the area, including the collapse of a building where several people were trapped.
#BREAKING So far, 10 people have been taken to a makeshift hospital in the Rockport jail, as the eye of Harvey passes over the city. #khou11

— Brett Buffington (@BrettKHOU) August 26, 2017
Reporters in the Omni Hotel in nearby Corpus Christi reported they could feel the building swaying.
A view from Ocean Drive in Corpus Christi. #HurricaneHarvey Video: Gilbert H. pic.twitter.com/hPkhk4v2Ct

— KIII 3 News (@kiii3news) August 26, 2017
The impacts of a Category 4 hurricane (130-156 mph) can include: Catastrophic damage to homes and buildings; mobile homes are destroyed; most large trees are snapped or uprooted; some roads impassable; large areas without power and communication outages.
It's also shaping up as just about a worst-case scenario storm with possible flooding from two different directions.
Harvey is moving slowly and will be stuck over the Texas coast through the middle of next week, which means rainfall measured in feet, not inches.
That's the strongest looking hurricane on satellite I have ever seen at #Landfall in the U.S. #Harvey pic.twitter.com/XKDaRM2DrG

— Brad Panovich (@wxbrad) August 26, 2017
"This is going to be a very major disaster," said Gov. Greg Abbott, who declared a State of Disaster for 30 counties and requested 700 National Guard members to be activated.
FEMA granted Governor Abbott's request for a Presidential Disaster Declaration Friday night as Harvey made landfall on the Texas coast.
We're already feeling the effects of Harvey in the Greater Houston Area with a flurry of tornado warnings. There are reports of damage in some areas, including Galveston, the Matagorda County town of Sargent and parts of Fort Bend County. There have been no reports of injuries.
Photos: Tornado touches down in Sargent
In Houston, we could see rainfall of 15 to 20 inches with isolated areas getting up to 30 inches of rainfall by next Wednesday.
"It's possible that some spots could get up to 30 inches of rain -- it won't be everywhere -- but it will be in spots and so those spots that get that much rain, clearly, they will have a very significant flood threat," said KHOU 11 Chief Meteorologist David Paul.
Catastrophic flooding expected in Texas from #Harvey due to extremely heavy rainfall & life-threatening storm surge https://t.co/tW4KeGdBFb pic.twitter.com/HynvEc2Npx

— NHC Atlantic Ops (@NHC_Atlantic) August 25, 2017
---
TRACK THE TROPICS: Hurricane Central interactive map
TRACK HARVEY: Latest official NHC forecast track (tap to enlarge)
Photos: Texans prepare for Harvey
Except for our coastal communities, Harvey's winds and storm surge will not be an issue for Houston. The main concern inland will be rain. Houston is on the "dirty side" of the storm, which means Harvey's outer bands will bring heavy downpours and storms to southeast Texas while Corpus gets hit by the hurricane force winds.
HOUSTON WEATHER: View the latest local forecast
RELATED LINKS:
LIST: Houston area high water locations due to Hurricane Harvey
Get an inside look at Harvey from the Hurricane Hunters
Tornado touches down in Matagorda County, curfew in place
LIST: Evacuation orders in some coastal cities due to Harvey
NICU babies flown out of storm zone to North Texas
There is also concern about the forecast track. Currently Harvey is forecast to slowly make its way north along the Texas coast and arrive in Houston as a tropical storm early next week. This means Houston could get even more heavy rain Tuesday into Wednesday, especially if Harvey continues to move slowly. A Flash Flood Watch is in effect.
As many as 1.25 million Texans could lose power from the storm, according to forecast models at Texas A&M University.
EVACUATIONS
Several counties have already called for mandatory and voluntary evacuations. Locally, Galveston County Judge Mark Henry has issued a voluntary evacuation for residents on Bolivar Peninsula effective Friday, Aug. 25 at 8 a.m. This order includes the unincorporated areas of Port Bolivar, Crystal Beach, High Island and Gilchrist. Residents who rely on medical assistance or those who cannot go without power for an extended period of time are encouraged to leave.
The Brazoria County judge has issued a mandatory evacuation for coastal communities along the Gulf side of the Intracoastal canal. The evacuation is due to an expected 6-10 foot storm surge. There is a voluntary evacuation for low-lying coastal areas inland of the Intracoastal Waterway.
LIST: Tap here for the list of current evacuation orders
WHEN TO EVACUATE: Should I stay or should I go?
WATCHES AND WARNINGS
A Hurricane Warning is in effect for Matagorda and Jackson Counties.
A Hurricane Watch is in effect for Brazoria County.
A Tropical Storm Warning is in effect for Brazoria County, Chambers, Fort Bend County, Galveston County, Harris County, Waller County, Wharton County.
A Tropical Storm Watch is in effect for Austin County, Colorado County.
A Flash Flood Warning is in effect until until 2:30 PM this afternoon for Austin, Brazoria, Colorado, Fort Bend, Jackson, Matagorda, Waller and Wharton counties.
A Flash Flood Warning is in effect until until 2:15 PM this afternoon for Brazoria, Chambers, Galveston, Harris, Liberty, Montgomery, San Jacinto and Walker counties.
A Flood Warning is in effect until until 11:29 PM tonight for Brazoria, Fort Bend & Wharton counties.
A Flood Warning is in effect until until 5:30 AM Tuesday morning for Harris county.
A Flood Warning is in effect until until 6:58 PM for Harris county.
A Flood Warning is in effect until until 6:48 PM for Harris county.
A Flood Warning is in effect until until 4:31 PM for Austin, Fort Bend & Wharton counties.
A Flood Warning is in effect until until 2:47 PM for Matagorda & Wharton counties.
A Tornado Watch is in effect until until 1:00 PM for Austin, Brazoria, Chambers, Colorado, Fort Bend, Galveston, Grimes, Harris, Jackson, Liberty, Matagorda, Montgomery, Waller, Washington & Wharton counties.
(What do these watches and warnings mean? View our preparedness guide.)
Texas Governor Greg Abbott has declared a State of Disaster for 30 counties in anticipation of Tropical Storm Harvey making landfall. County Judge Hebert declared a local state of disaster for Fort Bend County.
President Trump ordered federal aid Friday to supplement State and local recovery efforts in the areas affected by Hurricane Harvey.
The governor has also activated 700 members of the Texas Army and Air National Guards and Texas State Guard to areas impacted by Hurricane Harvey.
BE READY: KHOU 11 Hurricane Preparedness Guide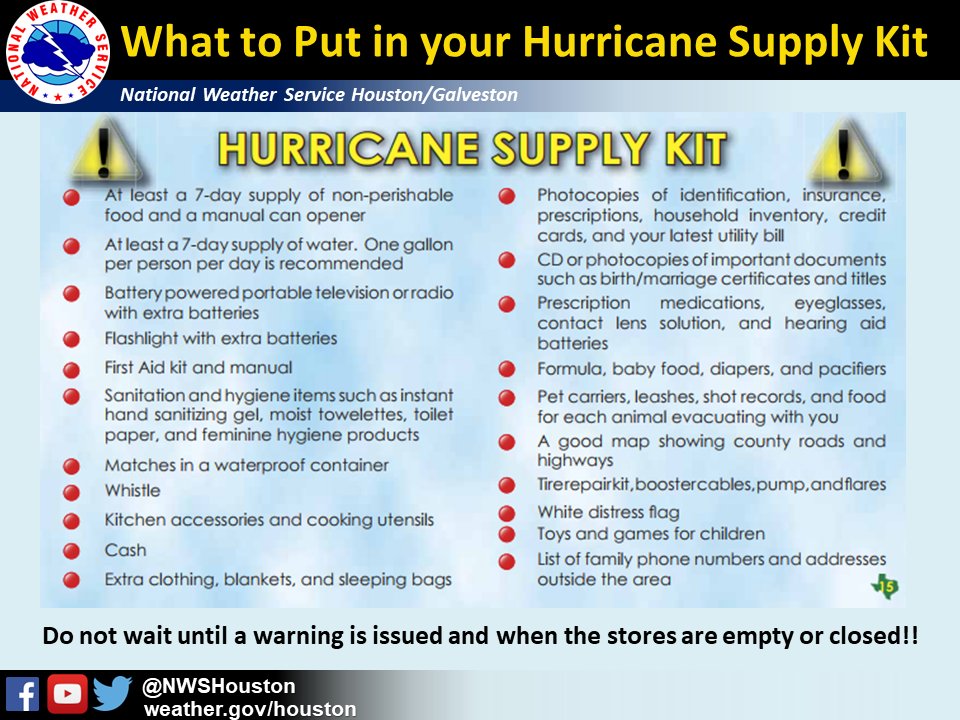 © 2018 KHOU-TV