Date: Wednesday, September 21st, 2016
Rangers Record: (90-62, 1st place, 9 games)
Magic Number: 2
Opponent: Los Angeles Angels of Anaheim
Tonight's Starters: Jered Weaver (11-12, 5.17) vs. Derek Holland (7-8, 4.93)

It's hard to stay focused writing the daily today. The A's and Astros are playing on the big screen in right field, and really, the outcome of that game will frame the tone of the rest of the night (Houston, at time of writing, is currently winning 5-2). If they beat the A's, there is no chance that the Rangers can clinch tonight before tomorrow's day off and then a three-game road trip. If the A's comeback, all the cards are on the table: a win tonight would seal the deal.

(UPDATE: The Astros, in one final act of consolation-prize defiance, have swept the A's, and thus there will be no division-clinching win tonight in Arlington.)

It's the September 21 Baseball Texas Daily.

MUSIC RECOMMENDATION
I can't believe this album turned ten years old this month. "How To Grow a Woman From the Ground" by Chris Thile. Thile is the mandolin-genius from Nickel Creek and the Punch Brothers, and this is one of his many solo albums, which range from mandolin interpretations of classical pieces by Bach to dueling Mandolins to bluegrass to avant-garde prog jazz noodlings. This one is firmly in the singer-songwriter genre, however, and it's among his best work.
(Spotify, Apple Music, Website)

Occasionally these recommendations come from Rangers players, broadcasters, or other people around the team (here's a complete list). If there's a player or person you'd like Levi to ask for a music recommendation, shoot him an e-mail threetwoeephus@gmail.com or a tweet here.

BASEBALL STUFF

1. Texas won another 1-run game last night, this time 5-4 over the Angels. A.J. Griffin was suffering from an upper respiratory issue (sinus problems), and it affected his performance in a pretty convincingly negative fashion. But Nick Martinez and the rest of the bullpen did an admirable job, and held the Angels in check while the offense fashioned yet another comeback. Of course, that's not what everyone wants to talk about...

2. Now we've got bad blood. Here are the facts, as we know them: Mike Trout, Adrian Beltre, and Jonathan Lucroy were all hit by pitches last night. Later, Carlos Gomez was initially safe on a slide into second base, but later called out as he came off the bag. These are the first round of facts. But as we sidebar into the world of speculation, none of these situations seemed to wear, on their faces, the mask of ill-intent: Trout's was on a Griffin curveball, Beltre said there was "no way" that his was intentional, and Lucroy's was also a changeup. But Carlos Gomez felt that Andrelton Simmons was blocking second base, and Mike Scioscia felt that Gomez threatened Simmons. Back to facts: Keone Kela later threw a ball that went behind Andrelton Simmons' shoulders and both benches were warned. Mike Scioscia and third base coach Spike Owen would later get into a shouting match, and eventually, Elvis Andrus was hit squarely in the ribs with a pitch. Brett Oberholtzer (and Scioscia) were ejected.

3. Both managers (and Gomez) spoke about the situation today. Banister was the most calm, saying he hadn't even seen Scioscia's comments from last night. When told what Scioscia had said (quotes are in the gamer), Banister responded thusly: "You're asking me to answer that?"

Then he answered that.

"Anybody can be accusatory," he began before pausing and considering just how frank he wanted to be. "Look, I'll take it this way," he half-sighed, his voice lowered and slowed slightly into the somewhat eye-rolling timbre of someone who sounded like he would be just fine not being required to involve himself in cross-team diplomacy. "It's hard enough to manage my own team, without worrying about the thoughts of others. I repect Mike for the job that he's done in managing the Angels. He's done so much more than I have in the game of managing, the game of baseball, so how could I question anything that he has to say?"

If I may write in a tone commensurate to Banister's effusive praise, it sounded [voice lowers] very sincere.

He continued. "However, I don't make assumptions on what other people do on the baseball field. So everybody can have their thoughts and opinions; that's what's great about the business we're in."

Scioscia was less guarded.

"Any time any of your players get a 97mph fastball at the neck for no reason, obviously the whole bench was fired up. We were all fired up, and hopefully, Major League Baseball will take a look at that and see what the appropriate action should be." Later, he added this. "I think you have to have respect for this game, and understand that when you're throwing a ball even 91mph and you're up around the head or neck of a hitter, that's just irresponsible. And I think that's something that you certainly need to police."

"If you look back at some of the things, I mean, Albert got hit in the head by Barnette. And we knew it wasn't intentional. I don't think there have been any things beyond we play hard / they play hard. I think both teams respect that. But what happened last night crossed that line. And that's the fact."

Asked if there would be carryover, Scioscia said there would not be, and that the Angels weren't "about" retaliation, but later said "In Major League Baseball, Every game, on every day, someone's getting hit."

(NOTE: Rangers pitchers have hit 52 batters, and Rangers batters have been hit by 68 pitches in 153 games this season.)

Gomez, for his part, had this to say.

"I reacted how anybody would react. It's not the first time that I've tried to slide and he's blocked the base. We have 10 games until the end of the season and you're going to make that kind of play? (...) If you slide when they're blocking the base, you're going to break your hand, or your shoulder or something like that. So I told him, 'Hey, that's not necessary to play that type of game.'"

Gomez said he had heard Scioscia's comments last night.

I heard Scioscia made a comment about it. I did not do anything wrong. You're not supposed to (block the base). You can hurt someone. It's not just to me. He's been doing that to other players, too. He (Scioscia) said that I told him that we were going to come after him. I'm not a manager. I'm not a pitcher. I just told (Simmons) what I felt I needed to tell him." Simmons, Gomez said, did not reply. "He didn't respond. He walked away. To feel like that when I didn't do anything wrong and blame, it's not fair. It's not right. He's trying to hurt me. I'm not trying to hurt him. I just told him, 'It's not necessary to do that. If you want to play that type of game, I know how to, too.' They said that I sent the pitcher to hit him but nobody sent a pitcher to hit him. It's not my decision."

"I thought he made a great play," Scioscia said about Simmons' play. "I thought he was where he was supposed to be. I thought Gomez had the play beat, but he had to stay on the bag, and he didn't do that. It wasn't anything Andrelton did that stopped him from getting to the base. Andrelton made a great play; kept the tag on. That's what you have to do."

"If they go watch the video, they can say nothing about it," Gomez said in summary. "His foot was in front of the bag. It made me slide afraid. That's why I was up (off) the bag, it screwed me up."

4. Derek Holland pitches for the Rangers tonight. He had a bad last outing, and the hope is that he will rebound tonight at home against the Angels, a team against whom he has historically succeeded. While Griffin's tough start last night can be, to some level, chalked up to the upper respiratory issues, you could reasonably assume that a strong outing by Holland would bolster his hopes for a start in the postseason. The first two spots, obviously, are going to be Hamels and Darvish. After Martin Perez' outstanding outing in his last start, he looks to be locking things in at exactly the right time. After that…?

5. Ian Desmond has the game off tonight. Desmond had no comment on the reasons why, but Banister assured us that it was "just a day off".
POSTSEASON / ELIMINATION CHECK
(Lead, Magic # in Parenthesis)
Philadelphia and Milwaukee were both eliminated from the NL Wild Card, and by extension, the playoff chase. That NL Wild card race is starting to look like a boon for Team Entropy, as three teams are tied atop the pile, with Miami and Pittsburgh lurking 4 and 4.5 games back, respectively. In the meantime, more close to home (XXX Houston / Seattle). Meanwhile, if the Indians beat the Royals tonight, Kansas City will be eliminated in the Central

AL DIVISION LEADERS: Texas (9.0, 2), Cleveland (7.0, 6), Boston (4.0, 8)
AL WILD CARD: Toronto (+1.0), Baltimore (1.5, 11)
NL DIVISION LEADERS: Los Angeles (5.0, 7), Chicago (16.0, C), Washington (8.0, 4)
NL WILD CARD: NY Mets/San Francisco/St. Louis (4.0, 8)
AL Eliminated, Division: W: OAK, LAA / C: MIN, CWS / E: TBR
AL Eliminated, Wild Card: MIN, TBR, LAA, OAK
NL Eliminated, Division: W: ARI, SD, COL / C: CIN, MIL, PIT, STL / E: ATL, PHI, MIA
NL Eliminated, Wild Card: ATL, SD, ARI, CIN, PHI, MIL
Clinched: Cubs
Rangers AL Home Field Advantage Tracker: 1st place, 2.0 games, Magic Number: 10

You can follow Levi Weaver on Twitter at @ThreeTwoEephus, or for fewer puns and more straight-forward Baseball News updates, you can follow us at @BaseballTX, or download the app and get in-game updates and notifications by clicking on the logo below!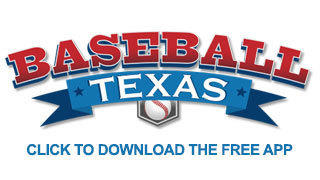 Copyright 2016 WFAA