Any good magic trick requires peril. The woman might be sawed in half. The straitjacket might cause the magician to drown. The guy might guess the wrong card and everyone would be embarrassed for him. The consequences vary greatly, but there is always this in common: every magic trick requires a set-up, and every set-up is built from peril.
Before the fireworks, before the quintet of teammates successfully wrangled Jonathan Lucroy en route to second base, before a lonesome ball clattered around in the left field corner undisturbed by any futile outfielder's chase, before Ryon Healy unsuccessfully attempted to wrangle that ball en route to its lonesome settling place, and before Lucroy pulled the rabbit out of the hat and sent it down the third baseline at 99mph, there were 8.833 innings of peril. 8.833 innings in which the Rangers never led.
Those 8.833 innings would never reach an even 9, as those are the rules of baseball: once the home team goes ahead in the 9th inning or later, half the players walk somberly to their clubhouse, and the other half make a jumping, hugging celebratory mosh pit out of the hero of the night. Tonight, for the seventh time this season, the Rangers were the mosh pit half of the equation, and with the 7-6 walkoff win, they took one more step towards another, bigger celebration: one where there are only heroes, only a team, a teeming mass of hero that will play 162+ and once again attempt to navigate the volatile seas of the postseason.
But before the fireworks, before the flags, before the champagne, before the national television broadcasts and brisk weather, before the ecstasy and agony of fall baseball, there are fourteen games yet to play. As Jeff Banister is so fond of saying, they have not yet earned anything but the right to play this game. Tonight, they played this game. All 8.833 innings of it, in fact.
It started harmlessly enough, with both teams retired in order in the first inning. But in the second, Cole Hamels walked Khris Davis. It was Hamels' 73rd walk of the season, a career high (he would end the night with two more tacked on to that number). Ryon Healy, who came into the game hitting a robust .377 in his last 30 games, hit a ball off the left field wall. With runners at second and third and no outs, Hamels needed Houdini mode. He got it, striking out Stephen Vogt, then getting Brett Eibner to ground out hard to Adrian Beltre. Beltre looked Davis back to the bag, then recorded the out at first. Renato Nuñez followed with a soft grounder up the middle, but Elvis Andrus charged hard, picked up the ball and made a strong throw to first to end the inning.
A's starter Kendall Graveman also wriggled free from his own problematic situation in the third inning when – after singles by Mitch Moreland and Nomar Mazara and a sacrifice bunt by Elvis Andrus to move them to second and third – he hit Carlos Gomez with the first pitch. The bases were loaded with but one out. Ian Desmond was up next, and while his grounder was to the shortstop, it was not nearly hard enough for a double play. A run would have scored. But Gomez, barrelling hard into second base, started his slide late and overslid the bag by a few feet. It was the sort of slide that, up until last year, would have been called "a good, clean, hard slide". This year, thanks in part to Chase Utley's act of violence on Ruben Tejada in the playoffs, it was an automatic double play. No run would score.
At least not until the next half-inning. If Hamels was Houdini in the second inning, then in the fourth, he was more like a grandpa pulling a quarter from behind the ear of his now-too-old-to-fall-for-it grandson. Danny Valencia walked, and Khris Davis said "I know it was in your hand the whole time, pop", blasting a 1-2 pitch over the right-centerfield wall. Then Healy hit another ball off the wall, and scored when Brett Eibner singled him home. It was 3-0.
The Rangers did score two in the 5th inning - they, too, followed the old "you gotta walk before you run" axiom (don't correct me, it works better for the story this way), and a free pass to Jonathan Lucroy turned into a run when - after another Mazara single - Elvis Andrus (who was NOT bunting this time) hit a double down the left field line. Mazara might have also scored if not for the ball bouncing into a security guard. But with runners on second and third, Carlos Gomez grounded out and Mazara scored anyway.
If Hamels was grandpa in the fourth inning, he was David Blaine in the fifth, making an entire half-inning disappear in just four pitches. But then I suppose in the sixth inning, we would have to say that he was Gob Bluth, accidentally falling into an open grave, a coffin toppling in and landing on him. (This is not a Kendall Graveman pun, but it wasn't for a lack of trying). A single, another walk, and a Brett Eibner home run made it 6-2 Oakland.
But then the real magic began.
Texas got two runs in the bottom of the sixth on four hits, including an Odor single on a pitch that was a foot outside the strike zone, and a Mitch Moreland single off left-handed reliever Sean Doolittle. "If you go back and look at how he's swung the bat off left-handers," Jeff Banister would say later, "he's had some tremendous at bats(…) when Mitch is going right, right vs. left, I've got no problem with him facing either one." It was now 6-4
Carlos Gomez homered to lead off the 7th inning. 6-5.
In the 8th, the Rangers loaded the bases. Odor singled and stole second. With two outs, Jurickson Profar walked. Then Elvis hit a ball to Marcus Semien at shortstop. But Odor paused, screening Semien, then jumping over the ball and sprinting to third. The ball crawled up Semien's arm, and the bases were loaded. But Gomez grounded out to second base with a ball that very nearly bad-hopped into second baseman Joey Wendle's mouth. Wendle recovered, and the uprising was quelled.

For now.

In the meantime, the Rangers bullpen was extremely good. After getting some rest in the Houston series (and a day off), Keone Kela, Matt Bush, and Sam Dyson worked a combined three innings of shutout baseball, each allowing just one single, Kela and Bush striking out two, Dyson one.
Then in the ninth inning, as it has been in so many one-run games before, The Feeling began. Carlos Beltran doubled, and was lifted for pinch-runner Delino DeShields. DeShields moved to third on a wild pitch, and Adrian Beltre hit a ball to the third deck in foul territory on the third base side before accepting the walk. Rougned Odor also hit a ball with home run distance, but foul ball sonar. It hit the second deck just to the right of the foul pole in right field. Pinch-runner Joey Gallo stole second on the seventh pitch of Odor's at-bat, a swinging strike three.
This is all that preceded the hit, the dive, the lonely unpursued ball, the catcher-wrangling, and the fireworks.

What comes after? I can't wait to see.

NOTES
(Courtesy of the Texas Rangers PR Department)
TEXAS posted its 7th walkoff win of the season, club's major league-leading 45th come-from-behind win this season, T2nd-most in club history (50 in 2013)…it was the team's 19th win in club's final at-bat this season, tying the White Sox for most in majors…it was the club-record and ML-best 8th win of the season when trailing after 8 innings (previous was 7 such wins in 1991 and 2005)…Rangers have won 3 of 4 and 5 of 7…the 88 wins match last year's season total and 88-60 record matches best 148-game start in club history…have matched season high-water mark at 28 games above .500 (3rd time).
STREAK LIVES: Texas has now hit HR in 17 straight games, matching club's longest streak this season and T4th-longest in club history.
JONATHAN LUCROY recorded his 5th career walk-off RBI, 1st since 7/22/14 vs. Cincinnati with Milwaukee.
COLE HAMELS has allowed at least 6 earned runs in 3 different starts this season, all coming in his last 4 outings…last 4 games: 10.50 ERA (21 ER/18.0 IP) to raise season figure from 2.67 to season-high 3.42…was in position to lose before the Rangers' walkoff win.
CARLOS GOMEZ hit a solo homer in the 7th to make it a one-run game…it was his 5th HR with Texas, matching his total with Houston this season…5 of his 15 hits with Texas have been home runs.
CARLOS BELTRAN hit 2 doubles tonight to give him 535 in his career, passing Lou Gehrig (534) to move into 38th place on the all-time list…Beltran in his last 15 games: .366 (26-71) with 3 HR, 7 2B, and 15 RBI to go from .286 to .297.
NOMAR MAZARA had 2 hits tonight for his 2nd straight multi-hit game, this after not having multiple hits since 8/26 vs. CLE…now has 131 hits this season, the 7th-highest total ever by a Texas rookie and 3 shy of Mike Hargrove's total (134) in his 1974 A.L. Rookie of the Year campaign…has a .280 (63-225) average in home games this season.
MITCH MORELAND snapped an 0-for-16 span tonight with a 2-for-3 effort…has hits in 5 of his 14 games in September, and 4 of those are multi-hit games.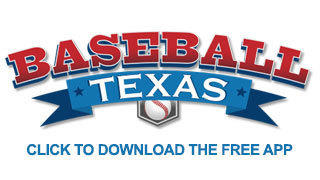 Copyright 2016 WFAA