Date: Friday, September 9th, 2016
Rangers Record: (83-58, 1st place, +8.5 games)
Magic Number: 14
Opponent: Los Angeles Angels of Anaheim, which is not LA, Greater Orange County, Angels The Angels
Tonight's Starters: Yu Darvish (5-4, 3.45) vs. Tyler Skaggs (3-3, 4.71)

As the rest of nature begins its slow descent from green through the various hues of red, gold, and orange into a hidden brown winter, the Texas Rangers' hope – planted in spring and watered through an entire oppressively hot summer – has begun to bloom. As with most new flowers, it is understandably fragile.

Lose four out of five in May, and everyone thinks the writer is just throwing out an arbitrary early-season month (I'm not: May 1-5th vs. the Angels and Blue Jays). It usually takes something more along the lines of a 3-13 stretch (July 2-22) to really bring out the panic. But with this fragile little bloom now promising to provide sustenance, every little beetle or grasshopper smells like famine.

The Rangers' 8½-game lead in the division is – if history is to be believed – unassailable. No divisional lead this big has ever been blown this late. Even the 2011 Red Sox, widely considered to be the biggest collapse in MLB history, were fighting for a Wild Card spot, not a divisional win. Additionally, 2011 was the last year of the single wild-card format. If the standings were the same this year, Team Chicken Wings and Beer would have still been a playoff team.

The following year brought us the new format: two wild-card teams would battle each other in a one-game free-for-all. The Rangers and Orioles thumbed their nose at the legislation of drama, each finishing the season at 93-69; they would have had a one-game playoff even if MLB had not dictated it. You probably don't need to be reminded how that turned out.

It's nice when your team makes the playoffs. It beats rooting for, say, this year's version of the Twins. But sneaking in the door is not the goal. With late October aspirations seeming more and more a possibility, the little things that didn't matter much in a throwaway 14-5 mid-June loss to Oakland in now matter an awful lot.

The point is: it's okay if you're freaking out a little bit, even though the Rangers are all but assured of winning the division. The division is good! There's nothing wrong with the division (except for all these West Coast games, but that's another conversation). But the Rangers franchise is championship starved. This little bloom looks like it might be the one that provides a meal at long last. Maybe. Please.

MUSIC RECOMMENDATION

I told you there would be more Ryan Adams. Today, I'm recommending "Love is Hell", which started as two separate EPs, since Adams' label didn't think the album would sell. After both EPs became immediate fan favorites, the label relented and released the album as a completed work. It's perhaps Adams' darkest, and certainly his most ambient. It's the one that has the cover of Wonderwall, but for me, there's no finer work on this record than I See Monsters. Unless it's Political Scientist. Or maybe English Girls, Approximately. No no, it has to be Shadowlands. Or This House is Not For Sale, or...
(Spotify, Apple Music, Website)

Occasionally these recommendations come from Rangers players, broadcasters, or other people around the team (here's a complete list). If there's a player or person you'd like Levi to ask for a music recommendation, shoot him an e-mail threetwoeephus@gmail.com or a tweet here.

POSTSEASON / ELIMINATION CHECK
(Lead, Magic # in Parenthesis)

No new eliminations today, though the A's and Padres could be added to the list as early as tonight. If the Rangers win two games against the Angels this weekend, you can put a halo over them as well.

AL DIVISION LEADERS: Texas (8.5, 14), Cleveland (6.0, 18), Boston (1.0, 23)
AL WILD CARD: Toronto (+1.0), Baltimore (1.0, 23)
NL DIVISION LEADERS: Los Angeles (5.0, 19), Chicago (16.0, 8), Washington (8.0, 15)
NL WILD CARD: San Francisco (+0.5), NY Mets (0.5, 23)
AL Eliminated, Division: W: (none) / C: MIN / E: (none)
AL Eliminated, Wild Card: MIN
NL Eliminated, Division: W: (none) / C: CIN, MIL / E: ATL
NL Eliminated, Wild Card: (none)
Clinched: (none)

RANGERS STUFF

1. Well, at least they won't play the Mariners anymore, which is a weird thing to be relieved about, especially after Texas swept the Mariners so recently in Arlington. But last night's 6-3 loss meant the Rangers lost 3 out of 4 at Safeco. Get on out of there, guys. Get to SoCal. There's a struggling Angels team down there and...

2. Anaheim will be the first sub-.500 team the Rangers have played since way back on August 24th. Maybe it will be nice to have an opportunity to get well by beating up on some bad teams…

Weird Thing That Might Be Something: The #Rangers, an AL-best 76-54, are *below* .500 (23-27) against sub-.500 teams. Clean up vs. steel.

— Jon Couture (@JonCouture) August 28, 2016
Ah, right.

3. It's never a bad time to talk about the Nolan Ryan- Robin Ventura fight. In this case, the prompt came in the form of researching the Spokane Indians' playoff loss last night. I saw an unusual surname in the opposing box score: Austin Grebeck went 1-for-4 with an RBI. I wondered if he was Craig Grebeck's son (he is), and I was struggling to remember the context for Grebeck's back-and-forth with Nolan Ryan. My curiosity there led me to this entertaining and in-depth breakdown of the events leading up to the most legendary pre-2016 baseball fight the Rangers have ever seen. Or was it the most legendary, even after the Odor / Bautista square-off?

Maybe that's a poll. Yes, in fact, that's a poll.
Rangers fans: what was the more legendary baseball fight?

— Levi Weaver (@ThreeTwoEephus) September 9, 2016
X. Yu Darvish is pitching tonight. In an enlightening article by Evan Grant this week, Doug Brocail seemed to believe that both Darvish and Hamels had been unsuccessful in recent starts as a result of very fixable mechanics flaws. I'll let you read the details on the original article, but if the optimism is founded, it would go a long ways towards restoring the Feel Good Vibe from last week.

(POST-SEASON) MINOR LEAGUE REPORT

Spokane lost game one of their three-game series against Everett by an 8-5 score. The Indians jumped out to an early 1-0 lead, but the AquaSox scored three runs in the third and two in the fourth and never looked back. Spokane did rally for three runs of their own in the 5th (all on a home run by this year's 4th-round draft pick Charles Leblanc), but Everett piled on for three more in the 8th, and the Indians' one run later in the inning would not be enough to close the gap. Leody Taveras got a couple of hits, as did Blaine Prescott and Carlos Garay. In fact, 8 of the 9 Spokane starters got hits. Unfortunately, the team had more errors (6) than runs (5), and that's no good way to win any game. Game two will be played at Safeco Field tonight.

AAA - Round Rock
FINAL RECORD: 71-72

AA - Frisco
OVERALL RECORD: 63-76
SECOND-HALF RECORD: 25-45

HIGH-A - High Desert
OVERALL RECORD: 82-58
SECOND-HALF RECORD: 38-31

LOW-A - Hickory
OVERALL RECORD: 74-66
SECOND HALF RECORD: 36-34

SHORT SEASON-A - Spokane
OVERALL RECORD: 32-43
SECOND HALF RECORD: 13-24
PLAYOFF SERIES 0-1

AZ ROOKIE LEAGUE - Rookie Rangers
FINAL RECORD 18-37

DOMINICAN SUMMER LEAGUE:
Rangers1: REG. SEASON - 51-19, Championship Series (L 3-1)
Rangers2: REG. SEASON - 38-32

You can follow Levi Weaver on Twitter at @ThreeTwoEephus, or for fewer puns and more straight-forward Baseball News updates, you can follow us at @BaseballTX, or download the app and get in-game updates and notifications by clicking on the logo below!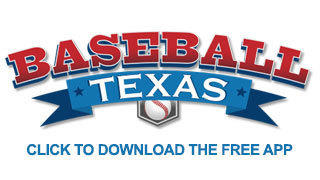 Copyright 2016 WFAA