Date: Thursday, September 15th, 2016
Rangers Record: (87-60, 1st place, +8.5 games)
Magic Number: 8
Opponent: No one! Take a night off!
Tonight's Starters: No, really. The Astros, Mariners, and Indians aren't even playing tonight.

The Rangers have played their final Thursday game of the regular season. They will have tonight (and the following two Thursdays) off. We're down to just 15 regular-season games left. Twelve of those are home games, the lone exceptions being a three-game series in Oakland next weekend. The hope for Rangers fans, of course, is that the team can clinch the division at home. But for that to happen, the Rangers will need to sweep the Angels and A's, and the Mariners will have to lose at least two of the next six, which are all at home against the Astros and Blue Jays.

The math continues from there, of course. If the Rangers win five of six, the Mariners would need to go 3-3. Or 4 of 6 and 2-4. I just realized that I'm just explaining the magic number. Any combination of Rangers wins and Mariners losses that equals eight will be enough. Unless, of course, the Astros sweep the Mariners, in which case, that all changes and we need the Astros to then go lose to the A's in Oakland.
What I'm saying is that it's starting to look like the Rangers might clinch in Oakland this year, rather than at the ballpark. Meanwhile, the Indians won yesterday to pull to within two games of the Rangers for home-field advantage in the AL, but lost today to fall another half-game back. (I've taken the liberty of adding that to the Postseason / Elimination check below).

Welcome to the September 15th Baseball Texas Daily!
MUSIC RECOMMENDATION

Oh, guys. I found the coolest-sounding band this morning. They're called "The Murder of Crows," and the best way I can describe their sound is that it sounds like a cross between 1.) early Godspeed you! Black Emperor and B.) the soundtrack to an epic western about an aging gunfighter, but set in the deep south in the 1920s, decades after his heyday. Gone are the Arizona 1890s of his youth, and now he's in Columbia South Carolina and the country is beginning to modernize without him and ah man now I just want the Coen Brothers to make this movie and I might have to write a book now. As for the band, it is a project of Gaelynn Lea, the winner of this year's "Tiny Desk Concert" contest. She also has a solo record.
(Spotify, Apple Music, Website)

NOTE: Spotify lists one other record by this band, having been released this year. This is not the same band. It is aggressive bar-rock.

Occasionally these recommendations come from Rangers players, broadcasters, or other people around the team (here's a complete list). If there's a player or person you'd like Levi to ask for a music recommendation, shoot him an e-mail threetwoeephus@gmail.com or a tweet here.

POSTSEASON / ELIMINATION CHECK
(Lead, Magic # in Parenthesis)

The Cubs have technically clinched a playoff berth. They can finish no worse than the second Wild Card slot. But with their next win (or the Cardinals' next loss), they will wrap up the NL Central.

AL DIVISION LEADERS: Texas (8.5, 8), Cleveland (6.0, 12), Boston (1.0, 17)
AL WILD CARD: Baltimore (+1.0), Toronto (1.0, 17)
NL DIVISION LEADERS: Los Angeles (5.0, 13), Chicago (17.0, 1), Washington (10.0, 7)
NL WILD CARD: San Francisco (+0.5), NY Mets (0.5, 17)
AL Eliminated, Division: W: OAK, LAA / C: MIN / E: TBR
AL Eliminated, Wild Card: MIN
NL Eliminated, Division: W: ARI, SD / C: CIN, MIL, PIT / E: ATL, PHI
NL Eliminated, Wild Card: ATL
Clinched: (none)
Rangers AL Home Field Advantage Tracker:(1st place, 2.5 games)

BASEBALL STUFF

1. The Rangers did not win last night, but despite the 8-4 loss to the Astros, the finish the season with a 15-4 record against Houston in 2016.

2. Is is too early to start thinking about a postseason roster? Maybe. But it's an off-day, and I'm waiting for this Indians / White Sox game to finish up, so let's think about it.

The biggest question, of course, is the back of the rotation. Cole Hamels and Yu Darvish will go 1-2 in some order. But the order of the other two probably depends on the opponent. Toronto hits left-handers well, so it might be Colby Lewis and A.J. Griffin going 3-4 if the Rangers play the Blue Jays. Baltimore struggles against left-handers, so you'd think Martin Perez and (if he can figure things out in the next two weeks) Derek Holland may get the nod. Cleveland is pretty even against both, and Boston is hitting the fire out of the ball against everyone, so you'd have to go on matchups.

Colby has not faced the Red Sox this year, but did pitch once against the Indians and gave up just 2 hits in six innings. Griffin faced Boston twice and gave up just 2 runs both times, but went 4⅓ and 4 innings. He faced Cleveland once, going six shutout innings. Martin Perez faced Boston in Arlington once and went 6ip, 1 run, 6 hits. But when he pitched in Boston, the Red Sox scored 11 runs off the left in just 4 innings. Against Cleveland at home, Perez allowed 6 runs in less than 6 innings. Derek Holland allowed just 1 run in 6 innings in May against the Indians, then repeated the feat in August. He did not face Boston this year. Here's how I'd stack them, I think...

ROTATION:
vs. Toronto: Darvish, Hamels, Lewis, Griffin
vs. Baltimore: Hamels, Darvish, Perez, Holland
vs. Boston: Hamels, Perez, Darvish, Griffin
vs. Cleveland: Hamels, Darvish, Lewis, Holland

BULLPEN:
Sam Dyson, Matt Bush, Tony Barnette, Jake Diekman, Keone Kela, Tanner Scheppers, Alex Claudio, (Holland/Lewis/Perez/Griffin).

LINEUP:
LF: Carlos Gomez
CF: Ian Desmond
DH: Carlos Beltran
3B: Adrian Beltre
2B: Rougned Odor
C: Jonathan Lucroy
1B: Mitch Moreland
RF: Nomar Mazara
SS: Elvis Andrus

BENCH:
C: Robinson Chirinos
INF/OF: Jurickson Profar
OF: Delino DeShields /
OF: Jared Hoying

The surprise, even to me, is putting Hoying on the team instead of Ryan Rua. But looking at what each player can provide in a short series. Rua is a very versatile spot starter at first base and all three outfield positions. But in the playoffs, your A-team is going to be playing every day. Hoying providing plus-defense late in a game may give him the nod.

3. All that said: is there a chance that Shin Soo Choo could be back before the ALDS? It's not likely, though Choo is having an X-Ray today. Once the bone has been cleared by doctors, Choo could resume baseball activities, and maybe even get a few at-bats in the instructional league in Arizona. Both Jeff Banister and Jon Daniels said that they weren't optimistic about Choo's return in the regular-season, but Daniels said that if Choo had been added to the 60-day DL, he wouldn't be eligible for return until after the ALCS had begun, so they have kept him on the 15-day DL just in case.

That said, the Rangers have twice been faced with the choice of putting Choo on the 60-day DL or risk losing a player. Drew Stubbs (Carlos Gomez signing) and Michael Roth (Colby Lewis return) have both been DFAd on the hope that Choo might return before the postseason. We'll keep you posted when he hear anything about the X-Ray results (likely tomorrow).

4. Former Rangers Assistant G.M. (and current G.M. of the Padres) A.J. Preller is, uh, in a bit of hot water. After a report today by ESPN revealing that the Padres had been keeping two sets of medical records – one that the league and other teams see, and another that they used in-house – MLB announced this afternoon that Preller would be suspended without pay for 30 days. It certainly looks super-shady, especially after their trade with the Marlins, when Colin Rea pitched 3⅓ innings in his one start as a Marlin before being pulled with elbow discomfort, and later returned to the Padres with an elbow injury. After the ostentatious first off-season and subsequent two years of struggles for the Padres since Preller's arrival, one might wonder if this is the end of his tenure in San Diego.

The suspension, by the way, is not Preller's first. He was suspended for impropriety related to international signings when he was with the Rangers.

5. The list of team name finalists for the Kinston High-A team has been released. ("Jeff" did not make the cut.)

Additionally, it is being branded as a "regional" franchise, so it won't be the "Kinston" anything. They will be the "Down East ______". Here are the options, as listed in the official press release:

Down East Eagles - A nod to baseball history in the Eastern part of the state, the Eagles were the first pro team to play at Historic Grainger Stadium.
Down East HamHawks – As one of the country's biggest pork producers, there's no questioning the importance of the mighty pig in North Carolina. But, hogs are just a fraction of what the state is known for – this is also the birthplace of aviation. This team name is a play on words paying homage to some of the state's most notable contributions.
Down East Hogzillas – Whole hog BBQ is part of the very fabric that makes Eastern North Carolina a colorful place. Hogzilla is a mighty and powerful team ready to bring home the bacon, and the wins, for fans.
Down East Shaggers - The Carolina Shag is a partner dance that will leave your toes tapping. Watch for members of this team to shag balls on the field and maybe even invite you to dance at the ballpark.
Down East Wood Ducks – Also known as "woodies", these colorful local waterfowl and a favorite among local hunters and boast some of the sharpest claws among all ducks. Less than 24 hours after hatching, these gutsy ducklings make a long and unassisted jump out of their nest high above the ground. Look for this team to make equally plucky plays on the field.

Having lived in England for two years, you can imagine which of the names struck me as being the most potentially awkward to have to write about every day. You can vote for your favorite name here.

6. I guess he's Big City Breakfast now? The Yankees have signed Billy Butler. This doesn't directly affect the Rangers, but if he is effective in NY, it could have an indirect impact: the Yankees are still within range (2 games) of somehow pulling off the improbable and making it to the postseason *after* trading Aroldis Chapman, Andrew Miller, and Carlos Beltran, and cutting Alex Rodriguez. Butler wouldn't be eligible for the postseason roster, having been signed after September 1st.

(POST-SEASON) MINOR LEAGUE REPORT

High Desert begins their quest for the Cal League Championship tomorrow in Visalia.

AAA - Round Rock
FINAL RECORD: 71-72

AA - Frisco
OVERALL RECORD: 63-76
SECOND-HALF RECORD: 25-45

HIGH-A - High Desert
OVERALL RECORD: 82-58
SECOND-HALF RECORD: 38-31
PLAYOFFS, ROUND 1: W: 3-1
FINALS:

LOW-A - Hickory
OVERALL RECORD: 74-66
SECOND HALF RECORD: 36-34

SHORT SEASON-A - Spokane
OVERALL RECORD: 32-43
SECOND HALF RECORD: 13-24

AZ ROOKIE LEAGUE - Rookie Rangers
FINAL RECORD 18-37

DOMINICAN SUMMER LEAGUE:
Rangers1: REG. SEASON - 51-19, Championship Series (L 3-1)
Rangers2: REG. SEASON - 38-32

You can follow Levi Weaver on Twitter at @ThreeTwoEephus, or for fewer puns and more straight-forward Baseball News updates, you can follow us at @BaseballTX, or download the app and get in-game updates and notifications by clicking on the logo below!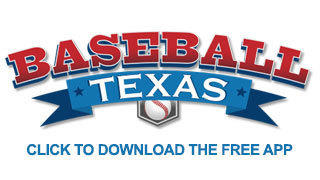 Copyright 2016 WFAA