Baseball is a team game, and as such, it allows for the possibility that – much like a body or a family – the collection of parts can be functioning quite well as a unit despite one member being in a significant amount of pain. Tonight's 8-4 loss isn't going to sink the Rangers' season. The division race is, for all intents and purposes, settled. Were it not, Yu Darvish would have started tonight as originally scheduled. Instead, Jeff Banister opted to push Darvish back and begin the process of setting his rotation for the playoffs.
That brings us to the other half of the metaphor:
"I just sucked." That was Derek Holland's assessment of his performance tonight.
With Darvish pushed back, it was announced late last night that Holland would be starting tonight's game. His status had been in limbo for the better part of a week, since his last outing. He was "in the bullpen" but not permanently. He was going to piggyback a start with Griffin last night until Griffin – perhaps Holland's biggest competition for a spot on a postseason rotation – went seven innings on Tuesday, allowing just two runs on four hits, and exceeding expectations.
Without the comfort of a routine, something you'll hear every starting pitcher talk about at least once (if not a few dozen times) in the course of a season, Holland seemed to be unable to get comfortable early in the game. After Carlos Beltran had doubled home Ian Desmond in the top of the first inning to give Holland a lead, George Springer led off the Astros half of the inning by fouling off two 0-2 pitches before getting a ball, then an 80mph slider on the lower-inside part of the plate. He hit it 386 feet over the left-center field wall and the game was tied.

It didn't stay that way for long.
In the second, everything the Astros hit was loud. Yulieski Gurriel hit a ball 100mph, but straight to Carlos Gomez in left field. Evan Gattis singled hard to left field. Marwin Gonzalez sent a ball 397 feet to the warning track in the deepest part of center field for the second out. Then Teoscar Hernandez saw a 92 mph sinker inside for ball one. Another 92mph sinker, outside for ball two. A third 92mph sinker, on the lower-inside corner of the plate.

This one went 421 feet. It was 3-1.

After that, Holland settled down. After a leadoff single to Springer in the third, he retired nine straight batters. But he was not the only one who had settled into their night on the mound. Joe Musgrove, after the first inning run and two singles in the second, didn't allow another hit until the 7th inning. It was a Nomar Mazara 2-run home run, but it only narrowed the gap to 5-3; Holland had hit the showers after an Alex Bregman double, an intentional walk to Carlos Correa, and an RBI single to Gurriel. Alex Claudio came on, and Evan Gattis greeted him with an RBI single.
Holland, for his part, didn't allow the unusual circumstances to work their way into his summary of his start. "I'm not going to use that as an excuse. I just didn't perform today. There's no excuse to use that in there. I was called upon, I just didn't do my job.
The Rangers did try to make it interesting later in the game. In the 8th, they scored again when Adrian Beltre doubled, then pinch-runner Delino DeShields scored when Jonathan Lucroy singled up the middle. It was 5-4, and it looked like maybe yet another 9th-inning overturn was in the works. But in the 8th, Alex Claudio was unable to cleanly field an infield single, then with one out, Banister called on Tanner Scheppers yet again. Gurriel doubled, but a Jared Hoying did a good job of fielding the wall ball, and held the runners to second and third. Scheppers intentionally walked Evan Gattis to load the bases, then induced a ground ball that could easily have been a double play, had the shift been different than it was.

But it wasn't. Andrus was unable to field the ball, and even if he had wrangled it to the ground, a double play was unlikely. It was a 2-run single. It was the sort of weird luck that the Rangers have so often found on their side this year. Tonight, it wasn't. Jake Diekman came on and struck out Colby Rasmus and George Springer, but there was a Jake Marisnick RBI single sandwiched between them. It was 8-4, and that was the final.

It wasn't a devastating loss for the team. There will be champagne and goggles in the Rangers' future soon enough. But for the one member of the family, it was a bit more bitter. "Right now, I'm worried about just trying to be on the team for the playoffs. I, uh, I gotta pitch better. I sucked. I did not do my job," an emotional Holland said, pausing and sighing. "It's not a good day. Not a good day."
The Rangers will be off tomorrow before a 6-game homestand against the A's and Angels. Meanwhile, let's all wish the Astros well. After an off day, they will start a three-game series in Seattle against the Mariners. The Rangers need a few Mariners losses this week if Texas wants to clinch the division at home.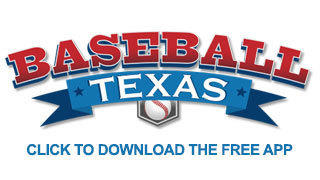 Copyright 2016 WFAA