Date: Thursday, September 1st, 2016
Rangers Record: (80-54, 1st place, +8.5 games)
Magic Number: 21
Opponent: The passing of time.
Tonight's Starters: For the first time since the season started, I'm going to read a book.

It's somewhat fitting that the team gets a day off to reflect as the calendar flips to September. It's a month that has always defied interpretation by North Texas standards; it's not really fall yet; the average high temperature around here is still a balmy 88°; still summer by most standards of measurement. But by comparison to the sweltering oven of early August Texas, 88° almost feels like scarf weather.
#88 historically also has another connotation in these parts when September rolls around.
And for over a half-decade now, September has been - after 30+ years of this being a rarity - a consistently interesting time to watch Texas Rangers baseball. That holds especially true this year, as much (if not more) than any year before it. If you compare every Texas Rangers team in history on the morning of September 1st, here's how they'd stack up:
2016 - 80-54 (.597)
2012 - 78-53 (.595)
1999 - 79-54 (.593)
2013 - 79-56 (.585)
1996 - 77-58 (.570)
1999 - 77-59 (.566)
2011 - 77-60 (.562)
2004 - 73-57 (.561)
2010 - 74-58 (.560)
2009 - 72-58 (.558)
Of course, you'll notice this: the 7th- and 9th- place teams on that list (and last year's squad, which was 68-62 on 9/1/15; 4 games behind the Astros) will serve as a reminder that the best record on September 1st doesn't mean a whole lot; not compared to the best record on October 1st. And Thanksgiving.
Still, it's exciting. It beats 2014, when the team was 53-84 (.389) and three games from losing their manager.
It's the September 1st Baseball Texas Daily!

MUSIC RECOMMENDATION
Maps and Atlases are a truly great band, and while their website is sort of a graveyard, their Twitter confirms that they're still active and playing shows. Beware and Be Grateful is a quirky dive into harmonies & syncopated guitars & drums. It's weird, but hummable, and worth at least a few listens.
(Spotify, Apple Music, Website)
Occasionally these recommendations come from Rangers players, broadcasters, or other people around the team (here's a complete list). If there's a player or person you'd like Levi to ask for a music recommendation, shoot him an e-mail threetwoeephus@gmail.com or a tweet here.
POSTSEASON / ELIMINATION CHECK
This is a new section of the Daily, since it's September. I'll post a quick look at the playoff picture and the elimination picture. Lead and Magic Number included in parentheses.
AL DIVISION LEADERS: Texas (8.5, 21), Cleveland (4.5, 26), Toronto (2.0, 28)
AL WILD CARD: Boston (+2.0), Baltimore/Detroit (1.0, 29)
NL DIVISION LEADERS: Los Angeles (1.5, 29), Chicago (15.0, 16), Washington (9.0, 21)
NL WILD CARD: San Francisco (+2.0), Saint Louis (1.5, 29)
AL Eliminated, Division: (none)
AL Eliminated, Wild Card: (none)
NL Eliminated, Division: (none)
NL Eliminated, Wild Card: (none)
RANGERS STUFF
1. Texas tried to solve its pythagorean record and run differential all in one game yesterday, putting an exclamation point on their sweep of the Mariners by beating them 14-1 and hitting roughly a million home runs.
2. When that series started, the Mariners were in second place and 8.5 games out of first. When it ended, they were in third and 11.5 back. Texas now looks ahead to the Astros who... are in second place and 8.5 games back.
3. STOP THE PRESSES: The Rangers have announced the first wave of September call-ups, and there is at least one surprise: C Brett Nicholas, INF Hanser Alberto, RHP Nick Martinez and *drumroll* LHP Yohander Mendez(!!!) I didn't expect Mendez, but I'm excited. This announcement came just as I was about to put the wraps on the Daily, so I don't have any more details, but expect a full report from Kate Morrison before the day is over.
4. The Rangers have illuminated the mystery on what their rotation will be, at least through the three-game series with the Houston Astros: A.J. Griffin will go Friday, followed by Derek Holland on Saturday and Yu Darvish on Sunday.

What this means: probably another rehab start for Colby, though no announcement has been made about that just yet. Lewis pitched Tuesday for Frisco, which means he would be scheduled to pitch again on Sunday. The options?

- He could start at home for Round Rock against Memphis on Sunday
- He could start one of the two games of a home doubleheader for Frisco against Midland on Sunday
- He could get an extra day of rest and start for the Rangers Monday in Seattle.

It would come as a surprise if, while trying to build up arm strength, they allow him more than one extra day of rest, so Tuesday & Wednesday are probably out of the picture.
5. Last year on September 1st, Carlos Gomez was on the first place team in the A.L. West. This year, he's... also on the first-place team in the A.L. West. This weekend, Gomez will get a chance to exact some revenge on the team that cut him earlier this season. "I'm just concentrated on the game we have today," Gomez said yesterday. "If you push this into your chest; 'oh, we're going to face the team that released me', you're so stressed that it's hard to perform and work like that. We have enough problems today to face King Felix. I don't even know who we'll face Friday. I just came from the video room to get a plan on what to do to today."
(Side note: that actually worked out really well; Gomez hit a grand slam off Hernandez on Wednesday. Keep doing that.)
Gomez doesn't feel like he as anything to prove to the Astros. "No," Carlos smiled. "If you feel that way, it's like I said, it's harder to perform. Tomorrow, I'll figure out what the plan is and where I'm going to work so I can be in the game, but today is a more important game. I'm just happy to be here - I've played six games, and we've won five; it's a good way to go."

As for the Rangers clubhouse, Gomez couldn't be happier to be here. "It's been great. Even when you go 0-for-4 with three strikeouts, you still feel like you went 2-for-4 or 4-for-4. All the energy is positive and everybody comes to you like 'you're the best', 'you'll be ok', 'you are close to making this team extremely good', so when you are around a lot of people like that - not One, but Everybody, it's fun. Today we were supposed to be here at ten and I got here at like 8am; I just want to get in the clubhouse."

I asked if that was unusual for clubhouses to be that positive.

"I've been in four clubhouses, and this is the best. Not because I'm here. If not I'd be telling you 'it's good, but not like the others', but this is extremely good. All the young players make you feel younger, and all the veteran players," he shrugged and smiled "...they look younger! So they just come get it every day, they push the envelope, that's why this team is so good."
It's one thing to read the words, but watch the video. This is probably the last time I'll bang the drum about how this Carlos Gomez is not the "clubhouse problem" "team cancer" Carlos Gomez we heard about. Maybe everyone was wrong. Or maybe they were right, but his attitude was more to do with his surroundings. Who knows? But this isn't that guy.
And here's a bonus video of Gomez trying to explain his bad year with Houston.
6. Drew Stubbs is going to be an Oriole; he was claimed off waivers yesterday. Being signed by a contender means we may yet see Drew Stubbs at Globe Life Park yet again before the season is over. It's still a curious move that the Rangers elected to designate Stubbs for assignment when Gomez was activated, rather than send Rua to AAA and add Choo to the 60-day DL.
7. Jeremy Jeffress is headed to rehab. The news about the conclusion to his DWI saga broke yesterday during the game. The team and Jeffress both issued statements.

Here is the team's:
"The Rangers commend Jeremy for seeking treatment and taking responsibility for his actions," said Rangers President of Baseball Operations and General Manager Jon Daniels. "Our thoughts are with him as he is dealing with this situation. We ask everyone to respect his privacy as this time."
And Jeffress':
"First, I would like to offer a sincere apology to the Texas Rangers, my teammates, my family, and to the fans for the incident that took place last Friday morning. Make no mistake, drinking and driving is wrong. I made a mistake that not only jeopardized my wellbeing, but the wellbeing of others, and I thank God that nobody was hurt because of my mistake.
"I have faced and overcome much adversity in my life, some of it self-inflicted, and I try very hard, every day, to be a positive influence in the lives of my family, friends, fans and, most importantly, my daughter, Jurnee. Moving forward, I promise to do everything I can to live my life the right way, as I look to put this incident behind me. I promise to do whatever it takes to get back on the field playing the game I love. And I will begin this process by being away from the team while I get the help I need to overcome these difficult personal issues.
"I am also making a commitment to speak out against impaired driving for the rest of my life, as I hope others will learn from my mistake. I also would like to thank the police department for their professionalism in handling the situation as well as they did. Lastly, I ask that others respect my privacy during my absence, just as I ask for their forgiveness. Thank you and God bless you all."
As far as apologies go, it's about as good as you can hope for. The team doesn't yet know whether or not Jeffress will be available for the postseason.
8. The Rangers have acquired another catcher, getting Nevin Ashley from the Mets for cash considerations. This isn't directly about the big league roster; Ashley will not be on the 40-man roster, and will be assigned to Round Rock (who has 5 games remaining in their season.) It may be an indirect indication, however, that the Rangers are planning on recalling Brett Nicholas as part of the expanded 40-man rosters. (EDITOR'S NOTE: YUP.)
Speaking of minor league announcements....
MINOR LEAGUE REPORT
The Rangers have announced who will be playing in the Arizona Fall League this year: RHP John Fasola, LHP Joe Filomeno, RHP Reed Garrett, C Jose Trevino, C/INF Isiah Kiner-Falefa, and INF Andy Ibanez have been announced, and one more pitcher and one more outfielder will be named later. Kiner-Falefa will be what is called a "Taxi Squad" player, meaning he will only be active on Wednesdays and Saturdays.
Also, this probably didn't make it to the Daily when it was announced, but the Rangers have announced that they have extended their contract with the Spokane Indians through the 2018 season. Okay, on to the scores!
AAA - Round Rock is back to .500! Nice! They got there by beating Omaha 7-3. The bulk of the run scored in the 5th inning, when the Express got 5 runs and sent 9 to the plate. Matt Duffy got his 11th home run. Michael Roth got the win, and Nick Martinez, Jose Leclerc, and Andrew Faulker all pitched in relief, perhaps for the last time for Round Rock this season, depending on how the September 1st call-ups go.
RECORD: 69-69
AA - Frisco… Frisco will not get back to .500 this year. They lost to Corpus Christi last night by a 4-2 margin. Scott Carroll only gave up one run in 5 innings, but then David Perez also gave up one run, and so did Ryne Slack, and so did Juan Grullon. Luke Jackson was the only one to emerge unscathed, pitching a scoreless 9th and striking out two.
OVERALL RECORD: 60-73
SECOND-HALF RECORD: 22-42
HIGH-A - The High Desert farewell homestand continued last night with a 13-7 loss to Inland Empire. Strangely enough, the Mavs led 5-0 going into the 6th inning. But innings of 7, 1, 2, and 3 innings by the 66ers sunk the ship quickly and without remorse. David Lyon (13) and Luke Tendler (23) both homered for HD, but starting at the top of the 6th, every pitcher was bad.
OVERALL RECORD: 78-56
SECOND-HALF RECORD: 35-29
LOW-A - Hickory also had a lead and a shutout after their half of the fifth inning and also gave up 13 runs in the frames that remained (weird, huh?). The Crawdads scored just 5, and lost to Asheville.Silver lining: London Lindley, who spent 34 games in AZL rookie ball, is hitting .500 in 10 at-bats at low-A. He went 3-for-5 with two RBI and a stolen base yesterday.
OVERALL RECORD: 71-64
SECOND HALF RECORD: 33-32

SHORT SEASON-A - The winning streak is over: Spokane lost 8-5 to Hillsboro, despite a 3-run rally in the 9th. Anderson Tejeda and Chad Smith each got three hits, but C.D. Pelham took the loss by allowing 4 runs on 0 hits (6 walks).
RECORD: 30-41
SECOND HALF RECORD: 11-22

AZ ROOKIE LEAGUE - SEASON OVER
RECORD 18-37
DOMINICAN SUMMER LEAGUE: The Rangers1 team started their playoffs with a 3-0 win over the Red Sox2. Edgar Arredondo (6 ip, 1BB, 7 Ks) and Ismel Lopez (3ip, 1BB, 3Ks) combined for a 2-hit shutout; both hits by Kleiber Rodriguez. For the Rangers1, Yonny Hernandez went 4-for-4, scoring all three runs, and stealing a base.
SERIES: 1-0 Rangers

Rangers1: REG. SEASON - 51-19
Rangers2: REG. SEASON -38-32

You can follow Levi Weaver on Twitter at @ThreeTwoEephus, or for fewer puns and more straight-forward Baseball News updates, you can follow us at @BaseballTX, or download the app and get in-game updates and notifications by clicking on the logo below!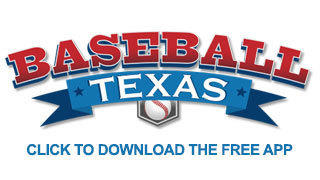 Copyright 2016 WFAA