Date: Friday, July 21st, 2017
Rangers' Record: 45-50 (4th, 18 games behind Houston)
Wild Card Position: (8th of 12, 4.5 games out)
Tonight's Opponent: Tampa Bay Rays (51-45)
Tonight's Starters: Yu Darvish (6-8, 3.45) vs. Alex Cobb (8-6, 3.59)
Alright, alright, alright. I'll do it. I'll do one of those things where I give you my list of trades that I came up with in my head. I don't know why we do this, as an industry. I'm not a GM, and have no designs on ever being one. All I wanted was to write my stories in peace and get to write a 7,000-word story when Adrian Beltre hit a walkoff Grand Slam to win the Rangers their first World Series.

Instead, you get my invented trades. Please feel free to leave your trade suggestions in the comments box, and I'll get to them as soon as I finish reading this [motions to gigantic stack of unread facebook comments]
BASEBALL STUFF
1. Yu Darvish, Carlos Gomez, and Jonathan Lucroy to the Twins for Byron Buxton, Stephen Gonsalves, and Mitch Garver.

CAVEAT: Before I pull the trigger on this, I take Yu Darvish out for dinner and tell him this: We absolutely plan to re-sign you next year at market value. If you do choose to come back, you'll have Byron Buxton patrolling center field behind you, and–to the absolute best of our ability–Shohei Otani in the rotation with you. Now, go try to help Thad win a ring and come back with even more postseason experience.
There was a time that mentioning Buxton would have gotten you a brief cackle of laughter, followed by a slammed-down phone, but Buxton's bat hasn't exactly set the world ablaze. Still, he's a plus-plus defender in center field with top-of-the-league speed and he's young (23), controllable, and cheap.

This, of course, all depends on how the Twins view both Buxton and their long-term chances at winning, but if they see this as a win-now window, and/or if they think Buxton's bat is never going to come around, perhaps Carlos Gomez gives them an affordable offensive upgrade without giving up too much in defense. Additionally, Darvish would immediately become the best pitcher in the Twins' rotation, and Lucroy, for all his troubles this season, is certainly an upgrade over Jason Castro.
In return, the Rangers would get their center fielder for at least the near future, a top-100 arm in Gonsalves, and a catcher who, at very least, fills that AAA spot that Brett Nicholas would leave behind when he was called to the big leagues.
2. Adrian Beltre to the Red Sox for Rafael Devers. Is this crazy? Probably. In no world should a 38-year-old third baseman with a year and a half of control bring you back the 12th-rated prospect in baseball, who has never hit below .282 at any level in his three-plus minor league seasons, and is absolutely raking after having been promoted to AAA.
But this is no ordinary 38-year-old. And as the Red Sox are gearing up to try to win a World Series right now, their third baseman is ...Brock Holt. They just paid Pablo Sandoval a wheelbarrow full of diamonds to get out of their face, and their farm system is deep enough to withstand the loss of Devers.

Beltre, meanwhile, provides a ton of value, not just on the field, where he is still performing at an ultra-high level offensively AND defensively, but also off the field. He brings in the absolute gold standard in clubhouse leadership, and if you pull the trigger at the last possible minute, there's a better-than-zero chance you'll have to hastily throw together a 3,000 hits ceremony at the last minute.

The Rangers don't want to deal Beltre. They want him to win a ring, and they want him to do it here. They want him to get his 3,000th hit as a Ranger and retire as a Ranger and go into the Hall of Fame as a Ranger. And trading him would result in a huge fan backlash.

So, you want to change their minds? Pay up.
3. Mike Napoli and Andrew Cashner to the Rays for Travis Ott. Tampa gets a starter to replace the struggling Blake Snell for this pennant run and a DH who is named Not Brad Miller. Napoli can also spell Logan Morrison at first base; Morrison is having a great year against RHP, but against lefties, well… Napoli could help. Travis Ott is a tantalizing prospect, and perhaps a bit much to ask, buuuuut compared to what Texas gave up for Carlos Beltran last year... Alright, okay, Tampa. You want us to pay the remainder of Cashner's 2017 salary and half of Napoli's, and throw in Jeremy Jeffress to sweeten the deal? Okay, deal. You want to pick up Napoli's $11m option for 2018? Well that's your decision to make, but it's on you.
4. Yu Darvish, Jonathan Lucroy, and Matt Bush to Milwaukee for Lewis Brinson, Carlos Gomez to the Cubs for Rob Zastryzny. I know, I know. We already traded three of these guys to the Twins. But if the Twins say no, here's a workable backup: send Lucroy back home to Milwaukee, since their catching tandem right now is Manny Piña and Jett Bandy. In addition, they get a top-shelf back-of-the-bullpen arm with some age/health risk, and--ahhhhh, yes: one of the top 15 starting pitchers in baseball to make a run at what looked in April to be a very unlikely NL Central pennant.

After this season, they wouldn't be bogged down with the big contracts, and they can carry on with their plan for the future. In exchange, please just give us Lewis Brinson back, please. We didn't mean to include him in the last trade; he was stuck to Luis Ortiz and we didn't want to be jerks about it but we really didn't mean to ever let him out of our sight.

Gomez, on the other hand, can go to the Cubs, who could use his skill set and his vocal upbeat clubhouse presence. Send us Zastryzny to dream on, but you'll get no money in return, because frankly, Gomez isn't likely to settle for a qualifying offer, and given the choice between Zastryzny and a compensation pick… it's a toss-up.
5. Jeff Banister, and the Dots to the Royals. Look, Ned Yost has a borderline-mythological history of making a bad decision and having it work out. Banister was the 2015 Manager of the Year. In return, the Rangers get the Royals' uniforms, going back to a script-style like the ones they wore so well in the late 80s (Royals can keep those trash gold-lettered ones, though). That's not the entire return though: we need those outfield waterfalls to tide us over until the dome arrives; it's really hot here.
6. Eric Nadel, Matt Hicks, and Jared Sandler to the Dodgers for Walker Buehler and Yadier Alvarez. Look, Vin Scully is gone and the Dodgers are the best they've been in years, perhaps the best team in all of baseball. You want Charley Steiner calling that first World Series since 1998? C'mon, Magic Johnson. Make a bold move. Bring in the best radio team in baseball, and pay a reasonable price for them. After this season
7. Globe Life Park and the Down East Wood Ducks to Oakland for the Nashville Sounds (organization only, not the players). We have a new park arriving in a couple of years anyway, and whatever-they're-calling-O.co-these-days is a toxic flume of sewer gases. The Rangers can play in Frisco (there's a lazy river!), bumping the Roughriders to Nashville. Is Hickory really that much further a flight from Oakland than Nashville? I submit that it is not. And don't worry about moving the stadium. The A's can play in Arlington. Attendance would be basically the same.
Okay, I think that's about enough of this.
MUSIC RECOMMENDATION
"Yours Conditionally" by Tennis. Tennis somehow manages to simultaneously sound completely modern and also sound like Farah Fawcett's feathered hairdo moving in slow motion under the warm glow of aged film.
(Spotify, Apple Music, Website)
During the regular season, these recommendations occasionally come from Rangers players, broadcasters, or other people around the team (here's a complete list). If there's a player or person you'd like Levi to ask for a music recommendation, shoot him an e-mail threetwoeephus@gmail.com or a tweet here.
You can follow Levi Weaver on Twitter at @ThreeTwoEephus, or for fewer puns and more straight-forward Baseball News updates, you can follow us at @BaseballTX, or download the app and get in-game updates and notifications by clicking on the logo below!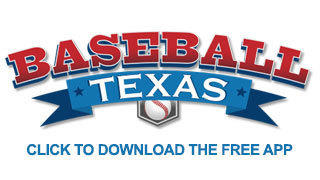 © 2018 WFAA-TV