Date: Thursday, September 14th, 2017
Record: 72-73
Opponent: Seattle Mariners (73-73)
Starters: Felix Hernandez (5-4, 4.28) vs. Andrew Cashner (9-9, 3.19)
Wild Card Situation: 4.0 games behind Twins
Still Behind: Angels, Mariners
Tied With: Royals
Well folks,
*deep breath, incomprehensibly long sigh*
*forty seconds have passed, still sighing*

*passes out, somehow still sighing*
…

It's the September 14th Baseball Texas Daily!
BASEBALL STUFF
1. Adrian Beltre is in the lineup tonight at DH.

I know.

I guess the risk/reward analysis will tell you that if he re-tweaks the hamstring, the worst that can happen is that he'll miss the rest of the season like the original diagnosis suggested he would. Beltre pinch-hit last night in the 8-1 loss to the Mariners, and said that the at-bat convinced him that he was ready to go. Here's video of the entire conversation with the future Hall of Famer.
He'll face his old friend Felix Hernandez, who is also freshly off the DL. Hernandez will be on a fifty-pitch limit.

Jeff Banister explained the reasoning behind his decision to put Beltre in the lineup. Was it a decision based on the outcome of last night's pinch-hit appearance?

"We've been talking about it. He's been at that doorstep just about every day. He wanted to be in there yesterday, (but) one of the things we talked to him about was that yesterday (he) would have taken one of Choo or Mazara out; both of them had been swinging the bat very well. So he opted for pinch-hit duty, and we got him that opportunity. And then last night after the game, Mazara was a little tight, so we decided to give him the start off, with the opportunity to pinch-hit or play late if we need him. (That) gives Beltre an opportunity to start and DH."
I asked if–barring the possibility of a home run–Beltre was limited to one-hit status tonight. Meaning: if he gets a hit, would that automatically trigger a pinch-runner?
It's hard to convey tone in print, so when I tell you that Jeff Banister's response was "No." I'm going to have to be more clear.

It wasn't a flat, annoyed "No."
It wasn't a resolute, stoic "No."
Instead, it was a thoughtful "No.", the sort where one's voice goes up an octave. If I were translating it from another language, perhaps I would have chosen the phrase "ehhhhhh ...nah, I don't think so." or "mmmmm….No?"
It's like if I asked Jeff Banister if he wanted a cup of tea, and he stopped to ponder the question, then decided that he was just fine without tea, but thanks for asking.

Then after a pause, he shook his head and added "not at all."
2. Mike Napoli is also back in the lineup tonight, playing first base. This isn't because he feels better.

"Well, Nap was a Manager's Decision yesterday," Banister clarified. "He wanted to be back in the lineup yesterday. (The decision) was precautionary; I wanted to make sure–and again, these are, in both their cases, they're vetern players who… they want to be in this mix, they want to be part of it, they want to be the guys on the field, so-- and they've been with us all year, they've been key participants in all of this, so… they're the ones that decided they needed to be in, and I honor that. They wanted to be part of this."

But for all the lineup questions and surprises, perhaps the most interesting part of the manager's scrum, for me anyway, was when…
3. Jeff Banister talked about the team's current situation as the end of the year looms.
"There is, whether you call it urgency or energy, you'd like to think that these guys have been going out there with the energy level to win baseball games. Listen, it's…. You get in these situations, what happens is, you tend to chase wins, as opposed to remembering to just play the game. Play as a team. Try to do the little things that it takes, limit the mistakes. Play aggressively–the one thing that we've done all year long is play aggressively–we'll continue to do that. But you can't just go out and bull-rush the game of baseball. You've gotta play with a *sense* of urgency, but energy to play well.
And that's about it from the clubhouse today. Carlos Gomez is out of the boot, but still not ready to return. Everyone seems to pretty well be on the same page: win or go home. Gone are the casual "we'll get 'em tomorrow"s of May and June. Texas needs a win, and badly. And then they need another one, and a few more after that. Otherwise, we'll all be left to football and basketball in seventeen games' worth of time.
NOW LISTENING
Today's music recommendation comes from Jason Grilli, who I caught playing a travel guitar in front of his locker yesterday. Grilli is a pretty well-documented Pearl Jam fan (he even owns an acoustic guitar given to him by Eddie Vedder). No offense to Pearl Jam, but it's always nice to get the unexpected answer, so I was pleasantly surprised when Grilli went off-script and recommended "Caress Your Soul" by Australian reggae-psych band Sticky Fingers.
(Spotify, Apple Music, Website)
During the regular season, these recommendations occasionally come from Rangers players, broadcasters, or other people around the team (here's a complete list). If there's a player or person you'd like Levi to ask for a music recommendation, shoot him an e-mail threetwoeephus@gmail.com or a tweet here.
You can follow Levi Weaver on Twitter at @ThreeTwoEephus, or for fewer puns and more straight-forward Baseball News updates, you can follow us at @BaseballTX, or download the app and get in-game updates and notifications by clicking on the logo below!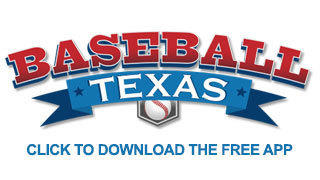 © 2018 WFAA-TV