Date: Saturday, September 10th, 2016
Rangers Record: (84-58, 1st place, +9.5 games)
Magic Number: 12
Opponent: Los Angeles Angels of Anaheim, which is not Los Angeles, Greater Orange County, Angels The Angels
Tonight's Starters: Cole Hamels (14-5, 3.25) vs. Daniel Wright (0-2, 7.62)

Yes, the Angels are a bad team. That is an established fact. But so were the Reds. So were the Rays. So were the Twins, against whom the Rangers are 2-5 this year. You get the point. So it was important, what with the recent mini-slide and the rotation temporarily turning into a Chris Farley sketch, to not only get a win to quell the rising concern, but to get a *good* win.

And yeah, all wins are good. But some wins are 10-7 exercises in Laughterpiece Theater that involve 3 errors, 27 hits, 10 walks and 17 runs, and others? Well, others look more like a trailer for a movie set in October. Last night's game was the latter. Yu Darvish's slider has returned, just a few months later than the other pitches. Matt Bush was dominant. Adrian Beltre had a majestic and dramatic home run, and the Rangers won 2-1.

The magic number is *currently* at 12, but that could drop to 11 before the Rangers take the field tonight; the Astros and Cubs are currently playing a day game in Houston.

Welcome to the September 10th Baseball Texas Daily!

MUSIC RECOMMENDATION
Sea Wolf is the nom de plume of Alex Brown Church, who is a great songwriter. It's the sort of music you would hear in a poignant moment of a really good indie movie. I mean that as a high compliment, and also I use the phrase because I don't know what this genre of music is called. "Soundtrack of Poignant Indie Movie-rock" is a bit wordy, so I'll just say it's good and I think you'll like it.
(Spotify, Apple Music, Website)

Occasionally these recommendations come from Rangers players, broadcasters, or other people around the team (here's a complete list). If there's a player or person you'd like Levi to ask for a music recommendation, shoot him an e-mail threetwoeephus@gmail.com or a tweet here.

POSTSEASON / ELIMINATION CHECK
(Lead, Magic # in Parenthesis)

Not only did the Rangers win, but the A's lost, so they are the first AL West team eliminated from pennant contention. With a win tonight, the Rangers could add the Angels to that list. Philly, Arizona, and San Diego could also see the curtain fall tonight.

AL DIVISION LEADERS: Texas (9.5, 12), Cleveland (6.0, 17), Boston (2.0, 21)
AL WILD CARD: Toronto (+1.0), Baltimore/Detroit (1.0, 22)
NL DIVISION LEADERS: Los Angeles (4.0, 19), Chicago (16.0, 7), Washington (8.0, 14)
NL WILD CARD: San Francisco (+0.5), NY Mets (0.5, 22)
AL Eliminated, Division: W: OAK / C: MIN / E: (none)
AL Eliminated, Wild Card: MIN
NL Eliminated, Division: W: (none) / C: CIN, MIL / E: ATL
NL Eliminated, Wild Card: (none)
Clinched: (none)

BASEBALL STUFF

1. We already discussed the 2-1 win, but the link is always note #1, so here it is again. Also, I got to quote Beyoncé in the gamer, so yeah, good day, all around.

2. Rougned Odor was removed late in last night's game with hamstring tightness. Jeff Banister said that it was his decision, and precautionary, but that Odor would probably get a day off today. John Blake tweeted that it was not considered serious.

But then again, consider this tweet from March 5th, 2015...

And this one from 8 days later...
HEY! HEY! IF YOU WERE SKIMMING THE ARTICLE AND JUST SAW THESE PHOTOS, CHECK THE DATE. As for your increased heart rate, though? That's what you get for skimming the article and not reading everything.
3. But seriously, hopefully Odor's hamstrings really won't be a big deal. Best-case scenario, this really was just tightness; a response to the 4am hotel arrival, paired with too much caffeine to combat the exhaustion. But the Rangers have the luxury of being extra careful with Odor and making sure he is 100% healthy heading into the postseason. Not only does the team have a big lead in the division, but they also have a pretty capable fill-in second baseman in Jurickson Profar. Maybe this regular playing time allows Profar to figure out his slump at the plate in time to be a dangerous weapon off the bench in October. That's one way to be optimistic about it. The truth is, Odor has been huge for the Rangers, and they need him to be okay.

4. What the heck is going on with the Yankees?
On July 24th, they were 50-48. Since then, they have:
- Traded Aroldis Chapman to the Cubs
- Traded Andrew MIller to the Indians
- Traded Carlos Beltran to the Rangers
- Traded Ivan Nova to the Pirates
- Traded Ben Gamel to the Mariners
- Released A-Rod
- Put Nathan Eovaldi on the disabled list
- Gone 25-17 to pull to within a game of the second Wild-Card spot in the A.L.

I know this isn't a Yankees update, but trading away your big-name stars and winning with rookies and prospects is about the least Yankees thing ever. It's not quite enough to make them a lovable team of misfits, but it is yet another interesting storyline for baseball, and if their inclusion in the postseason meant the Toronto Blue Jays stayed at home, I can't imagine too many Ranger fans would feel too badly about that. Also, it would make for an interesting playoff matchup to see Carlos Beltran facing the team that traded him away earlier in the season.

5. While we're making broader baseball observations, check out the rest of the Wild Card standings:

In the AL, Houston is 2½ games back, a number the Rangers hope to increase from Monday-Wednesday. Seattle is just a game behind the Astros, and the Royals a half-game behind them, just 4 games behind the Orioles and Tigers, who are currently tied for the #2 slot. There's a lot of intrigue yet to be had in the final three weeks.

Meanwhile, over in the National League, Miami and Pittsburgh have both dropped to 5 games out, but the Giants, Mets, and current-odd-team-out Cardinals are all separated by a total of one game. It's not quite the stuff of #TeamEntropy yet, but there's still time.

6. Speaking of entropy: look at this box score. LOOK AT IT. This is what happens when National League, Expanded Rosters, National League rules, and Pennant Race all descend upon one ballpark to make a perfect Box Storm.

7. Clayton Kershaw returned last night. He only threw 66 pitches, and his curveball wasn't super-sharp, but baseball is a better place with Kershaw in it. The Dodgers lost the game 4-1, because Jose Fernandez is also an indomitable Baseball Monster and struck out 14 Dodgers in 7 innings.

8. Back to Rangers stuff: As promised, Yu Darvish's adjustment was effective. Now let's see if Cole Hamels' was equally as profound, or if the left-handed ace struggles for a third consecutive start. While you would normally think it encouraging to look across the box score and see a starter with a career line of 0-2 with a 7.62 ERA and a WHIP of 2.08, it seems like the Rangers have - for quite some time - struggled with these early-in-their-career types, though this is an anecdotal observation.
9. With Colby Lewis returning from the 60-day DL tomorrow, there is some question as to what the 40-man roster move will be. I initially made the mistake of thinking that moving Lucas Harrell to the 60-day DL was this move, but that was to make room for R.J. Alvarez, who the Rangers claimed from the Cubs today. My best guess would be Shin-Soo Choo to the 60-day but the Harrell move makes twice that I expected Choo to be moved, and twice I was wrong. The fact that Shin-Soo Choo has avoided the 60-day DL despite having a plate inserted into his forearm may speak volumes to the organization's hope that he could return ahead of schedule. In the last two days, Choo has played catch and taken "dry swings" (swinging the bat without hitting a ball). Keep an eye on this story tomorrow.

(POST-SEASON) MINOR LEAGUE REPORT

Spokane lost the second game of their best-of-three series with the Everett AquaSox by an 8-0 margin. Spokane committed 3 errors, and while it's a shame to see the season end with sloppy defense, it's still cool when any of the affiliates make the postseason. Here's the box score, if you want to commit a few of these names to memory.
Meanwhile, High Desert starts its first playoff series tonight. High Desert will be playing the Lancaster Hawks. Hope springs eternal to an incredibly finite timeline, actually: once the Mavericks' season is over, they will be no more. Starting in 2017, the Rangers' High-A affiliate will be in Kinston, NC, and hopefully will be named the Kinston Jeff, though the hopes seem to be flickering.
@BABIP_God @cslaughter78 @ThreeTwoEephus Submission period on names ended but look for finalists to vote soon! #probablynotjeff #sorrylevi 😂

— Kinston Baseball (@BaseballKinston) September 8, 2016
One last High Desert note: The Rangers have won R.J. Alvarez on a waiver claim from the Cubs, and he has been added to the High Desert roster, but according to team officials, the move is procedural, and Alvarez will not be on the roster for the playoff series. He will, however, be on the 40-man roster. To make room for him, Lucas Harrell has been moved from the 15-day to the 60-day DL.

AAA - Round Rock
FINAL RECORD: 71-72

AA - Frisco
OVERALL RECORD: 63-76
SECOND-HALF RECORD: 25-45

HIGH-A - High Desert
OVERALL RECORD: 82-58
SECOND-HALF RECORD: 38-31

LOW-A - Hickory
OVERALL RECORD: 74-66
SECOND HALF RECORD: 36-34

SHORT SEASON-A - Spokane
OVERALL RECORD: 32-43
SECOND HALF RECORD: 13-24
PLAYOFFS: 0-2 (eliminated)

AZ ROOKIE LEAGUE - Rookie Rangers
FINAL RECORD 18-37

DOMINICAN SUMMER LEAGUE:
Rangers1: REG. SEASON - 51-19, Championship Series (L 3-1)
Rangers2: REG. SEASON - 38-32

You can follow Levi Weaver on Twitter at @ThreeTwoEephus, or for fewer puns and more straight-forward Baseball News updates, you can follow us at @BaseballTX, or download the app and get in-game updates and notifications by clicking on the logo below!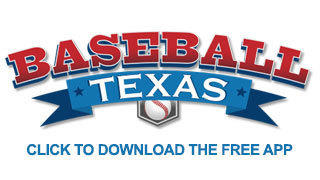 Copyright 2016 WFAA