Date: Friday, September 1st, 2016
Rangers Record: (80-54, 1st place, +8.5 games)
Magic Number: 21
Opponent: Houston Astros
Tonight's Starters: Doug Fister (12-9, 3.60) vs. A.J. Griffin (6-3, 4.39)

The Rangers are thus far undefeated in September, ha ha I don't make jokes when I get excited or nervous. By Sunday morning, the Rangers' lead in the division will be 11.5, 9.5, 7.5, or 5.5, and while a 5½-game division lead on September 5th would have been a fine thing to hope for during Spring Training, you know that everyone in and around the organization would love to see double-digits.

Meanwhile, the first wave of September call-ups have arrived, which means we'll soon get to see Yohander Mendez make his MLB debut, which is always a fun moment. Also, welcome back Brett Nicholas, Nick Martinez, and Hanser Alberto.

And welcome all of you, to the September 2nd Baseball Texas Daily!

MUSIC RECOMMENDATION

Matisyahu was a staple for me a decade-plus ago. I wasn't even into reggae, but the novelty of Hasidic Jewish reggae sucked me in, and his Live at Stubb's album was actually fantastic. I even went to see him at a small club in Birmingham, England when I lived there. He was transcendent. I'm a sucker for a good story, and if you want the opposite of celebrity culture, Matisyahu's is about as far from that as you can get. If you've never heard of him, start with the Live at Stubb's link above; "King Without a Crown" was the big hit. But the official rec today is 2009's "Light", specifically the opening track, "Smash Lies". It's not often a song makes me just laugh with joy because it's so good, but this one did.
(Spotify, Apple Music, Website)

Occasionally these recommendations come from Rangers players, broadcasters, or other people around the team (here's a complete list). If there's a player or person you'd like Levi to ask for a music recommendation, shoot him an e-mail threetwoeephus@gmail.com or a tweet here.

POSTSEASON / ELIMINATION CHECK

Cincinnati became the first team eliminated from a divisional race last night, when the Cubs beat the Giants, then Milwaukee joined them this afternoon when the Cubs won again. Atlanta could join them as early as tonight, while the Twins' elimination number is at 3, making them the closest to elimination in the AL.

AL DIVISION LEADERS: Texas (8.5, 21), Cleveland (4.5, 26), Toronto (2.0, 28)
AL WILD CARD: Boston (+2.0), Baltimore/Detroit (1.0, 29)
NL DIVISION LEADERS: Los Angeles (2.5, 27), Chicago (16.0, 14), Washington (9.5, 20)
NL WILD CARD: San Francisco (+1.5), Saint Louis (2.0, 28)
AL Eliminated, Division: (none)
AL Eliminated, Wild Card: (none)
NL Eliminated, Division: W: (none) / C: CIN, MIL / E: (none)
NL Eliminated, Wild Card: (none)

RANGERS STUFF

1. The Rangers had an off day yesterday and so did the Astros, and so did the Mariners, and so did everyone except eight teams, none of which have any bearing on the Rangers.

2. Bit by bit, the rotation question is being answered for the coming week. When we left you yesterday, we knew only as far as the end of this Houston series. Now we know at least the first two starters for the series that starts Monday in Seattle: Cole Hamels and Martin Perez. Who will pitch the final two? Stay tuned. In the meantime…

3. Colby Lewis is threw another bullpen session today; it went well, and as a result, the team has announced that Lewis will start on Monday for Short-Season A team Spokane, who will be playing in Everett (about an hour north of Seattle). The game starts at 2pm Pacific Time (4pm Central), and will be Spokane's regular-season finale.

4. We already told you who was being called up, but if you want to read more about them (especially Yohander Mendez), Kate Morrison has you covered. Mendez will be used out of the bullpen, and it's true that he is already at a career high in innings, but the team is aware of that, and has a very specific plan on his usage for the remainder of the year.

5. Here's Yohander Mendez discussing his surprise at being called up (first in spanish, then translated):
6. In fact, Kate has you covered on the whole idea of expanded rosters with this article at Today's Knuckleball. Kate's not the only one with thoughts on the matter: Jeff Banister was asked his opinion on it, philosophically. He mostly danced around it, but admitted that it's a challenge for everyone. Coaches have to put in extra work with the extra players, and the depth of an organization helps some teams more than other, but made sure to include that it was "fair", since all teams played under the same rules.

He did add that he would be in favor of reconsidering the ability of teams to have all 40 players up, and maybe have an "active daily roster" of 30 or so for the sake of simplicity and keeping the rules closer to the way the entire season is played.

7. Tanner Scheppers, who it was thought might be part of the first wave of call-ups, is going to throw a few more minor-league outings. The scouting reports have been that the fastball looks good, but the off-speed stuff could use some more help. The nice thing about this particular Rangers team is that they can afford to take their time.

8. If you think it's weird that the fact the Rangers are about to take on the Astros – their closest division rival – and it doesn't pop up until #8 on this list, you might be shocked to hear that it didn't come up once in the media time in the manager's office today. That doesn't mean the team is overlooking the Astros; not at all. I can't speak to why anyone else didn't bring it up, but I know why I didn't: it would have been the same answer we got about the Astros early in the season, or the Blue Jays. Or the Indians or Mariners earlier in this homestand: every game is important. We're focused on winning today.

That can be frustrating, sure. Fans want to hear the "This matters so much, we want to destroy their hopes and dreams and keep them awake at night" quote. But for me? If this mindset is working so far, I'm absolutely content to just keep watching how it plays out.

I would be surprised if the Astros are quite so relaxed about it.

9. Okay, okay. If you want to hear someone talk about the Astros, we had a lot of Carlos Gomez stuff in yesterday's Daily.
10. Also, despite a rivalry on the field, the Rangers and Astros are teaming up for something more meaningful: a way to help flood victims in Louisiana. Here is a statement from the Rangers:

This Sunday, September 4, the Rangers Baseball Foundation will donate the net proceeds from its Texas 2 Split 50/50 Raffle to the American Red Cross to aid in the Louisiana flood relief. The Astros Foundation will donate the net proceeds from its Share2Care 50/50 Raffle to the American Red Cross on Monday, September 12.

In addition, each Foundation will make an additional contribution to the American Red Cross.
"The catastrophic floods in southern Louisiana have resulted in the tragic loss of life and affected thousands of individuals," commented Rangers Foundation Chairman Neil Leibman. "The Rangers Foundation is grateful to be joining with the Astros to provide this assistance."
Players from both the Astros and Rangers have also been active in raising awareness and funds to aid in the recovery efforts, including Texas' Jonathan Lucroy and Houston's Alex Bregman and Will Harris.
MINOR LEAGUE REPORT

AAA - Round Rock led 2-0 going into the 8th inning in Omaha, but the combination of Francisco Mendoza and Carlos Fisher gave up three runs in the 8th, and the Express lost 3-2. Positive takeaways: Vic Payano threw 6 shutout innings, striking out four and allowing just one hit (0 walks). Tanner Scheppers worked a perfect 7th with one strikeout, and has a AAA ERA of 0.00 in his rehab assignment (4.50 in AA for a combined 1.29 in 7 innings). Matt Duffy hit his 12th home run. Joey Gallo was back in the lineup, meaning his HBP wasn't too serious.
RECORD: 69-70

AA - Frisco got a fantastic 5⅔ innings from Connor Sadzeck, who struck out 8, allowed just 3 hits & 2 walks, and was still hitting 100mph in his last inning of work. Impressive right? The downside was that he didn't make it through 6 innings, requiring 90 pitches to make it as far as he did.
OVERALL RECORD: 61-73
SECOND-HALF RECORD: 23-42

HIGH-A - Fare thee well, Heritage Field. Well, kind of. The High Desert Mavericks put the wraps on the last regular season homestand before they move to Kinston (and become known as the Kinston Jeff, I maintain). As they were the first-half champs, there will be playoffs to come. The Mavs went out with a bang in this one though, winning 14-4, scoring 10 runs in the 7th inning. I tried to look up how many pitches it took for pitchers Lavendier and Muck to escape the inning, but it wasn't listed on the box score. I'm going to just guess it was a thousand. Juremi Profar hit his 13th home run (and that wasn't even part of the big inning).
OVERALL RECORD: 80-56
SECOND-HALF RECORD: 36-29

LOW-A - Hickory scored one in the top of the 9th to take a 5-4 win over Asheville when Brallan Perez doubled home Eric Jenkins. Perez, Yeyson Yrizzari and Ledarious Clark got three hits apiece, and Sherman Lacrus got his second homer of the year
OVERALL RECORD: 72-64
SECOND HALF RECORD: 34-32

SHORT SEASON-A - Spokane beat Hillsboro 5-2, and Curtis Terry got his first home run at the level, after spending most of the season in rookie ball in Arizona. Alex Kowalczyk also homered, part of a 3-hit day, and Leody Taveras stole a base.
RECORD: 31-41
SECOND HALF RECORD: 12-22

AZ ROOKIE LEAGUE - SEASON OVER
RECORD 18-37
DOMINICAN SUMMER LEAGUE: The Rangers1 got an 11th-inning RBI single from Franklin Rollin, with a 2-1 win, took a commanding lead in their playoff series against the Red Sox2. Luis Lopez started, going 6 innings and allowing the one run, then Reiver Sanmartin, Greidy Martinez, and Samir Vivas shut it down for the rest of the day.
SERIES: 2-0 Rangers

Rangers1: REG. SEASON - 51-19
Rangers2: REG. SEASON - 38-32

You can follow Levi Weaver on Twitter at @ThreeTwoEephus, or for fewer puns and more straight-forward Baseball News updates, you can follow us at @BaseballTX, or download the app and get in-game updates and notifications by clicking on the logo below!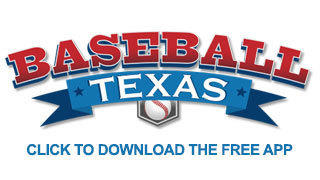 Copyright 2016 WFAA