Date: Wednesday, September 7th, 2016
Rangers Record: (83-56, 1st place, +8.5 games)
Magic Number: 16
Opponent: Seattle Mariners
Tonight's Starters: A.J. Griffin (7-3, 4.41) vs. Ariel Miranda (2-1, 5.76)

Today, we are going to attempt to focus on the invisible, to capture a vapor, to define the shape of the intangible. Today, we are going to attempt to dive into what it means when a pitcher says that he does or does not have "feel" for a pitch. I'd especially like to thank Jake Diekman, who sat with me for about 5 minutes and did his best to explain (to a writer who has never pitched) perhaps the most inexplicable thing about pitching at the highest level.

Welcome to the September 7th Baseball Texas Daily!

MUSIC RECOMMENDATION

Maybe you've noticed I've been using lyrics from the music recommendation every day to make the headlines for the Daily. Well, it turns out the song I'm using for today's isn't technically on the album I'm recommending. It's on the deluxe version, but it won't play on Spotify. Anyway, here's a version of the song. In the meantime, the rest of the self-titled album by The Head and The Heart is great. "Rivers and Roads" is a good place to start, but there isn't a bad song on the album. If you like Americana with violin, as opposed to fiddle, there's a good chance you already know this album.
(Spotify, Apple Music, Website)

Occasionally these recommendations come from Rangers players, broadcasters, or other people around the team (here's a complete list). If there's a player or person you'd like Levi to ask for a music recommendation, shoot him an e-mail threetwoeephus@gmail.com or a tweet here.

POSTSEASON / ELIMINATION CHECK
The Rangers did their part, but the A's also won, staving off elimination for at least one more day. Arizona and San Diego are the next closest, but each of them have a couple of days' grace yet. Minnesota became the first team completely eliminated from postseason possibilities.

AL DIVISION LEADERS: Texas (8.5, 16), Cleveland (4.5, 21), Toronto/Boston (1.0, 24)
AL WILD CARD: Boston/Toronto (+1.0), Baltimore (1.0, 24)
NL DIVISION LEADERS: Los Angeles (4.0, 21), Chicago (15.5, 10), Washington (8.5, 16)
NL WILD CARD: San Francisco (+0.5), Saint Louis (1.0, 24)
AL Eliminated, Division: W: (none) / C: MIN / E: (none)
AL Eliminated, Wild Card: MIN
NL Eliminated, Division: W: (none) / C: CIN, MIL / E: ATL
NL Eliminated, Wild Card: (none)
Clinched: (none)

RANGERS STUFF

1. The Rangers won a wild game that didn't end until nearly 1am Texas time. The final score was 10-7, but it felt much closer than a three-run game. Elvis Andrus got revenge for his hit-by-pitch a few days ago, and the bullpen (save for Sam Dyson) was… not great.

2. Let's get right to it. "Feel" is one of the most nebulous terms I've heard in my short time as a beat writer. A pitcher who "had good feel for a pitch" in a particular start, did not good feel for another, and those might flip the next time he goes out.

As someone who values science and data, there is a lot about the game that I believe I am capable of learning, especially living in the year 2016. For example, if I want to learn about spin rates, I can start here (that is a fascinating article, by the way). Curious about Roy Halladay's vertical release point during his September 5th win against the Tampa Bay Rays? No problem. If I want to know what percentage of the time Yu Darvish has thrown a four-seam fastball to right-handed hitters in an 0-2 count? Well, would you look at that. (42.5%).

I can understand that. But what I will never fully grasp is what a pitcher means when they say they had good "feel" for a pitch on any given night. So I did what any curious learner would do: I asked the experts. What does "feel" mean to major league pitchers, and is there something they do in preparation to try to ensure that they have good "feel" when they enter the game?

"It's kind of hard to explain," Yu Darvish said, through one interpreter (Japanese to English), while maybe needing a second one (Baseball to Writer). "Probably, for you to understand," he continued, "when I've got a good feel for it, whatever I do, I'm going to make good pitches. And when I don't have a feel for it… I just can't find it. So the preparation is just hard. That's where… if you can find a way, then you're a perfect pitcher."

This confirmed that the question was real, but didn't provide much insight as to what "feel" is, or how to quantify it.
"It's kind of hard to explain,"
That's not a reiteration. That's how Colby Lewis' answer also began; a verbatim echo of Darvish's. "(It's) kind of like anything, really; if you play ping-pong or anything else, it's like a rhythm, like, uhhh…" he paused. "For me, it's making sure my mechanics are right. Then once your mechanics and everything else comes together, the 'feel' of the pitch is minimized, and you grab the ball, and it's like 'Bam!' that's how you feel, you just throw it. It's not the actual 'feel' of the baseball," he continued, miming holding a ball in his hand. "It's basically how you're preparing yourself to throw that baseball every time."

Right. We were at least on the same page as to what I was asking (It would be weird if I were asking questions about texture variance of the balls used in a game). But what about when you've taken the steps to make sure your mechanics are right, but a pitch still doesn't feel right? You may be shocked to learn that Colby Lewis, Grizzled Baseball Dad, takes a more pragmatic stance. "I think it's timing and rhythm; your mechanics. I mean, if I throw one slider that's really good, and then I throw another one that's crappy… I did something different in my mechanics."

That stands to reason. It's one more reason the "human element" will never go away from the game.

I needed more. Maybe the best way to explain a ghost would be to talk to a pitcher who has been described by some as a "malevolent phantasm". I needed to talk to Jake Diekman.

"Yeah," Diekman said, before pausing to consider…"It's kind of like…" he paused again, looking for the right metaphor "it's kind of like… like a basketball player. He can be a great interior shooter, to 10-12 feet, or all the way out to just in front of the three-point line, but the second he gets out a little further, he just loses feel for his entire shot."

"A lot of it is… feel for a certain pitch, like - most of the time you should always be able to feel a fastball, and that can help other pitches. So if your changeup is terrible that day, throw a heater to the glove side - across your body - and that can help out the feel of your changeup."

So wait. The ability to feel one pitch can affect the ability to regain the feel for another? Yes, says Diekman. Additionally, sometimes you can just feel what you did wrong and fix it. "There are times where you'll try a back-door slider with a righty, and it will just kind of spin out, and then (the catcher) will call it again, and in your head, you're like 'alright. I know what to do. (speaking to himself) You just released it a little further back than you thought, so just get out in front and throw it there', and it works."

It's interesting to hear the difference in philosophy between three pitchers on the same team, albeit three pitchers whose styles couldn't be much different from one another.

"If you don't have feel for a pitch, I don't think you should give up on it," Diekman continued. "Throw it again, or throw another fastball that you can command that day, and then try to go back to it. You shouldn't just axe a pitch out of your arsenal. I feel like it's a fixable thing year by year (too), not just pitch by pitch. So if you get (a pitching coach) saying 'hey, let's start throwing a different changeup' well, that would take an entire off-season to learn and get a feel for it."

So it's mental, then.

"Yeah, it feels really really weird. It's just something you just have to.. Like off-days. The feel that you have after an off-day kind of sucks. You're so used to throwing every single day. So during the All-Star break, if you don't throw, the day you get back, it's going to be terrible. You won't know where anything is going. Your arm will feel great, but feel I feel like is a lot about release point. So if I don't have feel on my slider, I'm not getting far enough out front. I'm throwing it like 2-3 inches behind where I'm supposed to throw it. There are a lot of things people do (to try to maintain feel). Cole (Hamels), he plays long-toss with his changeup to like 120 feet. But he has so much feel for it, he just knows "ok I have to get out in front of it, blah blah blah", but that's why he has one of the best, ever (...) It's a game of inches. Your release point can be off one inch, and it's completely off."

As best I can gather, feel is absolutely determined by mechanics, but mechanics in a game are heavily influenced by muscle memory. When your muscle memory has been finely-honed to the perfect mechanics for you, which are totally different from the perfect mechanics for another pitcher, you'll have good feel. When something is "crappy", you need some time to re-train your muscles not to do that anymore, even if that something is release the ball a millisecond earlier or later, all while the adrenaline of Major League competition is coursing through your veins, and probably while your muscles are sore and your mind and soul are fatigued from the grueling baseball season that stretches on forever. I can comprehend that, but I'm not sure any of the explanations helped me fully grasp it.
But the best explanation I got, at least the one that made the most sense to me, was from Kate Morrison, who writes for WFAA, Today's Knuckleball, Baseball Prospectus, and ESPN, among others. Kate was at a game last week when I bemoaned my inability to fully grasp what "feel" could mean.
"Oh, you know." she replied. "You're a musician."
Hm?
Kate's background is also in music - she got her degree in flute performance. "There were composers who I could pick up a new piece and work through it with almost no difficulties at all, just because I had 'feel' for the composer and the style. Other pieces, I could practice a thousand times and still feel uncertain about whether or not I could play them on any given day, whether there would be a disconnect between my brain and my fingers."
That would explain why some pitchers can throw sliders, and others can't.
That explanation made the final connection for me. At the peak of my touring, I would play 150 shows in a year. They were mostly original songs (I was a songwriter) and there were nights when I could play the exact same chords, sing the exact same notes, and yet... it just didn't have the magic that it had the night before. Sometimes I would go 3-4 shows in a row where my pitch was fine, I was on-tempo, and playing the same notes as always (my "mechanics" were good), but it didn't feel right; I couldn't connect with the audience. Then one night, as Colby Lewis might say, "Bam." It was back, and I felt like I could play the songs like usual, or improvise any note or melody, and it would just work. I couldn't do anything wrong.

As with baseball, the more practice I had, the more likely I was to have a good "feel" show.

But as with baseball, maybe as with anything, sometimes the perfect "feel" was an elusive ghost, waiting to be whispered down, not by determination, but by some plaintive desperation or prayer. "I need you to be good tonight." Sometimes it complied, other times?
Other times, Jake Diekman doesn't retire a batter for three consecutive outings.
(POST-SEASON) MINOR LEAGUE REPORT

The DSL championship series is over. After a rainout delayed game #4 in the 7th inning with the Rangers1 trailing 4-1, the game resumed this morning. There would be no comeback, and in fact, the Red Sox1 tacked on 4 runs in the 8th inning for a convincing 8-1 win, winning the best-of-5 series 3-1.

Spokane begins their series with Everett tonight, and High Desert is awaiting the results of the first "mini-series" round to see who they will face in their playoff series that starts on September 10th.

All the other teams' seasons are over. Here are the final regular-season records for each affiliate.

AAA - Round Rock
RECORD: 71-72

AA - Frisco
OVERALL RECORD: 63-76
SECOND-HALF RECORD: 25-45

HIGH-A - High Desert
OVERALL RECORD: 82-58
SECOND-HALF RECORD: 38-31

LOW-A - Hickory
OVERALL RECORD: 74-66
SECOND HALF RECORD: 36-34

SHORT SEASON-A - Spokane
RECORD: 32-43
SECOND HALF RECORD: 13-24

AZ ROOKIE LEAGUE - Rookie Rangers
RECORD 18-37

DOMINICAN SUMMER LEAGUE:
Rangers1: REG. SEASON - 51-19, Championship Series (L 3-1)
Rangers2: REG. SEASON - 38-32

You can follow Levi Weaver on Twitter at @ThreeTwoEephus, or for fewer puns and more straight-forward Baseball News updates, you can follow us at @BaseballTX, or download the app and get in-game updates and notifications by clicking on the logo below!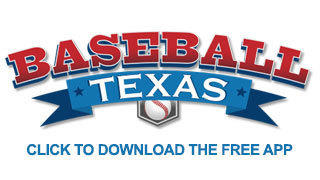 Copyright 2016 WFAA