Date: Wednesday, September 14th, 2016
Rangers Record: (87-59, 1st place, +9.5 games)
Magic Number: 8
Opponent: Houston Astros
Tonight's Starters: Derek Holland (7-7, 4.74) vs. Joe Musgrove (2-4, 4.78)
Well, here we are: the final night in Houston. What weird and bizarre turn of events will we see this evening? This team has provided no shortage of memories this season, and unfortunately for the Astros and their fans, many of those have been at Houston's expense. It's getting to that exciting and - as long as things are going well - somewhat deliriously happy time of year... buckle in. Welcome to the September 14th Baseball Texas Daily!
MUSIC RECOMMENDATION
Eric Nadel is now the organization leader in music recommendations: today, he's veering outside his usual earthy-toned suggestions, and giving us a dance album. That's right, this is is a German dance music record recommended by the Rangers radio play-by-play legend. The song he suggested is called "Bad Ideas" from dance artist Alle Farben. It's from an album called "Music Is My Best Friend." Put it on while watching Rangers/Astros highlights; it's super happy.
(Spotify, Apple Music, Website)
Occasionally these recommendations come from Rangers players, broadcasters, or other people around the team (here's a complete list). If there's a player or person you'd like Levi to ask for a music recommendation, shoot him an e-mail threetwoeephus@gmail.com or a tweet here.

POSTSEASON / ELIMINATION CHECK
(Lead, Magic # in Parenthesis)
No new eliminations in either divisional or Wild Card standings today, but two teams in each league could fall by the wild card wayside tonight. No divisional eliminations will happen tonight, but with their win today, the Cubs' magic number is now 1. They could clinch the NL Central as early as tomorrow with a win over the Brewers or a Cardinals loss to the Giants.

AL DIVISION LEADERS: Texas (9.5, 8), Cleveland (6.0, 13), Boston (2.0, 17)
AL WILD CARD: Baltimore (+0.5), Toronto (1.5, 17)
NL DIVISION LEADERS: Los Angeles (4.5, 14), Chicago (17.0, 1), Washington (10.0, 7)
NL WILD CARD: San Francisco (+0.5), NY Mets (0.5, 17)
AL Eliminated, Division: W: OAK, LAA / C: MIN / E: TBR
AL Eliminated, Wild Card: MIN
NL Eliminated, Division: W: ARI, SD / C: CIN, MIL, PIT / E: ATL, PHI
NL Eliminated, Wild Card: ATL
Clinched: (none)
BASEBALL STUFF

1. The Rangers beat the Astros again last night, and found a new and inventive way to break Houston's heart. You can read all about it here.
2. If you were planning on seeing Yu Darvish today, I regret to inform you that Yuesday has been moved to Saturday, and today will instead be Hollanday. Darvish is fine – he threw a thirty-pitch bullpen today – but with the Rangers securing wins in each of the first two games of the series, Banister told us that this had been a possibility all along. "We can position ourselves based on how we've played out of the starting role," Banister said. "We had two starters that gave us some length; we didn't need to use Holland out of the bullpen, so… to give Darvish a couple extra days; this is a guy coming off Tommy John, so we're just trying to manage the innings, manage the days, manage the days down, and then also be able to position the three together with Hamels, Darvish, and Colby Lewis. So really, not having to use Holland in the bullpen in Anaheim or here the first two days (helped)."
3. Tanner Scheppers told us last night that he didn't know until "10 minutes before I was out there" that he would be pitching the ninth inning in a save situation last night. That was no accident, said Banister. "Nope!" Banister smiled mischievously as I asked the question. So when had he made the decision?
"I had made the decision earlier in the day that if we got to that point, he was going to be the guy that I would use-- well, if it had been fully loaded with left-handers, it would have been Diekman. But given all the right-handers they had stacked up, it was going to be Scheppers. We didn't have Dyson, didn't have Bush, didn't have Kela, so he was going to be the guy.
But it was more than just a lack of options. This late in the season, especially with Scheppers throwing as well as he has, it's important to Banister to know if Scheppers is someone who can show "the art of competing" (as he called it) in high-leverage situations, and there's not a lot of time left (16 games) to find that out. So far, so good. But last night wasn't the first Banister-Test that Scheppers has passed. Even though the Rangers were losing by a run on Sunday, it was only a one-run game when Scheppers pitched the 8th inning.
"That set of hitters he pitched against in Anaheim (Mike Trout, Albert Pujols, C.J. Cron), that'll test your mettle on any day, no matter what the score is." When someone pointed out that Springer, Bregman, and Altuve was an impressive list of its own, the manager agreed: "Absolutely. No, that's why when we got to the situation last night, after he the way he performed in Anaheim, I was confident that if need be, we could run him out there last night in that situation."
4. Add this to the Rangers / Astros saga: Someone in the stands threw a lime at Carlos Gomez in the bottom of the 9th inning last night. Gomez said that the fans had been heckling him all night, using foul language incessantly, and he had ignored them. But as he was setting up to catch the final out of the night, from over his right shoulder, he saw what he thought at the time was a golf ball. He discovered later that it was a lime. A whole lime.
That's right. Someone tried to assault Carlos Gomez with citrus.
Gomez said that was the thing that caused him to turn around and gesture at the fan, which resulted in a baseball being thrown at him from the stands.
Gomez said that even if he had dropped the ball, it would be an out -- add this to the avalanche of reasons that this is a bad idea -- but even though he was smiling as he told us the story, you could tell he wasn't thrilled about the exchange. "They can scream at me and yell at me whatever they want, I don't care, but when you hit me, or injure me, that's not fun."
About that time, Carlos Beltran walked by. "No gustan Carloses en Houston", he said in passing. Gomez translated for us with a chuckle: "They don't like Carloses in Houston."

Someone asked Beltran which Carlos was booed harder by the Astros fans. Gomez interjected: "I did," he smiled, "because they're still paying me."
5. There was some concern about Jurickson Profar after he came up limping a bit after being thrown out at home last night. He's obviously fine, starting at first base today, but Banister told us why he removed him and put Hanser Alberto in for the ninth inning: "When I watched him kinda hobbling, limping a little bit, I wanted a fresh set of legs. I didn't want to have to - at the end of the night, if there was a ball just out of reach of (Profar) - wonder in my mind 'if I'd had a fresh pair of legs over there, would he have caught the ball?' so I went ahead and made that decision without even really talking with Profar about it. But he got into the clubhouse afterwards, and the trainer let me know he was okay."
6. Hey, so it would be cool if the Mariners would like, lose a game once in awhile. They've won seven in a row. There are seven games between tonight and the Rangers going out for a three game series in Oakland. If Texas is going to clinch the division before then, with the magic number currently at 8, they're either going to have to win tonight and sweep *both* the A's and Angels in Arlington while the Mariners lose at least one game, or [project back from there]. Rangers win 6, Mariners lose 2, Rangers win 5, Mariners lose 3, etc. etc.

Seattle's schedule for those 7 games (they also have a day off tomorrow) looks like this:
Tonight: finish series with Anaheim.
Fri-Sun: vs. Astros
Mon-Wed: vs. Toronto
I think we've all made a somewhat unanimous agreement not to root for the Blue Jays, so I guess we're going to have to hope the Astros remember that the Mariners are not the Rangers.
7. Speaking of not rooting for the Blue Jays: Coylio from Lonestarball has broken down the brawl video to a somewhat disturbing level of detail, and has emerged with a fact: Sam Dyson is a hero.
8. Get past the headline and check out Nathan Bernhardt's choice for AL MVP this year. Here's a hint: you, me, and the entire world should be on board with this selection. Okay, maybe not the Astros. But everyone else.
(POST-SEASON) MINOR LEAGUE REPORT
High Desert has moved on to the next round of the Cal League playoffs! After entering the 8th inning in a 1-1 tie last night, they beat Lancaster 7-2, scoring three runs in each of the final two innings. It was a pretty well-rounded offensive attack; 8 players got hits, 6 different players scored runs (only Juremi Profar scored two), and 6 had RBI (only Jose Cardona had two), and David Ledbetter pitched 6⅔ innings, striking out 5, walking 3, and allowing just one run on 6 hits. Lancaster, by the way, is a Houston Astros affiliate.
Also - after taking an 0-5 in the first game (a 4-6 loss) Juremi Profar - I had to double-check to make sure this was accurate - went 3-for-5 in each of the Mavericks' three wins. His older brother Jurickson said he's been talking to him throughout, but hasn't gotten to see any of the games. He did give us a brief scouting report on Profar The Younger: "He's a good player; he can hit a lot - he has great hands. He can make a lot of high contact."
The team will have a day off today before beginning the Cal League finals on the road against Visalia on Thursday.
AAA - Round Rock
FINAL RECORD: 71-72
AA - Frisco
OVERALL RECORD: 63-76
SECOND-HALF RECORD: 25-45
HIGH-A - High Desert
OVERALL RECORD: 82-58
SECOND-HALF RECORD: 38-31
PLAYOFFS, ROUND 1: W: 3-1
FINALS:
LOW-A - Hickory
OVERALL RECORD: 74-66
SECOND HALF RECORD: 36-34
SHORT SEASON-A - Spokane
OVERALL RECORD: 32-43
SECOND HALF RECORD: 13-24
AZ ROOKIE LEAGUE - Rookie Rangers
FINAL RECORD 18-37
DOMINICAN SUMMER LEAGUE:
Rangers1: REG. SEASON - 51-19, Championship Series (L 3-1)
Rangers2: REG. SEASON - 38-32
You can follow Levi Weaver on Twitter at @ThreeTwoEephus, or for fewer puns and more straight-forward Baseball News updates, you can follow us at @BaseballTX, or download the app and get in-game updates and notifications by clicking on the logo below!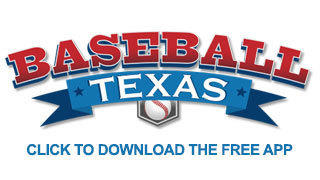 Copyright 2016 WFAA