Date: Sunday, September 4th, 2016
Rangers Record: (82-54, 1st place, +10.5 games)
Magic Number: 17
Opponent: Houston Astros
Tonight's Starters: Colin McHugh (9-10, 4.80) vs. Yu Darvish (5-3, 3.01)

It's Yuesday! Also, it's Sunday. Also also, there's a weird vibe around the clubhouse and around the team right now. It's not bad, it's just… we sat for ten minutes in the manager's office today (about half the usual time), and all we talked about were peripheral questions (you'll see below). It's like there's a no-hitter in progress, and no one is allowed to talk about it. This is still my first year on the job, so I'm following everyone's lead; observing not just the team, but observing the observers, so to speak. Everything is good, there are no problems, and it feels like maybe no one wants to upset that.

*whispers* Welcome to the September 4th Baseball Texas Daily?

MUSIC RECOMMENDATION

I recommend "electronic" music the same way I recommend horror movies: "No, I know. It's not usually my thing either." So if I'm recommending it, it means it has transcended the genre and exists as a work of beauty on its own merit. That's "The Inevitable End" by Röyksopp. Top-to-bottom, it's a beautiful thing, much in the vein of Daft Punk, but… prettier? It's perfect music to have on while you're trying to get work done. Also, fair warning: if foul language is something you'd like to avoid, skip "Rong".
(Spotify, Apple Music, Website)

Occasionally these recommendations come from Rangers players, broadcasters, or other people around the team (here's a complete list). If there's a player or person you'd like Levi to ask for a music recommendation, shoot him an e-mail threetwoeephus@gmail.com or a tweet here.

POSTSEASON / ELIMINATION CHECK

Minnesota joins the ranks of the eliminated from divisional hopes; they're the first AL team to do so.

AL DIVISION LEADERS: Texas (10.5, 17), Cleveland (5.5, 23), Toronto/Boston (2.0, 26)
AL WILD CARD: Boston/Toronto (+2.0), Baltimore (1.0, 27)
NL DIVISION LEADERS: Los Angeles (2.0, 26), Chicago (16.5, 12), Washington (9.5, 18)
NL WILD CARD: San Francisco (+2.5), Saint Louis (1.0, 27)
AL Eliminated, Division: W: (none) / C: MIN / E: (none)
AL Eliminated, Wild Card: (none)
NL Eliminated, Division: W: (none) / C: CIN, MIL / E: (none)
NL Eliminated, Wild Card: (none)

RANGERS STUFF

1. The Rangers have been an unstoppable juggernaut since returning home. That continued yesterday, as they just mercilessly stomped the Astros, 12-4, and are on the verge of their second straight sweep; they've already secured their third consecutive series win.

2. Jose Leclerc was recalled from AAA for today's game. His last game with the big league club was at Wrigley Field. "I feel more relaxed," Leclerc told us today through an interpreter. "This is my second time. I did my job in the minors, and now I'm even more happy to be here because I have a lot of the players that played with me in the minors already up here." Asked about what he worked on in the last month and a half, he didn't hesitate. "The adjustment that I made was with the fastball, because I know my mechanics weren't good; I was wild on my fastball, so that's what I worked on."

Jeff Banister had this to add: "He's got swing and miss stuff, above average fastball, so again it's (a matter of) not allowing major league hitters to eliminate pitches. that's crucial, and so that's when the strike part of it comes into play." He also mentioned that the timing of the call-up was to help protect some of the "middle" arms in the bullpen, specifically Keone Kela and Tony Barnette.

3. Steve Buechele won't be here today. His son Shane is the starting quarterback for the University of Texas, and Banister told us that he is forbidding Buechele from missing it. "If he's here for the whole game, I might fire him," Banister joked a couple days ago. "If he's still here, I might walk out there and tell the umpires to throw him out. And if they don't, I might yell something and point at him."

Banister did wax a bit more sentimental on the situation as well, telling us this today:

"I would hope that any manager in baseball would allow that (Buechele leaving for his son's game) to happen. Our families sacrifice so much for us and what we do, and especially moments like that, we miss. We get stubborn. Coaches get really stubborn. We think the game has to stop for us to be engaged, but the reality is: players play. Whether we're here or not, they're going to play. So it's important for him and his family for him to be there, and it's important for us, too. Look, I'll share in the excitement also. I woke up this morning a UT fan."

"…and that's rare."

"That's a family unit in there. We're all family. We're not just a band of misfits, you know? We spend more time together than we actually spend with our whole family. That's the craziness of all this. We share stories and moments - I guarantee you, every single coach in that room will be a UT fan tonight."

4. Keone Kela's hand is fine after last night's line drive. Kela told us today it was fine, and Banister confirmed, telling us "Yeah, he's fine. He was okay afterward, I think it caught the palm. He slapped some hard high-fives afterwards too."

5. Jeremy Jeffress might not be back this year. Obviously, the most important part is that he is getting his life back on track in rehab. That's the most important, and everything else is secondary. That said, his departure leaves a hole in the bullpen that must be dealt with. "It's the same as – and I don't want this to come off as a calloused statement, but – when a guy is on the DL, and we don't have him. I really don't expect him until we have him, and then even when we get them, it's how they get back into a rhythm, and that takes time. So whether Jeremy is able to pitch for us again this year, it's… until we have him, until he's in that rhythm, my thought process is more for the personal side of the process than the professional.
6. If you need someone to just PLEASE JUST SAY IT PLEASE TALK ABOUT THE PLAYOFFS, JINXES AREN'T REAL, FOR THE LOVE OF TOBY HARRAH JUST SOMEBODY SAY IT here's a great article by Evan Grant.
MINOR LEAGUE REPORT

AAA - Round Rock got a 4-2 win over Omaha, despite the Redbirds scoring in each of the final two innings. Starter Eric Jokisch went 5 scoreless, allowing just 2 hits. Then Tanner Scheppers pitched another shutout inning, as did Neal Cotts. Meanwhile, Jared Hoying got 2 hits, as did Drew Robinson. One of Robinson's was a home run, his 20th.
RECORD: 71-70

AA - Frisco lost 10-3, wow. That's. They play a doubleheader today, and… ah, we have to talk about the loss first? *sigh* okay, fine. Luis Marte got three hits, Andy Ibanez got two, and Midland got 14.
OVERALL RECORD: 62-74
SECOND-HALF RECORD: 24-43

HIGH-A - High Desert lost 2-1. Scott Heineman stole his 30th base, to go along with his 17 home runs. He's hitting .304 for the year.
OVERALL RECORD: 80-58
SECOND-HALF RECORD: 36-31

LOW-A - Hickory lost 3-1, and man, it was not a great day overall for the org, was it?
OVERALL RECORD: 72-66
SECOND HALF RECORD: 34-34

SHORT SEASON-A - Spokane: also lost. 6-5 on a walk-off 2-run double. Bright spots: Kaleb Fontenot struck out the side in his inning of work, and Anderson Tejeda (whose grand slam the previous day was erased by the rainout) got his 7th home run AGAIN.
RECORD: 31-42
SECOND HALF RECORD: 12-23

AZ ROOKIE LEAGUE - SEASON OVER
RECORD 18-37

DOMINICAN SUMMER LEAGUE: The Rangers1 allegedly came back to tied the series at one apiece with a 7-0 win, but this is the most insanely confusing box score of all time. It's like the scorer got bored two innings in and just said "ehhh i'm going for drinks, tell me the score when I get back." As a result, I have no idea how any of the runs scored, or if it was even 7-0 or if that part is made up.
SERIES: Red Sox1 1, Rangers1 1

Rangers1: REG. SEASON - 51-19
Rangers2: REG. SEASON - 38-32

You can follow Levi Weaver on Twitter at @ThreeTwoEephus, or for fewer puns and more straight-forward Baseball News updates, you can follow us at @BaseballTX, or download the app and get in-game updates and notifications by clicking on the logo below!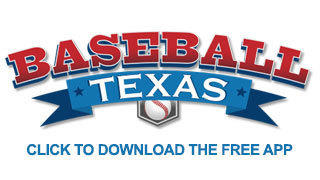 Copyright 2016 WFAA