Date: Thursday, September 8th, 2016
Rangers Record: (83-57, 1st place, +9 games)
Magic Number: 15
Opponent: Seattle Mariners
Tonight's Starters: Derek Holland (7-6, 4.57) vs. Taijuan Walker (4-10, 4.60)
The Astros lost today, which puts the magic number at 14 before the Rangers even take the field tonight against the Mariners. We're in full-on scoreboard-watching season. I even turned on an Astros game, on TV, of my own volition. They lost. Did I mention that? The Indians won 10-7, and for the good of baseball, I'm happy that the margin of victory was more than the two runs that scored on this play.
What a nightmare.
The Astros loss is good for the Rangers' divisional chase, but as far as home field advantage in the playoffs goes, the Indians win puts a little more pressure on Texas to keep winning games.
Welcome to the September 8th Baseball Texas Daily!
MUSIC RECOMMENDATION
I was a big fan of each of The Low Anthem's first two records, so it only stands to reason that I would recommend their third, titled "eyeland". I'll warn you, though: if you're expecting the high-simple-crooning from Charlie Darwin or the blues-infused jangle of Hey All You Hippies, you're in for a bit of a surprise. This is their Kid A, if such a comparison can be made. They get super weird and experimental in this one. Not suprisingly, they're good at that, too.
(Spotify, Apple Music, Website)

Occasionally these recommendations come from Rangers players, broadcasters, or other people around the team (here's a complete list). If there's a player or person you'd like Levi to ask for a music recommendation, shoot him an e-mail threetwoeephus@gmail.com or a tweet here.

POSTSEASON / ELIMINATION CHECK
(Lead, Magic # in Parenthesis)

The Rangers lost and the A's won, so they stay alive another day in the division.

AL DIVISION LEADERS: Texas (9.0, 14), Cleveland (5.5, 19), Boston (1.0, 23)
AL WILD CARD: Toronto (+1.0), Baltimore (1.0, 23)
NL DIVISION LEADERS: Los Angeles (5.0, 19), Chicago (15.5, 9), Washington (8.5, 15)
NL WILD CARD: San Francisco (+0.5), Saint Louis/NY Mets (4.5, 20)
AL Eliminated, Division: W: (none) / C: MIN / E: (none)
AL Eliminated, Wild Card: MIN
NL Eliminated, Division: W: (none) / C: CIN, MIL / E: ATL
NL Eliminated, Wild Card: (none)
Clinched: (none)

RANGERS STUFF

1. The Rangers were down 5-0 before the first inning was even over last night, thanks to an Adam Lind grand slam. The final was 8-3, but believe it or not, there were some positive takeaways.

2. Colby Lewis will be back Sunday! The rotation is a rather nebulous thing right now, but we're at that point of the year where rotation news comes like Manna from Heaven. You get just enough for sustenance, and no more. Here's what we know right now: Derek Holland tonight, then Darvish / Hamels / Lewis against the Angels on Friday-Sunday. Perez/Griffin/Holland would be the next three in line, but there's a day off on Thursday after the Astros series, and I can't imagine with the division as of yet un-clinched that you'll see Hamels and Darvish's routines too disrupted by going on six days' rest. Anyway, you know how it works with manna: don't try to store up the rotation information, or you will find that it has gone rotten.

3. Derek Holland pitches for the Rangers tonight. Holland's last outing was his shakiest since his return from the disabled list, but he still went six innings and only gave up two runs. That's not a bad worst outing. If you had suggested before Holland hit the DL that he would be a strong contender for the third spot in a playoff rotation, especially after how things shook out last year against the Blue Jays, you'd have been laughed out of town. Yet, here we are, seeing a Martin Perez that has been on some pretty unstable ground, an A.J. Griffin that can't find his early-season magic, and a Colby Lewis that, while he was great in the early season, we haven't seen on an MLB mound since June 21st. Holland is going to be one of the more intriguing storylines for the final 22 games. Another one will be…

4. Tanner Scheppers. Scheppers pitched a scoreless inning last night, and while - granted - it was a meaningless inning in a blowout and he threw only fastballs, it's not wearing rose-colored glasses to say those fastballs looked pretty good. He sat in the 95mph range, and had good movement. You'll have to see him do it in a more high-leverage situation before it becomes anything more than guarded optimism, but guarded optimism is certainly preferable to abject panic. Speaking of which…

5. Carlos Gomez walked twice last night, giving him 8 in his short time with the Rangers. His walk percentage with the Rangers is now double what it was in Houston. His strikeout rate is also higher, but it's important to take into consideration that 10 of his 18 strikeouts came in his first five games. That gives him 8 in the 8 games since. Also in those last 8 games? All 8 of those walks as a Ranger. I'll take a 1-1 BB/K rate from Gomez. That's very good.

6. Clinching the division is not (until it's done) an inevitability. But if you're interested in being at the game where it happens, you have to start thinking ahead. That's why I've taken the liberty of speculating wildly! With the Astros losing today, the Rangers' magic number is at 14. For the sake of a conservative guess, let's say the Rangers let this game slip tonight and it's still at 14 tomorrow morning...

If the Rangers take 2 of 3 from the Angels (they should) and the Astros lose 2 of 3 against the Cubs (they should), the magic number would be 10. If the Rangers take 2 of 3 from the Astros, head to head, the number would be 6 going into the off day a week from today. Houston then goes to Seattle, and let's assume they win two out of those three, but the Rangers have the A's at home and win two of those games. That puts the magic number at 3 going into the Rangers' 3-game series against the Angels. The Astros will be in Oakland. If the Astros sweep Oakland, the Rangers would have to win all three games at home to clinch. If the Astros lose one game, The Rangers could clinch with 2 wins, 2 Houston losses would require just a single Rangers win, and if Oakland sweeps, the Rangers could get swept and still clinch at home. My best guess?
Wednesday, September 21st.

After that, the Rangers go to Oakland for 3 games before returning home for the last six games of the regular season. With the lead this big right now, you don't want it to get that far, either. Let's hope for a repeat of last year, where the Angels get to watch the Rangers celebrate at Globe LIfe Park again.

(POST-SEASON) MINOR LEAGUE REPORT

Spokane and Everett were rained out in the first game of their playoff series. They're set to play tonight at the same time as the Rangers.

AAA - Round Rock
FINAL RECORD: 71-72

AA - Frisco
OVERALL RECORD: 63-76
SECOND-HALF RECORD: 25-45

HIGH-A - High Desert
OVERALL RECORD: 82-58
SECOND-HALF RECORD: 38-31

LOW-A - Hickory
OVERALL RECORD: 74-66
SECOND HALF RECORD: 36-34

SHORT SEASON-A - Spokane
OVERALL RECORD: 32-43
SECOND HALF RECORD: 13-24

AZ ROOKIE LEAGUE - Rookie Rangers
FINAL RECORD 18-37

DOMINICAN SUMMER LEAGUE:
Rangers1: REG. SEASON - 51-19, Championship Series (L 3-1)
Rangers2: REG. SEASON - 38-32

You can follow Levi Weaver on Twitter at @ThreeTwoEephus, or for fewer puns and more straight-forward Baseball News updates, you can follow us at @BaseballTX, or download the app and get in-game updates and notifications by clicking on the logo below!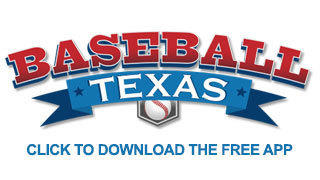 Copyright 2016 WFAA