Date: Monday, September 5th, 2016
Rangers Record: (82-55, 1st place, +9.5 games)
Magic Number: 17
Opponent: Seattle Mariners
Tonight's Starters: Cole Hamels (14-4, 2.91 ERA) vs Felix Hernandez (9-5, 3.48 ERA)
It's Labor Day today, and while we could have gone the route of writing about the history of Marvin Miller (still worth a read) or take a look ahead at what the next Collective Bargaining Agreement might have in store, we just let the day lead where it led. And where it led us was... well, you'll see. It's the September 5th Baseball Texas Daily!

MUSIC RECOMMENDATION

Today's music rec comes from the voice of the Texas Rangers, Eric Nadel. He introduced me to a band who has the most compelling/heartbreaking story of any I've heard in quite some time. The band is The Frightnrs, and their album, titled "Nothing More to Say", was released three days ago. Their lead singer, Dan Klein, passed away in June of this year from ALS, Lou Gehrig's disease. Musically speaking, it's definitely in the reggae genre, but Klein's voice is not a typical voice you'd hear in reggae. Klein had no chill. He had a high tenor, and the world is worse off without it. This will (obviously) be the last album from the Frightnrs, which makes this album weightier. Also, it's a pretty good reggae album.
(Spotify, Apple Music, Website)

Occasionally these recommendations come from Rangers players, broadcasters, or other people around the team (here's a complete list). If there's a player or person you'd like Levi to ask for a music recommendation, shoot him an e-mail threetwoeephus@gmail.com or a tweet here.

POSTSEASON / ELIMINATION CHECK

No new teams added today, though Atlanta is super close.

AL DIVISION LEADERS: Texas (9.5, 17), Cleveland (5.5, 22), Toronto (1.0, 26)
AL WILD CARD: Boston (+2.0), Baltimore/Detroit (2.0, 25)
NL DIVISION LEADERS: Los Angeles (3.0, 24), Chicago (16.5, 11), Washington (8.5, 18)
NL WILD CARD: San Francisco (+1.5), Saint Louis (1.0, 26)
AL Eliminated, Division: W: (none) / C: MIN / E: (none)
AL Eliminated, Wild Card: (none)
NL Eliminated, Division: W: (none) / C: CIN, MIL / E: (none)
NL Eliminated, Wild Card: (none)

RANGERS STUFF

1. The Rangers lost to their closest division rival and it was kind of hard to even muster up a little disappointment about it as a standalone loss. Yes, there's concern about Darvish's performance, but while it would have been an (even more) devastating loss for Houston, it's kind of humorous that it was a "meh" of a loss for the Rangers.

2. Colby Lewis is making a rehab start today. Not for the Round Rock Express, nor for the Frisco Roughriders, but for the short-season-A Spokane Indians. If Colby Lewis were the type of pitcher who were inclined to handle his rehab starts like Yu Darvish (trying to throw a perfect game every outing), he might actually pitch a no-hitter. But Lewis is, historically, the type of competitor who is bad in Spring Training, bad in rehab starts, bad in Not Actually Major League Baseball games and good in the bigs. So whatever happens today, the important thing is that he is not injured.

Tl;dr: If Colby Lewis remains uninjured today = success.

3. Jeff Banister and the rest of the Rangers coaching staff probably had a pleasant landing in Seattle.

4. Uhhhhhhhh
the @rangers were working on landing cole hamels in 2012?@newyscruggs goes 1-on-1 w/ jon daniels on @nbcdfw @ 10pm. pic.twitter.com/lHsjtn7E1W

— Pat Doney (@PatDoneyNBC5) September 5, 2016
5. I know we're all team #NeverEverQuit, but here's an interesting article on why it might, uh, make sense to #quit once in awhile.

6. Well, Adrian Beltre and the Rangers have convinced Bleacher Report, at least.

7. Actually, you know what? In addition to being Labor Day, I now pronounce this September 5th to be Adrian Beltre appreciation day. We are going to post only Adrian Beltre links for the remainder of this Daily.

8. Madison Kocian won a gold medal, and she prefers Adrian Beltré to Beyoncé, so who are we to argue (though The Daily loves Beyoncé, and maybe we did do one of her songs at karaoke during a recent birthday, but we pick Adrian also.)

9. Kent Hrbek does it and is reviled for decades. Adrian Beltre does it, and well, that's just Beltre being Beltre.

10. You guys looking forward to the rest of September? I am. You know who else is? Yeah.

11. I'm sure you saw this, but here is Adrian Beltre's response to switch-pitcher Pat Venditte.

12. You already know about Beltre and Felix Hernandez. Well, that continued this week. Also, it's happening again today at 3:05pm Central Time(!!!)

13. Okay, well, it's the third consecutive Day Game and I (and Adrian Beltre) have provided you with a number of links and it's only 10am! Okay, full disclosure: I wrote this last night, sorry to reveal all the secrets. I'm going to the zoo with my kids before today's game, and I needed a head start. Enjoy your labor day! Beltre vs. Felix starts in ~5 hours.
MINOR LEAGUE REPORT

AAA - Round Rock A.) Didn't score. B.) allowed 8 runs. C.) benefited from the mercy of nature, which rained out the game in the 6th inning. The Express had as many hits as errors (2), and Chi Chi Gonzalez was… not good.
RECORD: 71-71

AA - Frisco lost the first game of a doubleheader, but went out in the nightcap and… also lost.
OVERALL RECORD: 62-76
SECOND-HALF RECORD: 24-45

HIGH-A - High Desert scored 6 runs in the top of the 2nd and beat Lake Elsinore, 7-4. Everybody got a hit, which is always fun. No homers, but Felix Carvallo did strike out all three batters he faced.
OVERALL RECORD: 81-58
SECOND-HALF RECORD: 37-31

LOW-A - Hickory got 15 hits. Lexington got 14, but Lexington also had 3 errors. Hickory won 10-5. Eric Jenkins (8) and Ledarious Clark (12) homered.
OVERALL RECORD: 73-66
SECOND HALF RECORD: 35-34

SHORT SEASON-A - Spokane scored one in the 9th inning to take the 8-7 win over Everett in advance of their new ace Colby Lewis' arrival on Monday. Anderson Tejeda hit *another* home run; his 8th since arriving in Spokane.
RECORD: 32-42
SECOND HALF RECORD: 13-23

AZ ROOKIE LEAGUE - SEASON OVER
RECORD 18-37

DOMINICAN SUMMER LEAGUE: Already told you about what's going on with the Rangers1's hopes to take the DSL crown. It's tied 1-1 in the best-of-5 series.
SERIES: Red Sox1 1, Rangers1 1

Rangers1: REG. SEASON - 51-19
Rangers2: REG. SEASON - 38-32

You can follow Levi Weaver on Twitter at @ThreeTwoEephus, or for fewer puns and more straight-forward Baseball News updates, you can follow us at @BaseballTX, or download the app and get in-game updates and notifications by clicking on the logo below!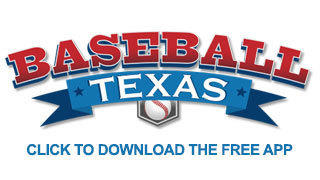 Copyright 2016 WFAA