High Number Of Police Calls To Walmart None
Day and night, throughout North Texas, the police are called to a particular store.
They break up fights. They deal with the late night drunks. They pick up shoplifters, and document evidence of stolen goods.
Often, when officers arrive, they're greeted like old buddies. After all, cops are responding to Walmart more than any other location in many cities and towns.
In recent months, the retail giant has come under fire by local officials across the U.S. complaining that its hundreds of stores are a drain on police resources. But what about here?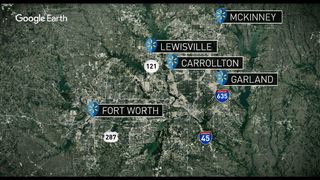 News 8 randomly selected five North Texas cities and asked each of them for the top locations their police departments respond to most frequently.
For three years in a row, Walmart stores were either the No. 1 visited location, or near that, in Garland, McKinney, Fort Worth, Lewisville and Carrollton.
In cities with multiple stores, all of them scored high. For instance, Fort Worth's five Walmart locations ranked first, fourth, fifth, seventh and eighth in calls for service.
Why are there so many 911 calls at Walmarts? Experts say it is because of the massive volume of customers, the 24-7 store hours as well as relatively few security employees on staff.
Christine Storey saw the problem firsthand.
"They were calling police all the time," said Storey, who worked at Carrollton's Walmart for two months. "Sometimes [the police would] come in to try and find the person who called, to find out what the problem was. … A couple times, I actually saw a police officer say to one of the front end managers, 'Well, if you figure out why you called us, call us back.'"
All these 911 calls add up.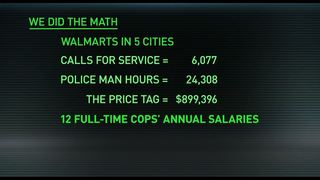 Across our five cities last year, there was a combined 6,077 calls for police from Walmart stores.
That's an estimated 24,300 police man hours spent responding.
And that adds up to nearly $900,000, or the equivalent of about 12 full-time cops.
When police in Carrollton, for example, are dispatched to Walmart, rarely is it for any kind of violent crime.
According to a review of police records by WFAA-TV, a typical reason that Carrollton police would be dispatched to Walmart includes one where a woman called 911 from the store pharmacy and told the dispatcher she was having trouble returning a prescription. The cost? $1.20.
That's right. Publicly funded police officers resolving $1.20 disputes at a global retail giant worth $222 billion.
"Our officers would rather be catching bad guys," said Carrollton police commander Wes Rutherford. "You know, that are breaking into people's cars and homes."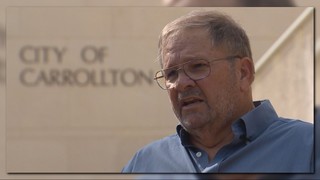 Carrollton's city manager would also like to see his officers responding to more serious crime elsewhere.
"We will be there if there's crime, but we need to work so those police can be deployed city-wide, working on all the areas to make the city safe," Leonard Martin said.
So what do Carrollton taxpayers think? We hit the streets to find out. First stop – the Carrollton Walmart parking lot.
"I think it's a little bit overkill," shopper Lauro Sanchez said when we showed him our findings.
"Well, Walmart is a busy place," said shopper Robert Lloyd. "They have huge business and a lot of people coming and going."
"It wouldn't surprise me that Walmart would just pass the tab on to the taxpayer," said Sam Mitchell, another Walmart shopper.
We tried to show our findings to the local store manager, but he and his employees weren't interested in talking about it.
They asked a News 8 crew to leave the parking lot because, they said, customers had complained that we were "impeding traffic."
So we left. Or else, well, you guess it… they might call police.
Walmart's corporate spokesman declined an on-camera interview, but told us that while Walmart stores consume a lot of police departments' time, the company also pays a lot in taxes.
So we decided to take a look.
The Carrollton Walmart's proposed property tax bill for this year is estimated to be $551,000. That's on par with stores like Lowes, Home Depot and Kohl's. Together, those three stores' estimated tax bill is about $774,000, according to Dallas and Denton county appraisal district records.
But how do those stores' police calls stack up?
Over the past year and a half, police spent 1,812 hours at the Carrollton Walmart. That's about the equivalent of one Carrollton police officer sitting at Walmart, 24 hours a day, 7 days a week … for 3 months.
By comparison, police spent just 2 weeks at the other three big box stores – combined.
"While [Walmart] may generate a lot of taxes, they consume a lot of taxes if we have a police officer in effect [there] the equivalent of 24 hours a day, 3 months out of the year," said Carrollton City Manager Leonard Martin. "That's consuming a lot of taxes. So I don't buy into that argument."
In a statement, Walmart corporate spokesman Brian Nick responded:
"In the coming weeks and months, we will continue our increased outreach to law enforcement across the country, as part of our ongoing commitment to meet our customers' and associates' expectations of a safe and enjoyable shopping experience. The importance of this issue is recognized at the highest levels of the company and we are investing in people and technology to support our stores."
Walmart also said, in some places, it is putting employees back at its entrances and more employees throughout stores to deter theft; better training its asset protection employees; and expanding its "restorative justice" program aimed at reducing police calls to stores by relying more on fines for alleged thieves.
Still, some communities are taking action. One mayor in Indiana even declared the store a public nuisance, threatening to fine Walmart for every excessive 911 call.
In Denver, Walmart agreed to pay the city about $900,000 to staff off duty officers in the city's busiest store. After that, 911 calls there dropped.
As for North Texas' largest city – Dallas – its leaders took action in 2011, when they stopped responding to theft call less than $50 not just at Walmart but all retail stores.
Email investigates@wfaa.com
News 8 In Depth:
Click to see police data for Fort Worth