News 8 Investigates
DALLAS -- Learning that your child has been molested at school is every parents' nightmare.
But what if the teacher had been accused before, and was allowed to keep teaching?
That's a reality for one North Texas couple, whose daughter, seven years old at the time, came to them last year saying her teacher had done the unthinkable – sexually assaulted her at Life School, a charter campus in southern Dallas.
John Graham Leddy, 66, of Colleyville, who taught at Life School, was arrested and charged with aggravated sexual assault of a child and indecency with a child by sexual contact.
Late last year, News 8 was investigating "Passing the Trash," the practice of how school districts allow teachers who are accused of sexual misconduct, abuse, neglect and other misdeeds resign and get teaching jobs elsewhere.
Watch our "Passing the Trash" investigation from May (Parts 1, 2 and 3)
We decided to check Leddy's history for ourselves.
What did we find?
First, we examined what happened at Life School.
Leddy tutored children after school, when few people were around. He often worked with students who spoke little English.
Leddy bribed a child with Twix candy bars to go to another classroom, away from other students, according to the testimony of a forensic interviewer who questioned the girl at the Dallas Children's Advocacy Center. He locked the door, turned out the lights, put the girl on a chair and begin kissing her on the cheek and mouth. She then endured oral sex, among other horrors.
Leddy told the girl not to tell anyone, police records show.
The girl eventually told her parents she did not want to go back to school.
"I knew something was wrong but I never thought it was this," the girl's father told News 8.
Police reports say the abuse went on for two months before Leddy quietly left the school, saying he was retiring. Four months later, the girl told her parents what Leddy had done to her.
By the time police arrested Leddy late last year, he been at eight different schools working as a substitute teacher at Coppell ISD, according to school officials.
Once in custody, Leddy at first denied any wrongdoing, said Detective Phillip Lawler, who testified at Leddy's Oct. 27 sentencing hearing in Dallas.
"I was actually getting ready to leave the room when he called me back he said, "Wait, I changed my mind. I want to tell you the truth.'" Lawler testified. "I said 'What's the truth, Mr. Leddy?' He said, 'I took advantage of an innocent child.'"
Leddy told police the girl was his only victim in 15 years of teaching.
But WFAA-TV's investigation brings that claim into question.
Before he worked at Life School, Leddy worked at Dallas ISD. A June 2013 email among administrators says that Leddy's "contract has been terminated and cannot be appealed."
We pressed Dallas ISD officials to tell us why Leddy left Dallas, but they refused, citing confidentiality laws.
We know that Dallas added Leddy to its "do not hire" list just weeks before the charter school hired him.
State school employment records show that before DISD, Leddy worked in several other schools in other North Texas school districts – including Plano, Grand Prairie, Arlington and Fort Worth.
Using open records laws, WFAA-TV found a 2002 allegation at Fort Worth ISD.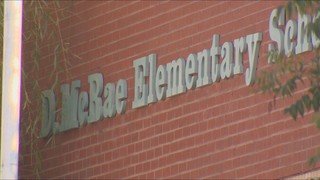 It involved an eight-year-old girl at McRae Elementary. The girl spoke limited English.
According to written accounts, the girl told her parents that Leddy would call her into a classroom alone, put her on a chair, give her chocolate and ask her for a kiss. When the girl refused, documents show, the girl said he kissed her on her cheek.
The girl told her parents she was afraid to go to school, and eventually told them the full story.
"It was pretty much the same thing my daughter was saying," the Life School girl's father told News 8 when we showed her our findings. "He did the same thing."
Prosecutors also noticed similarities in the allegations.
After bringing the Fort Worth ISD account to the attention of the Dallas County District Attorney's office, prosecutors subpoenaed the school district, got their own records and brought up the allegations at Leddy's Oct. 27 sentencing hearing.
"Were you aware of any other investigations conducted by a school district on Mr. Leddy, your ex-husband?" prosecutor Robin Pittman asked Leddy's wife, a teacher for 27 years in Arlington ISD.
"Yes," she responded.
"And what was that?"
"That was in Ft. Worth, but that was dismissed."
In 2002, FWISD documents show administrators put Leddy on leave because of a "risk of sexual abuse" while they investigated. Investigators eventually substantiated that Leddy stood the child on a chair and gave her gifts including a blouse, a toothbrush and toothpaste, but could not prove the allegation that he kissed her.
The district let Leddy go back to work with a written reprimand that said, in part: "You should consider the potential negative implications to you professionally should you engage in other similarly ill-advised actions."
"It could've been stopped," said the father of the Life Charter school student. "School districts should've been paying more attention to the teachers."
At his sentencing, Leddy's lawyer argued for probation for his client. Prosecutor Robin Pittman was adamant.
"We trust teachers more than any other profession in the world," Pittman told Judge Tracy Holmes. "For a teacher to take advantage of that trust and use that to fulfill his sexual drive …that's not probation."
Judge Holmes agreed. She sentenced Leddy to 20 years.
Following our discovery in Fort Worth, investigators hope to re-open that case.
Leddy is an example of a teacher who was eventually caught. But what about the teachers who continue moving from district to district and victim to victim?
Watch Tuesday night when we uncover dozens of examples of it happening across North Texas. Worst of all, many of the teachers are in classrooms today.
Email investigates@wfaa.com