WFAA's Santa's Helpers is celebrating its 47th year of collecting holiday toys for children throughout the Dallas/Fort Worth counties of Dallas, Tarrant, Collin and Denton.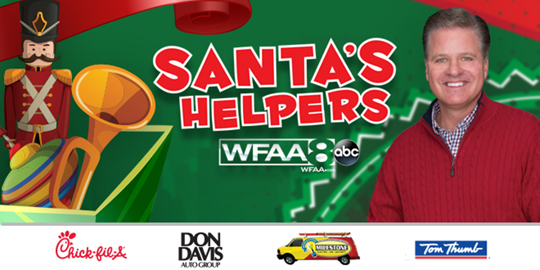 UPDATE: WFAA's Santa's Helpers observed 47 years of continuous community service by collecting over 75,000 toys this holiday season and dispersing them to underserved children in North Texas.
The 2016 edition of the television station's annual toy drive, hosted by WFAA Chief Meteorologist Pete Delkus, ran from November 25 through December 20 with a variety of activities held in Dallas, Tarrant, Collin and Denton Counties.
"Santa's Helpers was a tremendous success," said Stephanie Wilcox, WFAA's Director of Community Marketing, who is responsible for administrating the campaign.
"Our goal was to supply holiday toys to 50,000 children throughout the four-county area, and we exceeded it significantly," she added.
Wilcox credited Santa's Helpers sponsors Chick-fil-A, Don Davis Auto Group, Milestone Electric and Tom Thumb, as well as volunteers and station staff for their help in gathering new, unwrapped toys at various drive-thru events in Dallas, Fort Worth, Arlington, Grapevine and McKinney, as well as at store locations.
She said WFAA collected funds through a special phone bank, and accepted donations through WFAA.com. WFAA also worked with Rev. TD Jakes and The Potter's House throughout the month of December, and held an online wreath auction to benefit Santa's Helpers.
Over 25 community service organizations throughout the Dallas/Fort Worth area distributed the toys collected to needy children, ages infant through teen.

#WFAASantasHelpers

This year, Santa's Helpers will host 5 drive-thru events including:

Tuesday, December 6 - Grapevine Drive-Thru
Grapevine Train Depot
705 South Main Street, Grapevine, TX 76051
5-8:30pm (S. Main Street and E. Hudgins Street)

Thursday, December 8 - McKinney Drive-Thru
Historic Downtown McKinney
111 N. Tennessee Street, McKinney, TX 75069
5-8:30pm (West side of McKinney Performing Arts Center building)

Tuesday, December 13 - Don Davis Drive-Thru
Don Davis Auto Group
1903 N. Collins St., Arlington, TX 76001
5-8:30pm
Thursday, December 15 - Fort Worth Drive-Thru
Fort Worth Zoo
1989 Colonial Pkwy., Fort Worth, TX 76110
5-8:30pm

Monday, December 19 - Dallas Drive-Thru
WFAA Victory Park Studio
3030 Olive, Dallas, TX 75201
5-10:30pm (northwest corner of Houston and Olive)
NOTE: Santa's Helpers accepts new, unwrapped toys for children aged infant through teen.

Toys can be dropped off at WFAA sponsor locations through Dec. 17th.

· Chick-fil-A
· Don Davis Auto Group
· Milestone Electric
· Tom Thumb

Over 25 community service organizations throughout the Dallas/Fort Worth area (Dallas, Tarrant, Collin and Denton counties) are approved to distribute toys to needy children, age infant through teen.

Some of these community service organizations and agencies which are approved by Santa's Helpers include: Adventure & Victory Youth, Inc., Assistance Center of Collin County, Community Partners of Dallas, Compassionate Hearts Givin Back, Cowboy Santa's, Dallas County Community Action Committee, Dallas International Street Church, Denton County Toy Store, Family Care Connection, Frisco Family Services, Genesis Women's Shelter, GRACE, Hope's Door, Inspired Vision Church, Martin Luther King Jr. Community Center, Metrocrest Social Services, Mission Arlington, New Millennium Bible Fellowship, Northside Intercommunity Agency, Inc., Safe Hands, Salvation Army of McKinney, Sharing Life Community Outreach, St. Philips School and Community Center, Texans Can, The Chocolate Mint Foundation, United Universe, Inc., West Dallas Multipurpose Center, Westmoreland Heights Community Center, Youth World.

All agencies within the Santa's Helpers program are approved based on their ability to coordinate applications from needy families, access the Pieces Iris database for cross-referencing of clients, and to adequately cover zip codes in areas where there is the most need.

Larry Sauls and Friends
Earl Owen Co
Crruthers Landscape
Utilitiex, LLC
Adams Supply
Plainsman Tire
Air Performance Service
Welders Warehouse
Kloeber Enterprises Inc
Prism, LTD
Jay H Fixtures, Inc
Airflow Solutions, Inc
Wallace Express
Precast Erectors
Tastee Kreme, Inc
Knapheide Truck Equipment
Choice Fabrication Stone LLC
Diamondback Fleet Services
Isuzu Commercial Trucks of America
Lloyd D Nabors Demolition Inc
J & K Excavation, LLC
Bankhead Insurance
Dalworth Restoration
Jack Mason Brand
Earthlok
C-Con Services
Motor Parts Kaufman
Eagle Lube Kaufman
Kaufman Vet Clinic
Mikes Trucking
Yumi Ice Cream
Marty Logans House of Colour
Fiveponies Truck Sales
Resolution Church
Sheldon Frost
Carl & Valinda Moore
Terry & Deborah Adams
Judy Gates
Joe & Teresa Matthews
Tim & Donna Walker
Trish Cooper
Lane Fowler
Kenny Haas
Kevin & Cheryl Bell
Kristi Bell
Jim Wagner & Danyl Filos
Mark Genzberger
Joel Laxson
Ed Plant Jr.
Chris & Gina Faircloth
Yoshua Weingerz
Michael Brown
Steven Stobaugh
Nick Lagattuta
Stacyee Disney
Mark Owen
Jim Taylor
Brittany Turner
Heather Stiles
FedEx
Pieces Tech
Dallas Symphony Orchestra
Lincoln Property Company
Liberty Mutual Insurance
Impact Fitness
Cock and Bull Neighborhood Pub
School of Rock
Kevin Sherrington
James Loomstein
Drywall & Acoustical Contractors Association
Lakewood Orthopedics & Sport Medicine
T Bar M Racquet Club
Fossil
Coppell Classical Academy
Red Carpet Movers
Aligned Art
Meteor LX
HomeTeam Pest Defense
The Grey Eagles
HB Fuller
Johnson & Sekin
Griggs Chapel Baptist Women's Chorus
Jesuit Baseball
National Space Society of North Texas
Copyright 2016 WFAA