DALLAS – Sexually touching a student. Punching a student. Sending filthy sexual text messages. Choking and slamming a student's head into a wall.
These are just a few of the things that a yearlong News 8 investigation found former Dallas ISD teachers did, but still remain able to teach.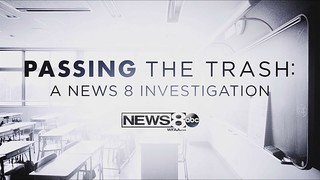 WFAA-TV found 30 teachers who, over the past five years, were accused of physically and sexually abusing students. In the majority of the cases, an internal district investigation determined the accusations were true. Yet all 30 teachers were allowed to resign. Eighteen of the teachers got jobs in other school districts, records show, including Arlington, Crowley, DeSoto, Garland, Grand Prairie, Hurst-Euless-Bedford, Irving, Lancaster, Plano and Richardson.
Many of them are still in North Texas classrooms today.
In fact, in some cases WFAA-TV found administrators reached formal agreements to keep their misdeeds secret in order to quell lawsuits.
"These people should not be working in any district in the state of Texas," said Dr. Michael Hinojosa, DISD superintendent, when we sat down with him last week to go over our findings. "Your report is worthy and we don't disagree with it."
How were the these DISD teachers able to continue teaching in Texas?
It's called "passing the trash" -- shorthand in the education community for allowing a teacher to quietly resign and move on to another school district.
By law, superintendents are required to promptly notify state investigators at the State Board for Educator Certification, or SBEC, when a teacher has resigned based on evidence of misconduct, such as the physical or sexual abuse of a student. When superintendents fail to make that notification, the teacher's online teaching certificate isn't flagged, and they can be hired by other unsuspecting school districts.
DISD's superintendents failed to follow the law in the cases of all 30 teachers identified by WFAA-TV.
If this all sounds familiar, it's because we first exposed this dirty little secret in May.
Watch our "Passing the Trash" investigation from May (Parts 1, 2 and 3)
"This is a concealing of a predator," Terri Miller, president of the Stop Educator Sexual Abuse Misconduct & Exploitation advocacy group in Nevada, told WFAA-TV in May.
"This is exactly the same as what the Catholic Church has been vilified for – passing priests from parish to parish instead of reporting them as the law requires," she said.
When a teacher finds themselves in trouble for alleged misconduct, "nine times out of 10, they're going to resign from the district immediately," United Educators Association executive director, Steven Poole told WFAA-TV in May.
Why do other school districts hire them?
It's simple. More often than not, those new school districts are in the dark about what happened.
Watch our story on former teacher John Leddy, convicted of child rape, and the 14-year-old secret News 8 helped uncover about his past.
That's because when a teacher resigns "in lieu of termination" or "while under administrative investigation," experts say, the school districts often close their internal investigations. That means – no charges are ever filed. So even though Texas school districts routinely run criminal background checks before hiring a candidate, it doesn't help in these cases.
Also, when a teacher and school district part ways, the teacher fills out a standard separation form to officially document their resignation. That form allows teachers to choose whatever reason they want to explain their departure. DISD records show many of the teachers News 8 examined were often allowed to choose "personal reasons" or "health reasons" or they just left the field blank.
Employment records, which WFAA-TV obtained from dozens of school districts throughout Texas using the state open records law, show the teachers lied on their job applications at neighboring districts. They often answered "No" to questions like "Have you ever been asked to resign or resigned in lieu of termination?"
Confidentiality laws prevent future employers from learning the truth behind a resignation.
And DISD administrators did not help.
Even though Dallas ISD officials added the 30 teachers' names to their own internal "do not hire" list, school administrators often gave the teachers recommendations.
"Consider strongly" and "employ without looking further," records show they told other school districts.
To prevent costly litigation, school districts frequently cut deals with teachers. Commonly known as "compromise, settlement and release agreements," the documents are often marked "strictly confidential."
We found one agreement for a departing DISD teacher that says as long as he resigns and doesn't sue, the district will not report him to state investigators at the Texas Education Agency in Austin. That teacher is now working in Garland.
Passing the trash is a win-win for the teachers and for school districts like DISD. The teachers keep their careers. Meanwhile, school districts like DISD are able to get rid of the teacher without a publicity scandal and without spending the time or money to formally terminate the teacher.
But it is not a "win" for the students sexually or physically abused by a teacher who could've been stopped.
There is a system in Texas to prevent this from happening, but it relies on superintendents to follow state reporting requirements.
When they do, the system works.
Take the case of an ex-Grand Prairie teacher caught on a cell phone video this year getting frisky with a former student in a vehicle in the school parking lot.
Another teacher recorded the tryst from a window of a nearby building. When administrators confronted the teacher, he resigned.
Grand Prairie's superintendent followed the law. She immediately reported the incident to the State Board for Educator Certification.
Weeks later, state investigators publicly flagged the teacher's online certificate. That's the state's way of telling other districts considering a problem hire to pump the brakes.
That particular teacher's license online shows to be "under review."
News 8 was unable to find him working in a classroom.
But it's a different story for the majority of the 30 teachers we investigated, many of whom found work teaching after leaving DISD amid allegations of misconduct.
Records show, one former DISD teacher punched a student and called him vile names. The teacher, who had six separate physical abuse allegations filed against him, is now teaching in DeSoto.
"That's never OK," Dr. Hinojosa said. "And this has always been a problem."
Dr. Hinojosa admits dropping the ball in at least one case involving a teacher who, after having an inappropriate relationship with a student, left Dallas and went on to teach at Irving.
"Things kind of slipped through the cracks, and there was human error, and it was very egregious and I don't feel good about that at all," Dr. Hinojosa told WFAA-TV.
Dr. Hinojosa noted that for most of the past five years, his predecessor, Mike Miles, was in charge of the district.
Hinojosa left DISD in 2011 and was rehired in 2015.
While he cannot explain what happened during the four years he was absent, Dr. Hinojosa said he has reinstituted the policy he had in place in 2011.
The policy, he says, will ensure that teachers do not fall through the cracks and are reported to SBEC as required by law.
Dallas is not the only district we found passing the trash. In fact, our investigation found other districts handing off bad teachers to Dallas.
"I'm putting every superintendent on notice," Lt. Gov. Dan Patrick said in an interview with WFAA-TV. "If you 'pass the trash,' you may find, not only is that teacher out of education permanently, but you may be out of education permanently, if I have anything to do with it."
Patrick said that introducing new legislation to hold superintendents accountable for passing the trash is one of his priorities for the upcoming 85th legislative session.
"This is going to stop," Patrick said. "This is intolerable, unacceptable, for parents and for me... I'm sure the Texas House and Senate and the governor will agree."
Email investigates@wfaa.com