Fort Worth is squealing over 'Bacon.' None
FORT WORTH - You will squeal with excitement when you meet this posh pet who resides in Fort Worth, Texas.
Meet Bacon the Piglet. Bacon is just a fun loving pig who hams it up on and off the camera.
Not only is Bacon adorable, but he is also an extremely popular pig. Bacon has more than 157K followers on Instagram along with a strong following on his personal Snapchat. Feel free to friend him @baconthepiglet.
JD Ybanez is Bacon's owner. JD and his brother Niko own multiple bars around DFW, but Bacon's favorite is Trophy Ranch. Trophy Ranch is a popular bar on West 7th and is frequented by hundreds of TCU students. This is how Bacon earned his insta-fame.
Ybanez said that Bacon started gaining popularity when people started to repost him on their personal Instagrams. The 3-year old swine sweeps in an average of 4,000 likes per post.
Bacon loves going on walks, swimming in his apartment pool and lounging around. He sleeps an average of 15 hours per day. While he seems like a sweet house pet, we quickly learned he is more of a guard dog.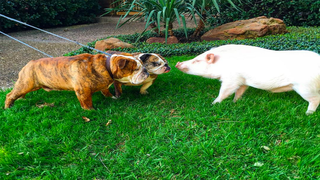 Before Bacon was ready for his interview, Ybanez had to stroke the pork with a plastic fork.
"When I pet him with my nails it doesn't work as well, but if I do it with a fork he loves it," said Ybanez.