DALLAS –- On the visitors' side, the band was busy preparing and tuning instruments before kickoff. As spectators filed into the home team's stands, dancers were walking through their routines and cheerleaders were taking time to stretch.
In the meantime, the Beverly D. Humphrey Stadium's football field was busy with dozens of players from Dallas ISD's James Madison High School and Little Rock Central High School from Arkansas practicing for a history-making Labor Day matchup.
Organizers of the Gridiron Football Classic say Monday's game was a unique opportunity to bring together two inner-city schools with unique histories. Madison's players hit the field with a new attitude, suited up in new uniforms and helmets. The Little Rock Central Tigers came to Dallas focused and confident.
"Tradition," said Madison's Head Coach Marcus Gates. "The first thing it's about is tradition."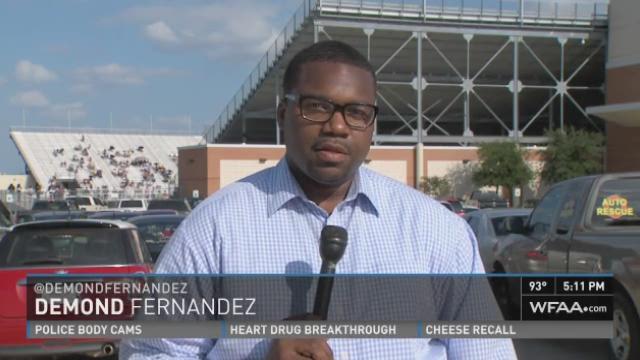 Gates and Central's head coach, Scooter Register, said both schools are connected by traditions dating back to the Civil Rights era.
Little Rock Central is known for the major role it played at the center of school desegregation in 1957, after Brown v. Board of Education. Parents and graduates say Madison's history in South Dallas is just as significant. They say Madison was formed as a campus for blacks in the late 1950s after attendance zones were redrawn during a time when racial tensions and segregation were the norm.
"You know, it's just a special day," said Nicole Williams as she cheered on her son and the Trojans. "Just to be able to see two black schools be able to have a good time, play football, you know, and just show up and show school spirit."
As much as the football game was about education and championship, coaches and organizers say this new partnership is about so much more for the two inner-city teams. Teams which they say struggle with limited funds and lack of resources to play games out of state.
"[The] Gridiron Classic was developed to basically help these schools to get the necessary exposure for some of our kids to even get looked at for -- if not [Football Bowl Subdivision] colleges, lower level colleges outside of the state," said Christopher Dickerson, a former Little Rock Central athlete and Gridiron Classic organizer.
Coaches say the history-making Classic is about new opportunities for young athletes. Both schools plan to continue traveling to play one another on the football field.