BRIDGEPORT — Drought conditions around Lake Bridgeport, one of the area's prettiest lakes, are so dire that a local utility is now floating a barge to pump out water for its 7,000-plus customers.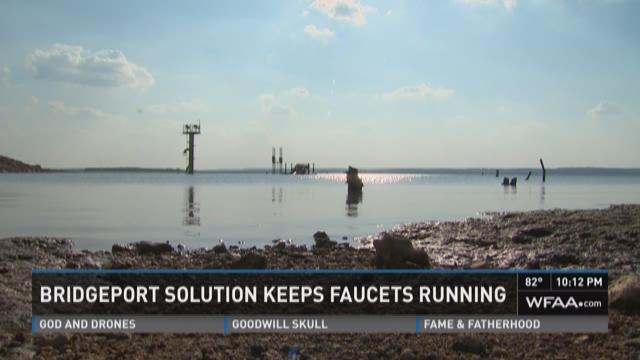 The Walnut Creek Special Utility District launched the barge last week.
Some lakeside residents weren't too thrilled with yet another change to their view.
"I hate it. It's an eyesore... terrible," said Paul Graff. He and his wife retired on the lake 12 years ago.
"Things here used to be so pretty, but the drought has changed a lot," he said. "We're down some 22 to 23 feet."
That's precisely why the water utility was forced to put out the barge, according to general manager Jerry Holsomback.
"We're trying something new for this area," he said.
As first reported by News 8's media partner the Fort Worth Star-Telegram, the barge is equipped with two pumps that can each take in 7.5-million gallons of water a day.
The utility services a wide customer base around Springtown, nearly 30 miles from Lake Bridgeport.
"Our other intakes are working too hard, and by November there would have been no water," Holsomback said.
Other power companies also get water from Bridgeport, but most of their intake pumps are much deeper.
The Brazos Electric Power Cooperative will also be using some of the water from the new pumps.
Graff said he hopes the idea is temporary, but conceded that decision is largely be up to the weather forecast.
"We always get missed by the big rains," he said.
A local engineering firm, E.S. and C.M. Inc., came up with the barge idea. The project cost about $800,000.