DALLAS — A sizeable turnout left Dallas City Council's Transportation Committee short on suggestions at a public hearing Tuesday night.
After months of meetings and political leanings over rides for hire in Dallas, there is a rough draft of an ordinance that would set new standards for traditional taxi firms like Yellow Cab, as well as newer transportation alternatives like Uber and Lyft.
Tuesday night, the committee listened to opinions about what it's come up with so far.
"Uber has made it possible, as a disabled citizen of Dallas, for me to get around with very little impact on my life," said Joel Schwitzer.
Sixty-eight people had signed up to speak, but only about half showed up for the meeting. Most of the speakers praised app-based car services, and there was no debate over the details of the ordinance.
"I have not had to wait," Rebecca Jones told the panel. "I know when my safe ride is there; I have an electronic receipt; they're current and relevant; and they're rated on customer service."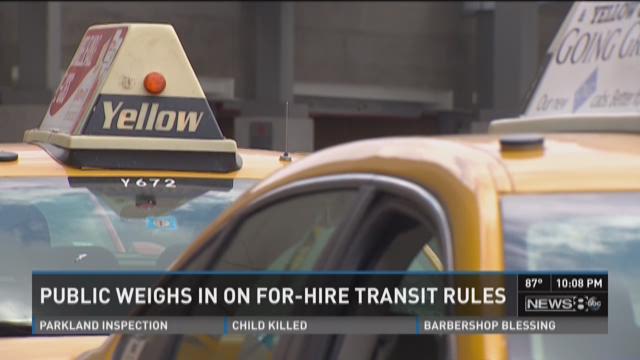 The committee's 23-page draft calls for streamlining the process of permits, deregulating fares, and restructuring insurance requirements for both app-based and traditional taxicab companies. It was representatives from those businesses who raised concerns about specifics.
"If this vehicle's in an accident, which insurance policy will cover the vehicle?" asked Yellow Cab owner Jack Bewley. "He could have as many as five different insurance policies on his car."
But their time at the podium ended before any solutions were presented.
"Are we 100 percent happy with the regulations? No, we're not," said April Mims, representing Lyft. "But we recognize that this process is about compromise, and if we continue to work through this process we can address many of the concerns on both sides of the aisle."
So the Transportation Committee will listen, process and make changes.
Or not.
The ride-for-hire ordinance is far from a done deal. The committee will review the suggestions presented Tuesday and discuss. There is no date set for bringing the ordinance in front of the full City Council for a briefing.