DENTON -- It was the Friday night game that was supposed to be Allen Eagle Stadium's opening night; a game featuring two football titans and two great fan bases in Allen and Denton-Guyer.
Instead, the game was held in Denton at Apogee Stadium.
Eagle Stadium is sitting out the season after the district found cracks and major structural issues. The $60 million stadium is now a construction zone.
"It's a bummer. Yes, we would like to be home, but we'll make these other places home," said Chris Bangma, a long-time Allen Eagle supporter.
The Allen-Denton Guyer game is part of the Tom Landry Classic. Allen's stadium had a multi-year contract to host the game there.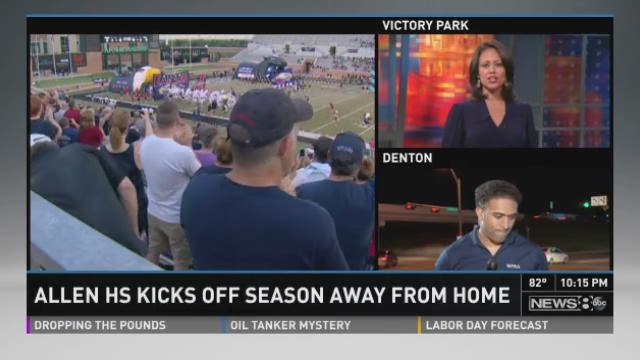 The district admits it's losing out on tickets, concessions, and marketing revenue. But a spokesman says the developer and the architect responsible for the issues will make up for the loss. The Eagles will also host two additional home games next year to also help recoup any lost revenue.
"It's a great stadium, but it's going to be fixed, and we'll be back and we'll be great," said Eagle fan Rhonda Herres.
The stadium is set to be fixed by the time the graduation ceremony rolls around next year.