FRISCO -- Residents of the city of Frisco have a major decision to make in November: whether to repeal a 2008 ordinance and allow the city council to decide whether alcohol selling hours should be extended to 2 a.m.
"I had people come in at 11 p.m. and when I tell them when last call is, they turn around and leave," said Brandon Novara, a bartender at Espiritu in Frisco.
Novara was talking about Frisco's alcohol laws, where closing time during the week is midnight and on Saturdays it is 1 a.m.
Chris Moss of Frisco thinks it's time for a change. He was part of the city's transition in 2001 to go from a dry Frisco to a wet one. Late last week, Moss started a new political action committee to push for the repeal and hopefully, the hours extension after that.
"I mean, what businesses are going to come here when everything shuts down?" Navaro said.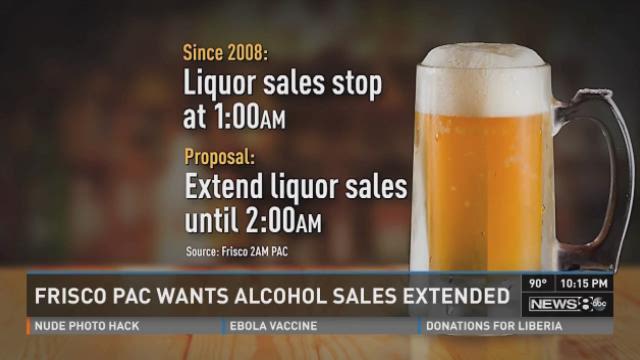 James Hartley of Denton spent some quality time with this sister over a casual drink on Labor Day. He thinks the city should stay out of it.
"As a bar owner or a small business owner, I would like to run my business as I see fit," Hartley said.
Moss' new committee is fighting to extend the hours. He said Frisco owes it to its residents and its newest project partners like the Dallas Cowboys.
"They're expecting to have this sort of ability to have these sorts of developments," Moss said.
Novara tells us his customers start in Frisco and then around midnight, people begin to leave for Denton, Little Elm, or Plano.
Moss and Novara say it's sales tax dollars going elsewhere.
But the other side is calling for a family-friendly Frisco. The group was part of a major push back in 2008, but it's unclear if that voice will be heard again this time around.