COLLIN COUNTY — Keith and Kirk are two young boys who have more energy than you can imagine. But their mom — Kristin Duke — says it wasn't always like this.
"I have two full-time jobs: Work and the boys," she said.
Her youngest, four-year-old Kirk, was diagnosed with leukemia on Mother's Day 2012. If that wasn't hard enough, five months later, seven-year-old Keith was diagnosed with type 1 diabetes.
"I didn't understand why this was all happening to me," Duke said.
For two years, the family was in and out of hospitals, through chemo, through diet changes... and they're still fighting.
Duke admits that some days have their ups and downs.
"I don't walk in that door and get a really big hug that doesn't make [the tough] day[s] worth it," she said.
But what happened to the Duke family on Tuesday — two days before Christmas — will make memories for a lifetime.
Every year, Mike Rumfield with the Collin County Deputies Association chooses one family to sponsor as part of its Blue Christmas Family Project. Rumfield said it's an opportunity to help out a local family that really needs it, as well as a chance to show the positive work being done by local law enforcement.
When he heard about Keith and Kirk's story, it was a simple decision. He admitted he was heartbroken to hear their stories, because he has two boys himself at roughly the same age.
"How can you walk away from that?" rumfield asked. "You can't walk away from helping that family out."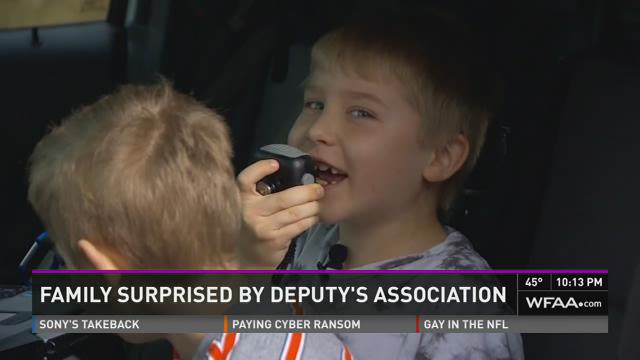 On Tuesday morning, a parade of law enforcement vehicles representing several agencies came through the neighborhood and stopped right in front of the Dukes' home.
Keith and Kirk were standing outside, giddy with excitement after hearing the sirens blaring (or maybe it was seeing Santa in the back of a truck, waving at them).
"It's Santa!" Keith yelled.
On the street in front of their home, Santa visited two boys who have been really good this year. And he didn't come empty-handed.
The Blue Christmas Family Project donated dozens of toys on the boys' wish lists.
"Holy cow!" Keith said as he saw the presents pile up in front of the tree.
"The look and the surprise and the excitement of knowing somebody is thinking about them," Kristin Duke said, listing things she was thankful for.
It's a look that can get everyone in the spirit of Christmas.
The Collin County Deputies Association has opened up a fund at Wells Fargo for anyone interested in helping out this family. Click for more information.