DALLAS -- Misti Irvin didn't choose to have breast cancer. But the discovery of a tumor in her right breast over a year ago came with a shocking number of choices, from doctors to treatment.
"I got to choose my surgeon," says Irvin. "I got to chose whether I had a lumpectomy or a mastectomy. I got to choose whether I received radiation. And I got to choose if I had a mastectomy, one breast or two breasts."
A new study in the Journal of the American Medical Association shows that a double mastectomy to treat one-sided breast cancer has increased 14 percent a year from 1988 to 2011. Women under the age of 40 were using a double mastectomy at the highest rate. According to the study, in 2011, nearly a third of women in that age group were having a double mastectomy.
"The populations where more patients are choosing double mastectomy are the younger women," explains Texas Health Dallas breast cancer surgeon Dr. Archana Ganaraj. "And these are women who have dense breast tissue."
Researchers found that non-Hispanic whites with a higher socio-economic status and private insurance were more likely to choose a double mastectomy. According to the study, women who opted for double mastectomy did not seem to have better survival rates than women who opted for breast-conserving lumpectomy plus radiation.
Dr. Ganaraj says advancements in reconstructive surgery, the desire for symmetrical breasts, coupled with fear and anxiety of a cancer recurrence, are also factors for women choosing to have both breasts removed, instead of just the diseased one.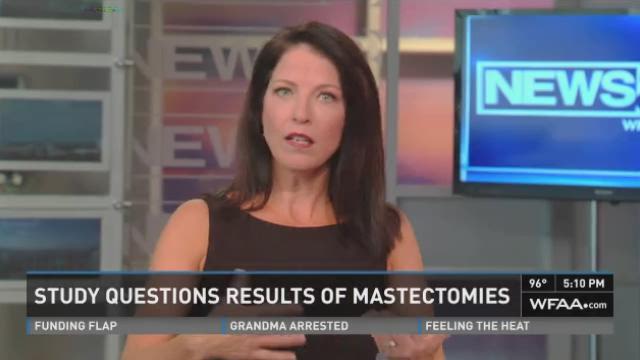 "Even though we tell patients, you do not live longer if you choose to have a bilateral mastectomy," says Dr. Ganaraj, "There are a lot of peace of mind issues."
A husband and two little girls played a huge role in Misti Irvin's personal decision to remove both breasts. Irvin is just 39 years old.
"For me, I just wanted it out. I wanted the cancer gone," Irvin says, "It was less about the breast and more about the life."
After surgery and four months of chemotherapy, Misti is now cancer-free.
E-mail: jstjames@wfa.com