DALLAS — Six weeks after being declared Ebola-free, a much healthier Nina Pham says she is humbled to be among the Ebola fighters recognized by Time magazine as "Person of the Year."
She modestly says she does not feel like a hero.
"I would just say that I did my job," the 26-year old intensive care unit nurse said. "I had a patient that needed my help, and I was going to help him."
Pham was among the ICU nurses responsible for the care of Thomas Duncan, the Liberian man who died of Ebola at Texas Health Presbyterian Hospital in Dallas in October. Pham and nurse Amber Vinson both contracted Ebola during his ICU stay. Neither woman knows how she was exposed to the potentially lethal virus.
"Back when I was taking care of Mr. Duncan, I would have nightmares about... I'd wake up and check my hands to make sure my gloves were on, stuff like that," Pham said.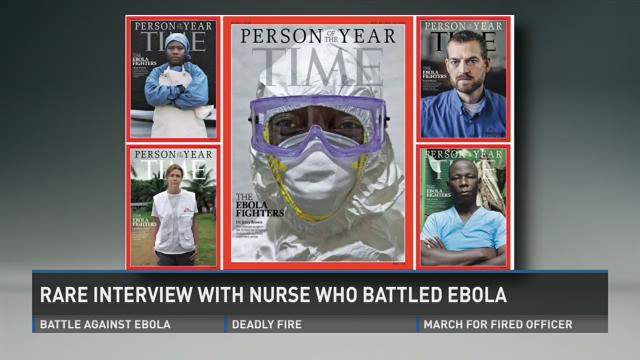 She admits she still has nightmares about treating Duncan, and about dying herself.
Pham recalls the moment when she learned that she, too, had contracted Ebola.
"The CDC doctor and my chief nursing officer came in the room in full hazmat gear. And I could tell from their eyes being red from crying that the news was not good," she said. "I thought it was a death sentence; flashbacks to Mr. Duncan's disease and how it progressed eventually to his death came to mind."
Despite a cheerful demeanor in video taken in the Texas Health Presbyterian ICU, Pham confessed she was very scared.
"There was a time at Presbyterian when Dr. Weinstein came in the room and said, 'Nina, I know this is uncomfortable, but we need to discuss end of life,'" she said. "So that was probably one of the lowest points for me."
Pham still struggles daily with lasting fatigue from the Ebola virus. She also worries about the long-term side effects of the experimental drug she received.
"It does worry me," she confessed. "And when I was signing those consents and the number risk was 'death,' that was very concerning. But at the time I thought I was going to die anyway, so might as well give it our best and try it."
Still, Pham said she does not regret being a member of the team that treated Thomas Duncan.
Pham said some people have been critical of efforts to save her beloved dog, Bentley. Bentley was placed in quarantine for 21 days out of fear he had been exposed. Pham said she received pictures and videos of her pet daily.
"There are the people who have commented, 'Why did we spend so much on the dog? Why did we not just put him down?" she said.
Sometimes, she admits, people have also been afraid of her — even after she was declared free of the virus by federal health officials.
"There were some instances when I went to church and people didn't want to shake my hand during peace offerings," she said.
Pham said she and fellow nurse Amber Vinson — who also survived Ebola — offer emotional support to each other. Both are taking life after Ebola day-by-day.
As for the future, Pham isn't sure if she will return to bedside nursing. She is certain, however, that if asked to donate blood to another Ebola patient, she will gladly give.