DALLAS – Police are still trying to figure out who left a woman naked and badly beaten at a South Dallas park.
The victim, who investigators say is in her 50s, was found just before midnight by some people walking through Opportunity Park Wednesday near Malcolm X Boulevard and Pine Street. Some members of the community say they're shocked by the crime, but know that prostitution and drugs are a problem in the area.
"What we normally do is sit out here and be looking," said Stephanie Berry, as she watched traffic from her front porch on Pine Street.
Berry lives a few feet away from Opportunity Park. She says she sees a lot of good and bad from her porch view in her South Dallas neighborhood.
"We see a lot of traffic," she said.
The constant foot traffic is the same type of activity neighbor Johnnie Wynn says he also witnesses from the barbershop he runs at the edge of Opportunity Park.
REPORT: Woman found naked, beaten in Dallas park
"You see a lot of prostitution, a lot of people using drugs and you see a lot of people that's totally homeless," he said.
Those issues, coupled with a violent crime in the Park overnight, now has many neighbors worried and wondering who left a woman in the park naked, brutally beaten and possibly raped. As police search for suspects, nervous neighbors say they're also doing their own digging.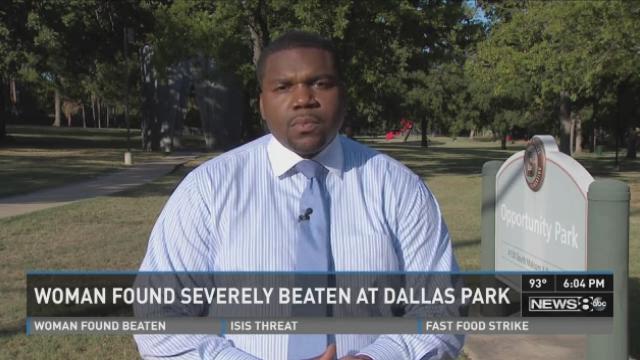 "I went in on my computer and I started to look up the sex offenders and start to see if there's anybody that I've seen come through this street right here," Berry said.
The retired grandmother says she was shocked by the number of registered sex-offenders listed in her community.
"Oh God, 78 or more in this area," she said. "That's a lot."
While some people say they believe Dallas police officers are doing adequate daytime patrols in the community near Opportunity Park, Wynn says he believes there's now a need to beef up security near the park.
"I think it's eventually time for a sweep of the park," he said. "In the long run, you would like to see the children and all of the people in the community enjoy the park."
The crime victim was last listed in critical condition at Baylor Hospital. Neighbors are encouraging one another, especially women and children traveling near Opportunity Park, to be aware of their surroundings.