DALLAS -- The Mexican attorney representing "affluenza" teen Ethan Couch in his unfolding immigration fight says a decision on the 18-year-old's deportation could be "months away," with even further appeals after that.
Fernando Benitez, a high-profile attorney based primarily out of Tijuana, confirmed on Friday that he's handling Couch's detention by Mexican immigration authorities.
"He hasn't committed a crime in Mexico," Benitez said in a phone interview. "Why would Mexico go along with this idea of locating someone and summarily kicking them out of the country so the marshals can grab him across the border? I don't think that's okay."
MORE: Reports on Ethan Couch
Benitez says he's filing a petition essentially saying that Couch's constitutional and civil rights may have been violated.
He says the teen's crimes here in the United States should have no bearing on Mexican officials, or Mexican courts.
"There is no formal extradition request by the U.S. State Department filed," he said. "They want to get him for not having the proper migratory papers, and have this executive decision."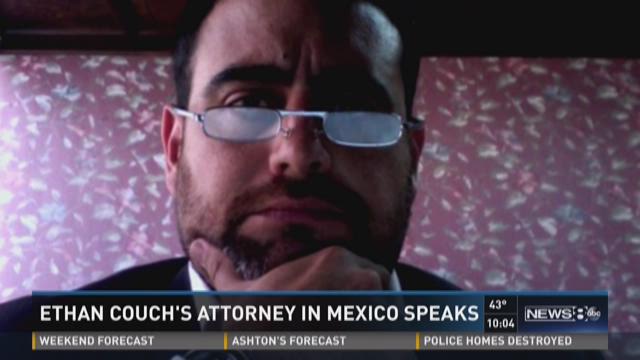 Couch and his mother Tonya were detained by Mexican officials on Monday night in Puerto Vallarta at a run-down apartment building.
They had been on the run from U.S. officials after Couch missed a probation meeting in early December. He's serving 10 years probation for killing four people in a drunk driving accident in 2013.
Although his mother, Tonya, was deported Wednesday evening, her son was granted a temporary injunction by a Mexican judge, thanks to Benitez's last-minute legal maneuvers.
The attorney says an evidence hearing in the case likely won't happen until the end of the month, while both sides file additional court documents during the interim.
"From the hearing, a judge has up to 90 days to issue a ruling," he said. "After that, we could appeal a decision. We're going to take this to the full extent of our capacity and have whoever needs to review it."
Before being detained, Couch and his mother were believed to have stayed at a different Mexican resort, where workers told ABC News that Couch had a handgun.
Benitez says the hotel employee's story is suspect, and insists his client didn't have a gun when he was detained.
"The likelihood of that story being true, for me, is zero percent," he said.
He hopes to meet with Couch on Tuesday of next week in Mexico City, where the teen is being held at an immigration facility. It is not a prison, and is mostly filled with people who have run adrift of Mexico's immigration policies.
Representatives from Benitez's office already met with the teen and said he hadn't experienced any harm or mistreatment while in custody.
Tonya Couch is in a Los Angeles jail cell pending a hearing and eventual transfer back to Texas. She's facing a charge of Hindering Apprehension of a Felon, and has a bail at $1 million.
Benitez's previous big cases include a successful bid to free Marine Sgt. Andrew Tahmooressi from a Mexican jail. He was imprisoned in 2014 for more than 200 days after he said he accidentally drove into the country with three guns.