Welcome to where there's always a 100% percent chance of Delkus. Over the past 12 years, Pete's had quite an effect on North Texas Weather. Some folks will even go as far as to say Pete is responsible for it. So whatever the weather brings, we bring the Delkus.


Emmy award-winning Chief Meteorologist PeteDelkus joined the WFAA-TV weather department in June 2005 and quickly won the respect of our North Texas viewers by providing timely and accurate forecasts. When there is severe weather- tornadoes, hail, or flash flooding, viewers have come to rely on Pete's steadfast and thorough approach to his work

.
Since he arrived, Pete has won ten Emmy Awards for weather anchoring and special show hosting. Delkus is board certified by the American Meteorological Society and the National Weather Association. He attended Mississippi State University for his masters level meteorology courses, and holds a Bachelors of Science from Southern Illinois University at Edwardsville (SIUE).
Follow Pete Delkus on Facebook and Twitter. Want to know more about Pete? See more below!



PETE'S BLOG:
01/05/17 (4:00p) -

Leg day today! Did you do yours??




12/01/16 (9:00a) -
HOLIDAY RECIPE TIME!!!

Cornbread and Sausage Dressing Patties



This recipe has been handed through 4 generations of awesome Southern cooks so, it isn't exact - - you know, a lil' pinch of this, a lil' dab of that…

Ingredients:
1 dry corn bread mix (prefer Jiffy brand)
1 package herb dressing cubes
4 T butter
3/4 C finely chopped celery
1 large chopped onion
4 eggs, beaten
chick stock
1lb. ground sausage
dried sage
salt and pepper
poultry seasoning
*garlic powder, optional

Directions:
Prepare cornbread according to package directions. Cool then crumble.
In a very large bowl, mix with herb stuffing cubes.
In a skillet, melt butter and saute celery and onion until soft.
Scramble/brown sausage.
Add celery, onion, poultry seasoning, garlic powder, eggs and cooked sausage to dry crumbles and cubes.
Add sage and salt and pepper to taste. Mix well.
Add enough chicken stock that it is moist but not wet. Needs to hold shape.
Form into patties that are about the same size as a thin hamburger about (4" diameter and 1/2" thick). Thinner is better for sandwiches!
Place on cookie sheet (with a lip).
Bake at 350 degrees for about 20-25 minutes. Flip patties half way through. Also, may need to pour a little broth on top of patties to keep moist.
Patties should get brown and little crispy on top.
11/17/16 (9:00a) - The 47th annual Santas helpers kicked off tonight with an event at House of Blues. Santa himself was there along with the newest inductee into the Country Music Hall of Fame, Randy Travis!


11/15/16 - Dwayne "The Rock" Johnson was named People Magazine's "Sexiest Man Alive" for 2016... Here was our choice though. -- WFAA web team
We were pretty excited about this year's @people Magazine #SexiestManAlive winner! #ThanksDelkus @wfaaweather pic.twitter.com/A4VqYg6ADh

— WFAA-TV (@wfaachannel8) November 15, 2016
11/03/16 (10:45a) -
Even in this crazy election year I'm happy that I have the freedom to vote!


11/02/16 (3:17p) -
Spent my morning at Dallas Baptist University talking to some great students. Passed along some life lessons and words of encouragement.


10/27/16 (2:30p) -
What are the odds that this makes it to Halloween?!? One of my favorite times of the year and one of my favorite candies!!


10/25/16 (3:00p) -
A snowy winter on the way?!? I've seen your comments and questions on Facebook, Twitter and your emails telling me about your Persimmons and the fact that they have "spoons" inside them.
Yes…according to folklore, you can predict what kind of winter we'll have by cutting opening a Persimmon seed. A fork means a warm winter, a knife means an icy winter and a spoon means SNOW! Will we really have a snowy winter?
According to many of you Persimmon aficionados, the last time we had "spoons" in our Persimmon seeds was the winter of 2014-2015. That winter we had almost 6" of snow and some pretty cold weather too. Keep your fingers crossed…we'll see if the Persimmons are right!!


10/19/16 (6:00p) -
25 years ago today I married my best friend and the greatest partner that a guy could ever ask for. Happy 25th Jacque... I love you!!

10/17/16 (3:50p) -
It's not even Halloween! It seems to be getting earlier and earlier each year. Next thing you know, Christmas decorations will be on sale with fireworks for Independence Day!!


10/14/16 (6:15p) -
Behind the scenes with the #ThanksDelkus commercial shoot: CHECK IT OUT
10/14/16 (10:00a) -
"Credit no Receipt." Every morning I go to Quik Trip and get a large iced tea and that's the phrase I use as I'm checking out. Hope to see you there tomorrow morning!


10/07/16 (5:00p) -


Richland College / Honors Academy Statistics Class - Dr Jonaitis. They came in for a visit today and had me impart some wisdom. I promise it didn't take me long!!
10/06/16 (5;00p) -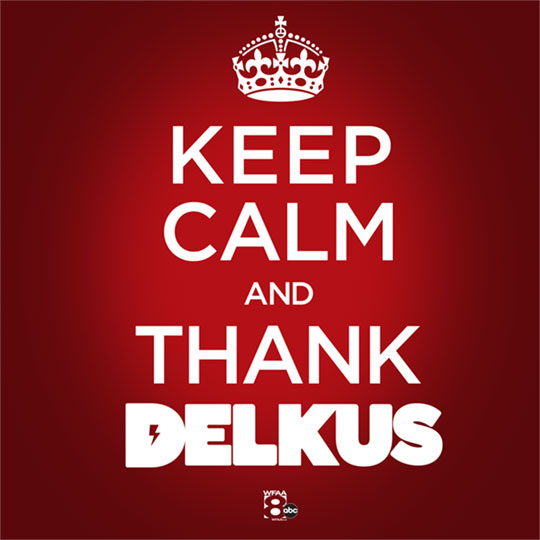 9/12/16 (4:15p) - Growing up very near the confluence of the Missouri and Mississippi River, I found this spot extremely interesting and beautiful too!!


9/12/16 (4:00p) - Taking a little break with Chief in a mountain stream in the Centennial mountains in Idaho.


9/12/16 (3:56p) - The fun has begun on the Continental divide!!


9/07/16 (2:00p) - We have liftoff!


9/07/16 (12:05p) - Vacation has begun!


8/30/16 (1:40p) - In my quest to never get old and always be "hip", I've hopped on the Pokémon go bandwagon. So of course, MY first question was, how do I win? I was told, there is no winner in Pokémon go. My response was, why play if you can't win?!? To which my wife said, that's an athlete's question not an intellect's. So, I'm out!!


Today, Pete enjoys spending his leisure time with his family: Wife-Jacque, daughter-Emily, and son-Peter. Whether it's practicing ball, swimming or playing in the backyard, being with them is a top priority. Delkus is also an avid outdoorsman who enjoys hunting, fishing and anything that involves being outside - including his daily run and workouts.
From 1996 to 2005, Delkus was also the chief meteorologist at WCPO-TV, the ABC affiliate in Cincinnati, Ohio. Delkus made his mark in Cincinnati as the "severe weather leader" by his exclusive coverage of the deadly Tornado of "99. He received many honors during this tenure including a pair of first place Associated Press (AP) Awards for best regularly scheduled weather.
Prior to joining the Cincinnati television station Delkus worked as a meteorologist for four years at WFTV, the ABC affiliate in Orlando, Florida.
Delkus also has a long history as an outstanding athlete. As an All-America pitcher, he had an all star college career including a trip to the college world series. In fact, he still holds several records as a pitcher at SIUE. Out of college Delkus signed in 1987 with the Minnesota Twins organization.Delkus enjoyed a successful career earning several awards including the "Minnesota Twins Minor League Player of the Year" and the Rolaids Relief Man. His career ended prematurely due to a serious elbow injury. In all, Delkus played professional baseball for 6 years with the Twins organization.
Copyright 2016 WFAA